Delhi Medical Internship
Gain an insight into life as a doctor or nurse abroad in one of the most exciting cities in the world. Choose to work in a range of departments and create an experience tailored to your medical interests.
Before beginning your internship, enjoy our highly recommended week long cultural and language orientation in Delhi and visit Agra, home of the Taj Mahal.
Living in bustling south Delhi, you will be based in a large hospital with 150 beds, learning from some of the world's best doctors and nurses and gaining an incredible insight into life in the Indian medical system.
If you are studying medicine, nursing or physiotherapy or are a qualified medic, this programme gives you the perfect opportunity to shadow and observe professionals and boost your medical CV. You will be assigned to a specific doctor or nurse within their chosen department. We ask that interns choose 3-4 departments to rotate around during their stay. Typically working 5 days a week, you will leave with a real understanding of health care in India and of the life as a medical professional.
If you have a particular field of interest, let us know. Interns can work in numerous departments, including:
Emergency
In Patients Department Wards
Laboratory
Blood Bank
Pharmacy
Radiology/Imaging
Occupational Therapy
Dialysis Unit
Critical Care
General Wards
Orthopaedic
Nursing
Obstetrics and Gynaecology
Physiotherapy
The perfect intern will be flexible, patient and hard-working. Not only will this experience stand out on your C.V. but it will also provide you with experience and knowledge that will be invaluable for your future career.
To prepare for your intern programme, we recommend that you take part in our optional language and cultural week in Delhi. This gives you the opportunity to relax, get over your jet lag and learn lots about your new home. We will give you Hindi lessons, including key words and phrases that you will find useful in the hospital.
What experience do I need?
This programme is perfect for people who are studying or qualified in a medical related course. You could be studying medicine,  nursing or a pre-medical course. You do need to be interested in pursuing a career in medicine. If you are not yet studying or qualified, our medical internship in Palampur may be more relevant for you at this stage.
I am loving my time here and the experience has even meant that I may consider a change to my speciality when I return home – Sarah, NHS Junior Sister from the UK
Accommodation and Food
As a valued intern, your time in Delhi will be made as comfortable as possible. After you are picked up at the airport, you will be taken to the comfortable volunteer house in Greater Kailash, South Delhi. Hot showers, filtered water, WiFi, air-con, satellite television and western toilets facilities are all provided. The accommodation is close to shopping centres, ATMs, cafes and restaurants. The hospital is a 25-30 minute walk, or short auto-rickshaw ride from the accommodation.
Delicious breakfast and dinner are provided at your volunteer house by a cook, who will provide you with tasty Indian food. Food is provided Monday – Saturday and you will need to organise your own food on Sundays. There are plenty of places to eat locally. Lunch will cost approximately £2-3 a day.
Highlights
Gain a valuable insight into the Indian medical system that will make your CV stand out from the crowd.
Witness the daily life of an Indian doctor in a large city hospital.
Live as a local in the bustling, historic city of Delhi.
Immerse yourself in Indian culture and enjoy the delicious cuisine.
Meet like-minded people who share your passion for medicine.
Explore Delhi's heritage sites, visit the iconic Taj Mahal, and learn basic Hindi on our highly recommended Language and Cultural week.
Why
should I do this?
Life as a medical practitioner can be stressful and exhausting, but without question, it is one of the most worthwhile career paths out there. This well-organised programme will give you an authentic experience of work in an Indian hospital.
If you are compassionate, hardworking and dedicated, this is the perfect opportunity for you. You can take part on your gap year, summer holiday or career break to widen your medical knowledge. The experience will give you the edge in future job interviews. As well as enriching your CV, you will meet many other volunteers and interns with similar interests and get the chance to explore India, with its many awe-inspiring sites, colourful festivals and amazing people.
Getting there
When you arrive at Indira Gandhi International Airport (DEL) Terminal 3, you will be met by one of our coordinators, who will take you to the accommodation in South Delhi. You can then get plenty of rest, ready for the orientation the next day.
Our representative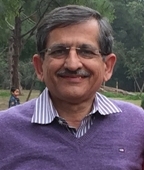 Rajiv and his team of coordinators in India will be looking after you throughout your stay on the programme. The coordinators will have daily contact with you, often at the house at the end of each day to discuss how your programme has gone. On day one of your internship, a coordinator will travel with you (whether walking, by bus or auto-rickshaw) so that you can learn the route.
What is provided
Informal interview and briefing
Access to your personal 'My Oyster' account – our online portal where you can find out much more about the programme and manage your booking.
Help and advice from our UK office before departure
Financial protection through IPP (or ATOL, if we book your flights)
24 hour support from our representatives in India.
Airport pick up and return at the end of the project
Orientation
Breakfast and dinner (Monday to Saturday)
Optional language and cultural week that can be added – highly recommended
Accommodation
Oyster Worldwide volunteer t-shirt 
Oyster luggage tag
On your return
Welcome home pack
Certificate of Recognition (on request)
References (on request)
What do I need
International flights to/from Delhi (we can book for you if you wish)
Valid Passport
India e-visa (approx £45)
Travel insurance
Independent travel costs
Spending money for drinks/snacks and food on Sundays in Delhi (£80 per week should be sufficient)
Vaccinations