Volunteer with lions in South Africa
Volunteer with the King of the Beasts in South Africa's largest big cat sanctuary. Help to return these neglected and abused cats to the life of pride and majesty that they deserve in the rolling African plains. With plenty of lions, tigers, cheetahs and leopards, this is a cat lover's paradise!
The Basics:
4 weeks costs £1465; each additional week costs £215 per week excluding flights. Special discounts for 8 weeks +
You can volunteer here throughout the year for 4 – 12 weeks excluding December. Whilst late-availability is possible, we would advise booking as soon as possible to guarantee your ideal dates.
Departures:
You can volunteer at LIONSROCK from January to November for a minimum of 4 weeks. Arrival day is a Monday.
Highlights
Become part of an international charity's effort to improve the welfare of abused animals worldwide, and make an essential contribution to the rehabilitation of big cats in South Africa.
Gain a practical insight into animal welfare and animal management – perfect for those looking for some experience alongside their studies.
Live on site alongside the lions, tigers, cheetahs and leopards.
Enjoy being surrounded by some of South Africa's most beautiful countryside, with spectacular mountain views and the rolling savannah below.
Experience a stunning South African sunset from the top of LIONSROCK Mountain, or overlooking the sanctuary itself.
Return the King of the Jungle to his pride
Devote your time to the King of the Beasts, living and volunteering in South Africa's largest big cat sanctuary, situated against a backdrop of magnificent mountains and with spectacular views of the South African savannah. You will become a part of the important work taking place at LIONSROCK, run by FOUR PAWS international animal welfare charity and home to over 80 lions, tigers, leopards and other large cats.
You will need to be passionate about animal welfare to take part in this project. Whilst this project is fantastic for enthusiastic and motivated big cat-lovers, you do need to have plenty of initiative and independence. This is a great opportunity for people studying biology, zoology or animal management, or who have had experience of animal care. It is perfect for those who are looking to learn and contribute at the same time.
Your contribution as a volunteer is essential to improving the conditions for these majestic creatures. Rescued from appalling conditions in poor quality zoos or canned hunting farms, the freedom that the lions experience arriving at LIONSROCK is something that they will never before have tasted. For many, it is the first time that they can properly stretch their limbs and feel grass under their feet.
You will be helping with the important research being carried out here, much of which is aimed at further improving conditions for the lions and encouraging their natural instincts. This, combined with its excellent  rescue and rehabilitation work, makes LIONSROCK an inspiring place for those wanting to get involved in animal welfare.
You will also enjoy some of the best countryside South Africa has to offer. The sanctuary is situated against a backdrop of magnificent mountains, with spectacular views of the Eastern Free State Plains below. The accommodation, complete with swimming pool access, is some of the best volunteer accommodation that Oyster has to offer in the world!
What will I be doing?
Work at the sanctuary involves caring for the lions and other big cats, monitoring their progress and behaviour, helping with visitor education and refreshments, administration and maintenance work. Typical tasks include:
helping out with the bi-weekly sanctuary feeding
observing the behaviour of the lions and the progress of any new arrivals
helping with any medical treatments required
building new structures for enclosures and helping with maintenance work
helping with game drives and guided horseback tours for guests
getting involved with the other activities at the lodge, such as the reservation departments, presentation, accommodation, conferences, weddings, hiking trails and more
marketing activity, including brochure distribution to local towns and the surrounding area
guiding school children as part of their education program
It's a great opportunity for someone who has a keen interest in big cats, enjoys being part of a team and is prepared to get involved in all aspects of conservation work.
Accommodation and Food
You stay in comfortable, brand new accommodation located at the heart of the sanctuary with other volunteers and some staff. The house boasts wifi, electric blankets on the beds, a fully equipped kitchen and bathroom, as well as stunning views out towards the lions. There is plenty of space to relax, cook a good South African braai and swim in the on-site swimming pool. If you don't fancy cooking, you can enjoy discounts at the LIONSROCK lodge restaurant.
When should I book?
Whilst late-availability is possible, we would advise booking as soon as you can to guarantee your ideal dates. Our projects are very popular and spaces can fill up several months in advance, especially for the months of June to September.
Getting there
You fly in to Johannesburg (JNB) on a Monday, where you will be met and taken up to the sanctuary. The drive is three hours long through beautiful South African scenery- look out for the wildlife!
What is provided
Phone or face-to-face interview and detailed briefing
Access to your personal 'My Oyster' account – our online portal where you can find out much more about the programme and manage your booking.
Advice on visa requirements
Help and advice from our UK office before departure and whilst away
Pre-arranged voluntary work at the park with accommodation
Access to the outdoor swimming pool located at the sanctuary
Wifi, TV, DVD player and much more to help you make yourself at home
Being met at Johannesburg airport and taken to your accommodation
Weekly trips into town for shopping
Return transport to the airport in time for your flight
Free access to InterHealth's Travel Health Advice Service
Oyster Worldwide volunteer t-shirt
Oyster luggage tag
On your return:
Welcome home pack
Certificate of Recognition (on request)
References (on request)
What do I need
A passport valid for a minimum of 30 days after your return date
Insurance – we can introduce you to a policy
Pocket money – eating out, trips etc
Money for food- we recommend a budget of £30 per week
Warm outdoor clothing for the evenings
Funds for any independent travel
Flights to Johannesburg (JNB). We can help organise these.
Some experience and passion for animal welfare!
An up to date CV/ resume
Availability for this project
The availability calendar below is a guide only. We do advise early booking to guarantee your preferred dates.
Available
Limited availability
Very limited availability
Unavailable
Why
should I do this?
Working alongside an international charity to protect and rehabilitate over 80 big cats is a valuable and moving experience. It is important to learn about the issues at stake here and help to educate others in this regard. This project is perfect for those looking to build their experience in animal care and animal management, or for those who are passionate about animal welfare.
The big cats that call this sanctuary home can only do so with the help of volunteers to monitor them and ensure that their lives here are as close to that of the wild as possible.
Our representative

You will work as part of the team at LIONSROCK and will soon get to know them all.  The Head of Animal Management will be a key contact, but you will but will also find yourself working with the General Manager and the Lodge Team. The admin staff and rangers at the sanctuary provide an extra layer of training and support, meaning that you will soon feel part of the larger LIONSROCK family.
Project Story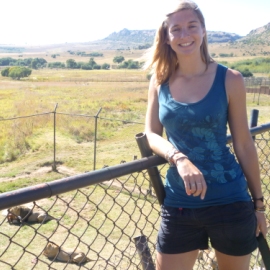 "I visited LIONSROCK in 2012 and was amazed by not only the big cats, but also by the work that goes on here. The volunteers could contribute so fully to the running of the sanctuary and the welfare of the lions" Says Anne, Destination Manager
Find out more
We always enjoy talking about our projects and have first hand experience of them all. We'd love to answer your questions so feel free to call Anne on +44 (0) 1892 771975 for a chat. Alternatively email anne@oysterworldwide.com