Childcare volunteering in Tanzania
Volunteer in an orphanage or rehabilitative care centre for children to bring fun, games and emotional support to children in care. These childcare volunteering opportunities can be perfectly combined with teaching volunteering or a medical internship.
Volunteer in rehabilitative care centres for children
We work with an inspiring project called the Plaster House. This is part of the Lutheran hospital in Arusha and is a temporary home for children who have had major operations. The Plaster House provides rehabilitative care for children recovering from corrective orthopedic surgery, plastic surgery or neurosurgery for a disability. The children love having volunteers to play with and show them some love and attention.
The Plaster House deals with children of varying physical disability. Some will be very mobile and able to attend lessons, others will be bed-bound. Education is important at the Plaster House. Many of the children will not have attended formal school in their tribes so a stay at the Plaster House is a chance for the children to learn something. For many of these kids, Swahili is a second language (after their tribal language) so the best form of education for them is based on the Montessori system, using art work and physical interaction to learn. We will give you plenty of help and support on this before departure so that you are bursting with great ideas.
These are emotionally vulnerable children so it is important that volunteers commit themselves to a set timetable at the Plaster House. It is not somewhere you can go once and not visit again. This is a popular project with our volunteers so we arrange for only 2-3 volunteers to visit each day.
Volunteer in orphanages in Tanzania
Work alongside carers in an orphanage to provide support and passion to the day to day lives of the children in care here. Many of the children have come from tough backgrounds and these orphanages exist to give the children a roof over their heads and also a 'kick start' in life. Many of the orphans will have lost parents through HIV/Aids and may even have the illness themselves; others will have behavioural issues stemming from early childhood. Through interaction and enthusiasm volunteers can really help develop the confidence of these children.
The orphanages we work with provide a permanent and loving home to these children. You could be working with babies and toddlers right up to children in their teens. During the day, the school age children will be in lessons. These may take place at the local school or, in some cases, the children may be home-schooled at the orphanage. You will mainly work with the younger children until school finishes in the afternoon. Help with teaching in classes, preparing food for the kids, playing games and organising activities. These additional aspects of life can really help the children in care to thrive.
Our volunteers bring fun and enthusiasm to the children, something that often the full-time members of staff do not have time to do. Your role is to be a friend, bring your passions and set up activities for the children. If you are keen on arts and crafts, music or sport, your talents will be very much appreciated and will be guaranteed to bring a smile to a young face.
Why volunteer in Tanzania with Oyster?
The great thing about Oyster in Arusha is the variety of projects that we have developed over the years. We don't tie you down to just the one project. If you want to combine childcare with coaching sport at a school for a few afternoons a week that is absolutely fine by us! We don't charge you for each project you want to get involved in. One price covers everything, although we would encourage you to stick to a maximum of two projects just so that you don't spread yourself too thin.
We work with carefully selected orphanages, making sure that the children in care on these projects are receiving good care and are safe. All of the work that we do in the childcare volunteering areas are in line with our childcare policy.
Accommodation and Food
On arrival you will stay in a comfortable hotel on the edge of Arusha for your orientation. This is an ideal place to relax, get over your jet lag and have your first experiences in Africa. After the orientation we will take you to your new home.
The houses we use are usually close to the schools that we send volunteers to. They are basic houses in keeping with the local environment (all part of the experience!). You'll be sharing accommodation with other Oyster volunteers and you should expect to share a room. The childcare projects that we work with may not be located in the village where you live so some travel each day may be required. Generally, the projects are within an hour of your house (either walking or by bus) and the round trip by bus would cost less than £1!
At weekends volunteers meet up in town to check emails, have a nice meal and maybe stay over in a touristy hostel. We will provide you with a weekly food allowance which should cover your food costs during your time living in the village. Social life and transport in Tanzania is very affordable with £15 a week easily covering this and a few local 'Kili' beers!
Highlights
Work in the local community in facilities where your help is very much appreciated
Experience the warmth and hospitality of life in Africa as a local rather than a tourist
Work with vulnerable children in care, assisting full time staff to make sure that these children are happy and well cared for
Make great friends on a great combination of projects- from childcare to teaching to medical internships
Enjoy some of the most dramatic scenery on earth on safari, Kilimanjaro and Zanzibar – if you have time!
Why
should I do this?
If you have experience of working with children in a nursery or club at home and want to pass on your experience in helping children in Tanzania, volunteering in childcare is for you. Often the orphanages are understaffed so by having volunteers, you are really adding to the support there. Our aim is to have volunteers supporting these projects all year round. Whilst the full time staff manage the overall care and well being of the children, your job would be to play and bring a smile to the children's faces.
Getting there
We can arrange flights from the UK for you and your group. If you live outside of the UK or want to arrange your own flights that's absolutely fine! Everyone flies into either Nairobi or Kilimanjaro airport and is met by Mads, our representative, before being driven into Arusha.
You will spend your first few days in Tanzania taking part in our orientation course. This is designed to let you get over your jet lag, organise your Class C Permit, learn some Swahili and also for us to remind you about some of the important safety issues covered in our pre departure briefing and joining instructions.
At the end of the orientation we will take you to your village and make sure you can settle in before getting started on your project.
"The orientation was invaluable, no other volunteers we met in Arusha had had that, we felt it really helped us settle and get used to life in Tanzania. The Swahili lessons were brilliant!" – Frances Leach, May 2013
Read more about the orientation and our waterfalls day-trip on our blog.
Our representative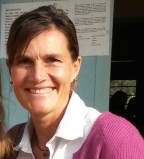 Madeline (or Mads as she is known) has been with us since the beginning with our first volunteers arriving in Arusha in 2000. Mads is from New Zealand and has a great sense of humour. She has 4 children and is married to Ekko a Dutch export farmer. As an expat living in Tanzania, it is sometimes easy to live a life separate to the local residents of the country. Mads loves this job because it enables her to keep strong link with local schools and projects. Outside of her role she has raised a lot of money through the expat community for the schools and projects. Mads is supported in this role by Frank who has become a close friend to our volunteers since 2011. Mads and Frank are always there for our volunteers and have years of experience of dealing with Oyster volunteers. Mads lives within easy reach of all our volunteers.
What is provided
Phone or face-to-face interview and informal briefing
Access to your personal 'My Oyster' account – our online portal where you can find out much more about the programme and manage your booking.
Pre-departure briefing course covering medical, safety and project advice. 

This also includes training on how to teach and work with children

Help and advice from our UK office before departure and whilst in Tanzania
Advice on obtaining a visa
Finding you a suitable project in Tanzania
Accommodation for the duration of your programme
Weekly food allowance
(Optional) flight with flexible return date (modest fee levied by airline for date changes). Please add £800 to the above price if you want us to organise your flights from London
Oysters local representative who will meet and welcome you on arrival
Induction course in-country to orientate you and brief you on local matters
Basic Swahili training
Tanzanian SIM card
Mosquito net
Day trip to local water falls during the orientation
Transportation to your school from the airport
Assistance and support from our representative, Mads, during your project
Oyster is able to offer volunteers an optional 4 day luxury safari for around £500.  Comes highly recommended!
Free access to InterHealth's Travel Health Advice Service
Oyster Worldwide volunteer t-shirt 
Oyster luggage tag
On your return:
Welcome home pack
Certificate of Recognition (on request)
References (on request)
What do I need
A passport valid for a minimum of 6 months after your return date
Tourist visa purchased at time of entry into Tanzania. This is $50 in cash ($100 for US Passport holders)
A Class C Permit for Tanzania, which at the time of printing costs US$250 (around £190) for up to 3 months. This can be extended for another £190 for the following 3 months if applicable. We help you obtain this. Why do I need a tourist visa and Class C Permit for Tanzania?
Insurance (covering your project and any planned independent travel)
Cost of changing your return flight date if you need to (approx £100)
Independent travel costs and return to the airport
Living costs for social life, travel into town/projects, internet etc (about £15 per week)
Any home country travel costs (to airport and interview if face-to-face)
Provide a recent police certificate/CRB check
19
travellers rated this project
5
5