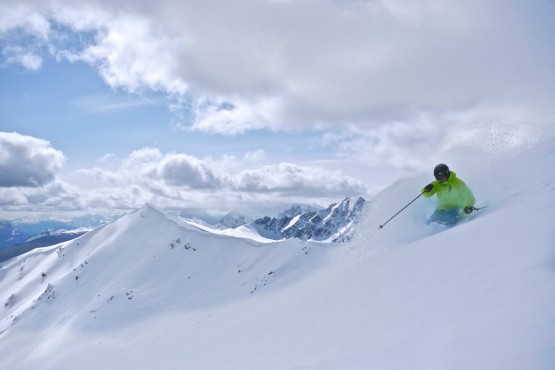 We are pleased to announce the launch of our partnership working with Marmot Basin Ski School by offering courses to become a ski instructor in Jasper, Canada.
From January 2015 we will be offering ski and snowboard instructor courses that last for 11 weeks. While this type of course is new for us, Marmot Basin have been running these courses for the past 7 years and are keen to work with us going forward. Our course will have you arrive with your group on the 9th January 2015 and finish in Jasper on the 29th March. 
If you've done your research (as I have) you'll know that there are lots of ski instructor courses available to gap year students around the world. We feel that this programme in Jasper is rather different…
The basics:
– 11 week ski or snowboard instructor course
– 120 hours of training from the best instructors
– CSIA/CASI Level 1 examination and certification
– Full training for the Level 2 with the option to take the exam during the 11 week programme
– Regular video analysis
– Ski/board tuning session
– Full season ski pass
– Daily transport to the mountain
– Centrally located accommodation with gym and leisure facilities
– Full support from us in the UK and from our rep Gillian in Jasper.
Ideal if you've missed out on getting a Canadian Work Permit. You participate on a tourist visa and can focus full time on developing your skills without the stress of needing to work.
And what's different about this programme?
– First Aid Course included
– Avalanche Awareness Course included
– Real life work experience shadowing instructors
– Employment opportunities for the following season
– Boost your CV with our Mountain Management Seminar – learn about how a ski resort is managed – from marketing, to customer service and even risk management
– Training provided by Parks Canada in conjunction with Marmot Basin. This training includes dealing with emergency situations, identifying and managing natural hazards and an introduction session on how to use GPS technology.
– 79 nights' accommodation in either the Lobstick Lodge or Chateau Jasper (twin hotel room)
– HOT breakfast and dinner provided 7 days a week
– We can book flights to and from Canada for you using our ATOL
Champagne powder
Regular inverted conditions – warmer on the mountain than at the base!
Highest base elevation of all Canadian ski resorts @ 1698m.
Marmot Basin is located 20 minutes bus ride away from the town of Jasper. With transfers provided 7 days a week, there's no excuse for not getting out on the mountain everyday of the week!
The cost of this 11 week programme is £7550 (or £8450 including return flights from London). Book early and the majority of the payment won't be due until October!
How do I sign up?
If this sounds perfect for you, or you just want some more information, visit our Jasper Instructor Course website, email me or call me on +44 (0) 1892 771972 with your contact details.