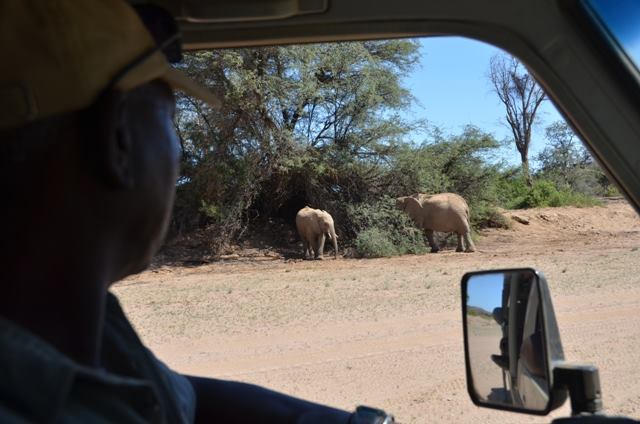 Emma Jackson has just returned from 4 weeks of elephant conservation in Namibia. During that time she spent 2 weeks helping to build walls and 2 weeks tracking wild elephants.
Week 1
The building project was based on a small farmstead, surrounded by the goats, cows and donkeys owned by the farmer. They seemed to enjoy watching the volunteers getting stuck into their building work! The weather was very hot, and rain was constantly threatening. Every night at the build camp volunteers watched the storm clouds gather over the eastern plains, lightning and thunder accompanying them. But no rain ever fell- until patrol week in week 2!
Week 2
On the first patrol night the volunteers experienced the first desert rain of the year. In just three days it was evident what good the rain had done for the vegetation – green grass spiking up covering the desert floor like a lawn. Volunteers were busy looking for an elephant that has not been sighted for a long time. Sadly she did not move with the rest of the herd. The search continues!
Week 3
The new building project was on a different farm stead, and was nicely finished up by the end of the week. Hard yet rewarding work!
Week 4
Quite a busy week! The week started with a herd passing by the camp during dinner time to the delight of the volunteers. Later in the week at a water hole, where volunteers were shown how to fish without rods, the tracks of lions, hyenas, baboons and elephants were seen in the mud. A quick climb up the surrounding rocks revealed an astoundingly beautiful sight- a herd of 10 elephants, including a baby of no more than a month old! This amazing week was completed by a call from a local to say that an elephant had got trapped in a dam, so everybody rushed to the scene to help the distressed bull to safety. Water was poured over the elephant to keep him cool, but eventually he was able to free himself and return to the rest of his herd.
For more information about the elephant conservation project that Emma took part in, see our elephant volunteering webpage.