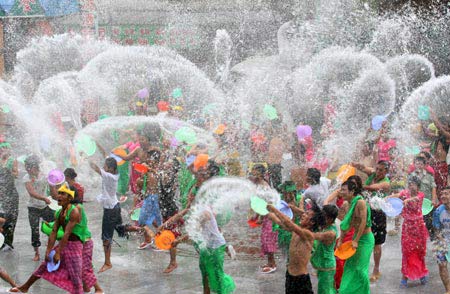 When you are travelling, there are few things that are more memorable than celebrating with the locals. Songkran, Thai New Year, is coming up in April. Why not head out to Thailand to experience it for yourself?
The Buddhist festival of Songkran is Thailand's longest and most important public holiday. It marks the end of the dry season and the beginning of the annual rains. There are several important traditions surrounding the Songkran celebrations, and for many Thai people, this festival has great spiritual significance, as well as being an excuse for a good time!
Songkran is a time for families to get together and to enjoy spending the days with one another – the second day of Songkran is officially the National Family Day which encourages the reunion of families spread across the country. At this time, it is traditional for Thai people to splash water on family members and close friends to symbolise the washing off of all misfortunes in the past year, and to wish them good luck and blessings for the year to come. The first day of Songkran is officially the National Elderly Day. This is the time when many young Thais perform the Rod Nam Dum ritual and pour fragrant water over the hands of their elders as a gesture of humility and to ask for their blessings. It is also a Songkran tradition for Thai people to visit their local temple to pray and, importantly, to wash the Buddha icons. The Buddhist statues on house shrines are also cleaned as part of the wider cleansing ritual which surrounds the whole celebration. In northern Thailand, it is customary for Buddhists to bring small bags of sand to the temple to symbolise returning the dust that they have carried away over the past year on their bare feet. Small stupas are then sculpted from this sand and decorated with flags in honour of the Buddha.
As a tourist visiting Thailand during the Songkran festival however, it's likely that most of the festival's spiritual significance will pass you by as you get caught up in the contagious festival feel, and in the many water fights for which Songkran is famous. For three days during the celebrations, the whole country turns into a friendly war zone as children (and adults too!) roam the streets with huge water guns, buckets or garden hoses ready to soak any passers-by. Tourists, not surprisingly, are special targets during the festivities, and if you're in Thailand during this period your only option is to embrace the occasion! Due to the heat, you'll probably find yourself grateful of a refreshing soak anyway. Be aware that white talc powder is also thrown in large amounts in many areas, coating the streets, and their users, in a layer of white, so make sure that you are suitably dressed (in beach-wear that you don't mind getting ruined)!
Alongside the water-throwing festivities, many other government-organised and unofficial events take place throughout the city of Bangkok, and the country as a whole. In Bangkok's Benjasiri Park, a large collection of stages and stalls present traditional customs, music and food, to introduce visitors to the festival's spiritual side, while the Amazing Songkran Joyful parades run along Sukhumvit Road to showcase Thailand's cultural diversity. Many traditional beauty contests also run at this time, including one under Bangkok's Rama 8 bridge. For an experience of more traditional Songkran celebrations, head to the Phra Pradaeng district of Bangkok. Here the celebrations take place about a week later than in central Bangkok and are filled with cultural significance. As well as getting splashed, you can also enjoy a selection of other activities such as the Thai-Raman flag ceremony, Raman dances, the 'saba' game, and boat races.
Chiang Mai, in the north of the country, is host to Thailand's biggest water festival parade. This spectacle involves Buddhist statues being carried from the local temples and paraded through the streets in celebration. The prominent Buddha statue is also cleansed, and sand is brought to the temple, from which stupas are then sculpted. There are also, of course, many exuberant water fights here too!
If you have been inspired to want to experience this festival for yourself, why not head out to Thailand this April to see what it's all about? A fantastic way to experience local culture is to take part in a volunteering programme. This way you have the opportunity to immerse yourself in the local culture as you work with, and alongside, the local communities. We run several animal welfare volunteering projects in Thailand, including projects focusing on elephant conservation and rehabilitation, wildlife conservation, and even diving and marine conservation. We also offer the opportunity to gain a teaching qualification and subsequently work as a paid teacher in Thailand with our TEFL and English teaching project. Check out our Thailand project pages for more information and to decide which project is best for you.