Julie returned from Whistler having visited as a parent and has provided us with a few suggested places to eat out.  If you have parents who want to visit you in Whistler, or if you are a parent planning a trip, read on…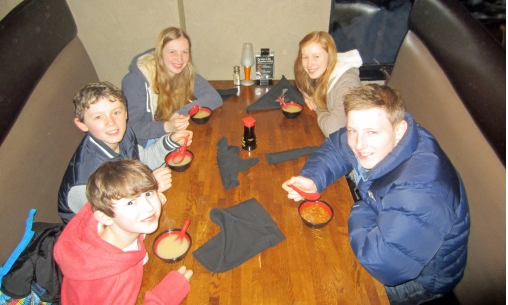 If you want no a frills, family friendly restaurant then the chain café, The Big Urban Grill in Whistler Village is a great place to go when you are keen to eat and the popular eateries are full. Brightly lit, with functional tables, loud music and large screens showing sport, the Big Urban Grill is a typical Canadian diner. Service is efficient if not too too efficient with the staff clearing our table before we had all finished eating. The menu was varied ranging from popular pasta dishes and pizza to stir fry's, burgers and salads. Prices are moderate for Whistler but you can definitely have a more pleasurable experience for the same cost, elsewhere.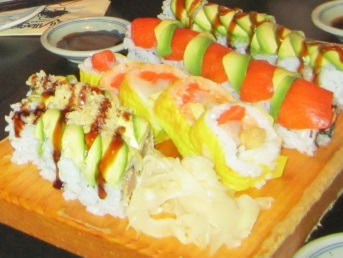 For a more fun and tasty family friendly restaurant, at comparable prices, the Japanese Sushi Village is highly recommended. It is very popular, so arrive early or if you are in a party of 8 or more, book. Seating is in booths at low tables. You will be asked, as is customary in Japan, to remove your footwear before sitting down. The menu is extensive, however the staff are excellent are working out and suggesting combinations. As well as sushi rolls, there are other Japanese dishes available Service is prompt and the waiters are happy to take further orders as the meal progresses. Prices are reasonable and all in all, Sushi Village is fun dining experience and a firm favourite with the family.
For a unique dining experience, a visit to the Mongolie Grill where you choose your meal from an extensive selection of meat, seafood and vegetables to be wok fried in your favourite sauce, is another great option. Upon arrival you will shown to your booth where your waiter will explain how the process works, take your order for drinks and for your complimentary bowl of soup. Queuing is sociable and it doesn't take too long to go round the huge buffet, choosing your food. Once you are ready to eat, your plate will be weighed and stir fried in front of you on a vast communal iron griddle. The final bill can be pricey but if you don't over laden your plate and opt for the free rice instead of noodles, you can reduce the final amount. On the plus side, the atmosphere is buzzing, the staff are friendly, you get free sweets on the way out and if you choose well, the food is delicious!
Check out our website for paid work opportunities in Whistler.