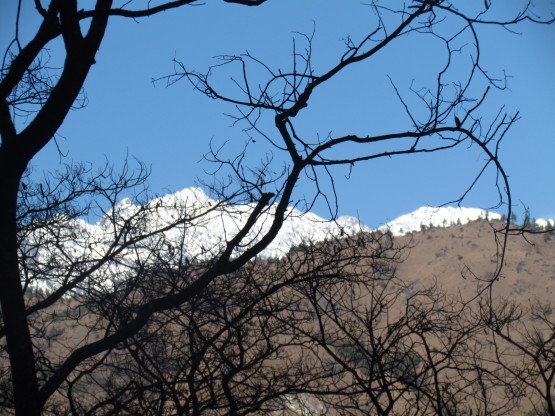 Another great update from Melanie – current Oyster career break volunteer in Nepal – this time focusing on her first impressions of village life in Nepal…
Introducing the Shyam Karki family and Kalyan School!
"I didn't know what to expect as we left Kathmandu with Basant to head to our village placements and host families. It was time for me to leave Nina and Tom and head off to my village in the Kathmandu Valley. During my time here I will be teaching at a school and helping in any way I can at Self-Help Group for Cerebral Palsy.
The chaos of Kathmandu gradually gave way to terraces of wheat and quietly humming villages of the Kathmandu Valley, and we drove up beside the School where I would be staying on the top floor with the headmaster, Shyam Karki, and his family – his wife Anju, son Swachchhanda and daughter Samriddhi. As soon as the front gates opened, I relaxed. I was greeted by two very warm, welcoming Nepali parents in the traditional way, presented with a scarf for prosperity and tika – a red powdery paint which is dotted onto the forehead as a sign of good luck. We were all invited up to their home for coffee, and wow, we headed up to their roof terrace and what a view!!! A 360 degree display of the Kathmandu Valley's hilly sides and, creating a splendid backdrop, the towering snowy peaks of the Himalayas!! I have spent a lot of time up on the roof terrace since I arrived!
The family, like most Nepali people, are so very warm, generous and inclusive. I have been very lucky they are really looking after me and treating me as one of them. We spend a lot of time together and I am expanding my Nepali vocabularly! Eating Dal Bhat – a meal of rice and vegetable curry every morning and evening takes some getting used to, but when it's grown in the garden and tastes so delicious it's not hard! It also sets you up for the day which is much needed! I have just finished a week of observations – 1 day at school and 3 days at the Cerebral Palsy Centre. On Monday I will start teaching classes 2,3,4 and 6 English! On Wednesday I will start helping children with therapy sessions and also provide advice on business development and marketing. Can't wait! More of that next week."
Thanks so much for this Melanie, pleased to hear you are having such an awesome time!