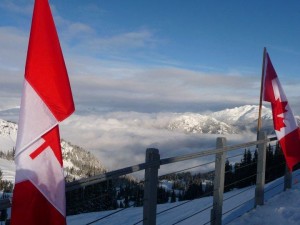 It has now been 3 years since I got back from my Gap Year placement in Whistler, Canada with ster Worldwide, and I still rave about it to whoever is (or in quite a few cases, isn't!) interested. I still truly believe that taking a Gap Year, whatever you choose to do, is one of the best decisions anyone can make. The confidence, independence and sense of adventure that you gain from travelling, I don't think can be matched.
I am so passionate about the idea of a year out, especially travelling, that I think I have found a career path for myself, so much so that I am now working for Oyster for a few months to gain some experience in this industry. After going to a few Gap Fairs, the most frequently asked question I have had is whether or not people find it difficult going back home with the intention of going to University. I would say, no. I thought it would be, but I would not have swapped my time at University for the world. It is possible to do both!
Of course I caught the travel bug and wanted to keep going, but I also wanted to experience what University had to offer me, meet even more people, study…and obviously enjoy the student lifestyle, which is very easy to get used to. I have just completed my Degree in Politics with a 2:1 (so getting back into writing essays and taking exams is possible!) and looking back on the past 4 years, including the Gap, I would have not changed a thing. I found that by taking a year out, starting University was a lot easier. Having the confidence to meet and talk to people, especially in that first week when you meet your flatmates and peers on your course. Dropping into conversation that a few months back I was a ski instructor in one of the best resorts in the world really did help me out, not many people can start a conversation like that! Also just being that year older than the majority of my peers I found to be a help rather than a hindrance when I got to University, however much my best mates rinsed me for being a little older! Overall, I really believe taking a Gap Year has far more pros than cons….how can living in another country, doing a job you enjoy, getting paid for doing it, and meeting some great people be a chore?
I still kept the travel bug while at Uni, and when my student purse strings allowed me, tried to get out there. I spent a month travelling Thailand and even got the chance to head back to Whistler visiting my sister who was taking her Gap Year and meet all the Oysters that were doing their season and who were thoroughly enjoying themselves! I was lucky enough to be there when the Winter Olympics were coming to an end, so there was a great buzz around Whistler, which I think had, and will continue to have a real positive impact on the resort.
I still have the drive to do more, I plan to visit and work in Australia, with Oyster, early next year and after that…well who knows. I would like to do a volunteer or conservation project, travel South America, visit more of Asia and even go back and do another ski season one year. Then maybe I'll settle into work! But there is no rush…
For more information, visit our Canada homepage or email Jon.