A huge thank you to Joe Forrest who tells us about his 12 weeks volunteering with children in South Africa. This gives a great insight into a day in the life of a volunteer
The past few months have been the best three months of my life. I was (slightly) apprehensive about my trip as I hadn't been to an airport by myself before and the furthest I had ever travelled was to Cologne in Germany. I shouldn't have worried. I got to South Africa reasonably easily and then the fun started.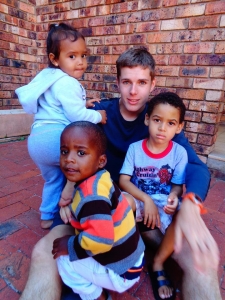 As I came mainly to teach I was teaching 3 days a week with 1 day of childcare and 1 day of coaching which was nice as it meant that I tried out all of the aspects of the programme. The school that I went to for teaching is in absolute chaos about 90% of the time but it is an amazing school and you very quickly get a good relationship with the kids.  It also means that you can be the only person teaching a class of 40 kids which can be slightly daunting (as their first language is not English but Xhosa, a language which has many clicks in it) but good fun as well.
Teaching in South Africa can be hard but also very rewarding and I was very emotional when I left the kids behind! The highlight of the school day has to be lunchtime (even though it starts at 11am) as all of the kids want to be picked up, ask you what your name is, how old you are and they played with my watch, necklace and hair a lot!
At the weekends there are trips out to different places and it is thanks to these excursions that I took part in so many activities that I had never done before e.g. Skydive, Shark Cage Dive, Safari, Watching Rugby/Football at the Nelson Mandela Football stadium. I would recommend this trip 100% and if you have read the information on the oyster page and like the look of it then this is probably the trip for you!
To find out more about volunteering with children in South Africa, check out the teaching and childcare volunteering page.