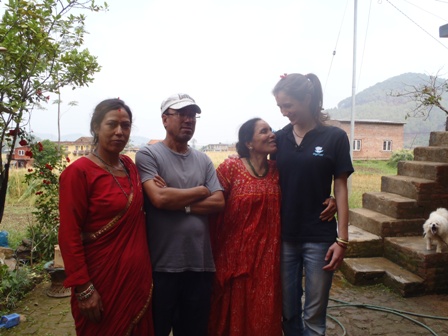 2) My wonderful family
During my time in Nepal, I was lucky enough to be hosted by an incredibly friendly local family who welcomed me openly into their home, treated me as another daughter, and fully included me in all of their family affairs and celebrations – I was even given a Nepali name (which did take a few days of getting used to). Upon first arriving in the village of Godawari, my home for the months to come, I was greeted with a full Hindu ceremony of welcome, receiving a bright garland of flowers and a red tikka on my forehead, and given my first taste of the tea and curry that would become a staple of my diet during my stay; 'dhal baat tokari' (lentil soup, rice and curry) is eaten every day for breakfast and dinner, and tea (often accompanied by dried rice and curry, biscuits or even boiled potatoes) is consumed at various other points in between. By the end of my stay I had developed a mixed relationship with this diet – at once loving the tasty curries that were cooked for me by my host family (kindly made with slightly fewer chillies for my benefit), and enjoying the spicy, sweet tea, but also at times wishing for some variety to break up the constant stream of rice-based dishes…
The family's kitchen, which would turn out to be the hub of the household, had many traditional features. Most Nepali people eat seated on the floor, so a dining table was not present – instead, when it came to eat, we sat on woven mats on the earth floor. Cooking was done either over a fire, a gas ring, or using an electric rice cooker (which had to be timed right to avoid the scheduled daily power-cuts), and food was prepared on a stone slab. Every morning before school I would go to sit in the kitchen to watch or help with the preparation of the morning meal. My host mother had very limited English, and although I learnt some basic Nepali during my stay, it was not enough for a full conversation so, instead of talking, we bonded over song. During the course of my stay I was taught several Nepali folk and celebratory religious songs – and the family delighted in showing off my newly learnt skills to their frequent visitors – much to everyone's amusement.
I was truly touched by the kindness and generosity shown to me by the family over the four months that I was living with them, and remain in contact with their daughter today. Two years after leaving Nepal in 2011, I returned to visit them in Godawari; they welcomed me with open arms, and hosted me a second time while I carried out research for my undergraduate dissertation. I feel extremely lucky to have been able to experience daily Nepali life, and to get an inside exposure to the local culture, within such a friendly and safe environment. Doing a home stay is by far the best way to get a true flavour of the country you are in, and during my time in Nepal, I could not have wished for a better family to guide me through.
To learn more about the Nepal volunteer teaching project, click here.