Cheryl Aston, has recently returned from our monkey rehabilitation project in South Africa and shares her sabbatical experience with us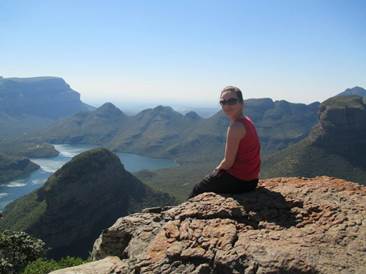 Wow what an experience! I can't believe my 6 week sabbatical in Africa is now a distant memory but what a memory it is…
After a long journey to Johannesburg airport and then a tiny propeller plane to Phalaborwara airport I was on route to the rehabilitation centre to look after the baboon and vervet Monkeys.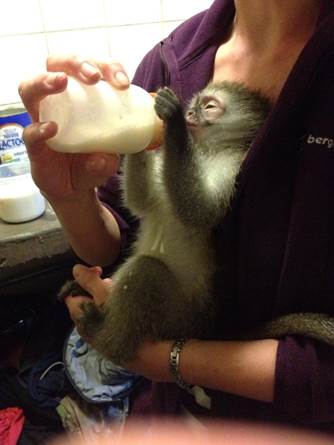 Once I arrived at the centre I was greeted by other volunteers and a lot of dogs. There was 4 people that arrived around the same time as me so we all got the guided tour together.
Meeting the baboons and vervet monkeys was simply amazing, meeting the accommodation, outside toilets and showers was not such a welcomed site but I had tried to prepare myself for the basic accommodation as best I could.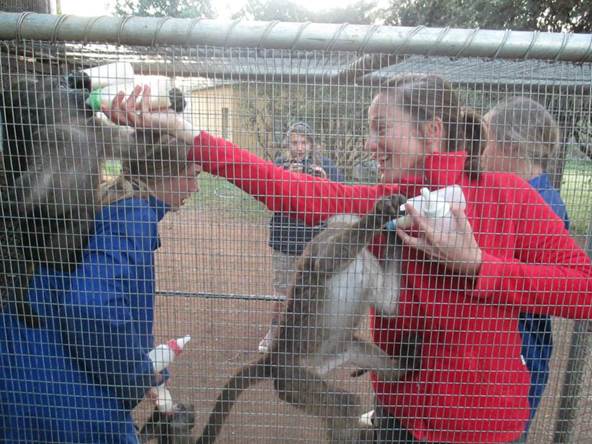 The first few days I found to be very overwhelming, trying to get my head around the groups we were put in and the timetable of chores and all the other people's names took me a while to get the hang of. There were 3 groups, each day the groups rotated who did the babies which mean starting work at 6.15 to bottle feed the two vervet monkeys and the 9 baby baboons. It was a rare occurrence when you bottle fed the baboons that you didn't get covered in pooh or milk by 6.30am…great start to the day!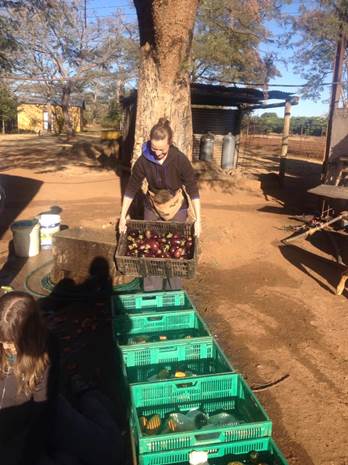 You would have the same chore for 3 days that would start from 7-9am this would consist of food prep which would mean chopping and washing fruit and veg for 35 crates.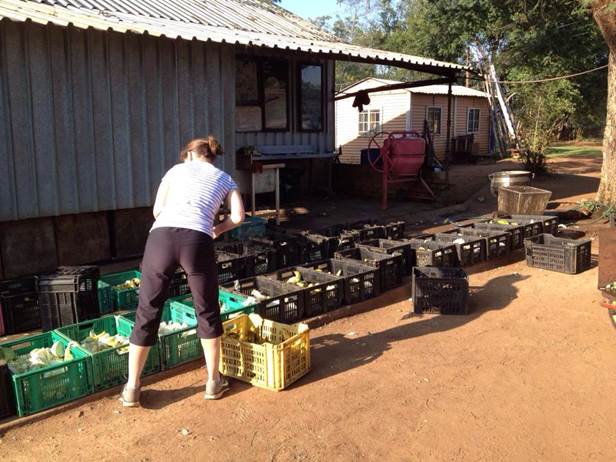 At 9am we would stop for breakfast and then at 9.30 our chores would continue until lunch time which was at 1pm. We would go harvesting which meant collecting natural vegetation for the younger monkeys, cleaning up after food prep, washing crates and rotating stock and monitoring the monkeys.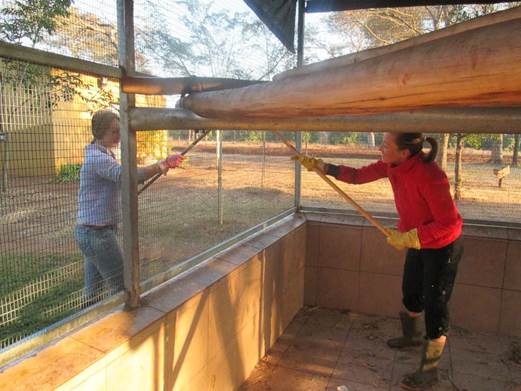 Around 11.30am the best part of the day would arrive. We would get to take the baby baboons down to the pool. We would open their enclosure and out they come running looking for their buddy to carry them down to the pool and have cuddles. The best part about the baboons is they choose you, you can't just pick them up, they will come to you and once they do, they come to you day after day, after day and it's the most amazing bit. It took a few weeks but after a while, Lupa bonded with me and by the time I left Becky had taken a shine to me too.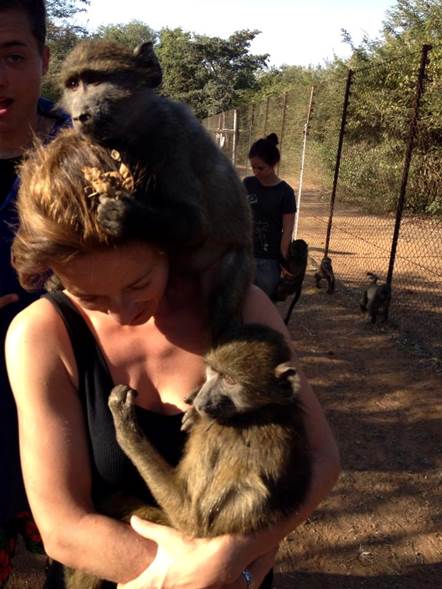 After lunch we would continue with chores, some of us would be bottle feeding the babies or food prep for the afternoon or monitoring the animals which meant choosing one of the monkeys and monitoring and recording their behaviour and then at 4pm we would finish. Between 4 -6 we had time to shower, use the wifi ready for dinner at 6.
Lynnette one of the owners would make us a delicious homemade meal every night and her husband Bob would sit with us at breakfast and dinner every day. He always referred to us as a family. He was firm but fair. He wanted us to work hard, get the most out of our experience and do what we came to do and help rehabilitate these monkeys.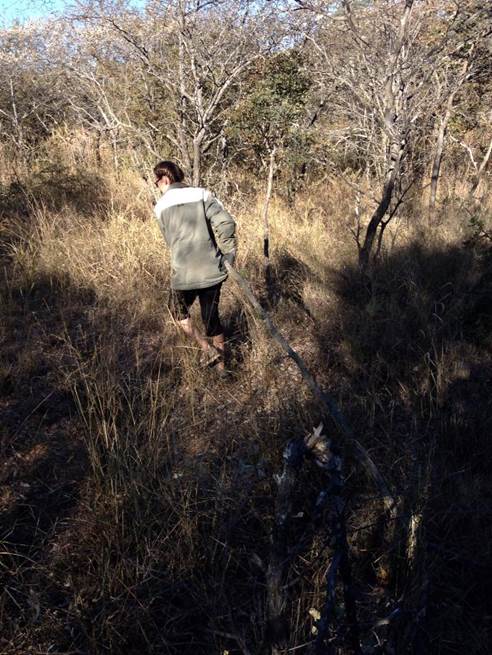 The best part of my whole stay was in my last week when I got to go to the release site for 5 days. It was such hard work, clearing thorn trees and bushes ready for the enclosure to be put up. To this day I am covered in scars on my ankles and arms but every time I look at them they remind me of my experience. It was amazing to see the start of something amazing. I was just sad not to be there right at the end but its such a big time consuming job, there is so much hard preparation work that goes in to this, behind the scenes as well that you just don't fully appreciate. This time around it's the vervets that are being released, each one has to be captured, assessed and microchipped, and any day now they will be taken to the release site which is so exciting. I am glued to the rehabilitation centre page waiting for the first message from Lynette and Bob to say they are there, but even when they are there is still so much hard work to be done, so much monitoring to make sure it all goes well but I have absolutely no doubt that this 18th release will go as well as all the others.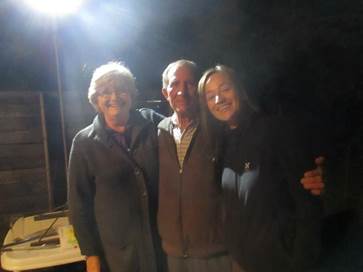 I was sad to leave all the amazing friends I had made, everyone made me feel so welcomed and Lynnette and Bob became like parents to me and everyone there. They really look after you. What an amazing job they do, they literally have given up their lives to rehabilitate these animals, they are there all day every day and it was so amazing that they open up their homes and hearts to allow people to be part of the whole experience.
I had an amazing experience, met some great people and saw some amazing things.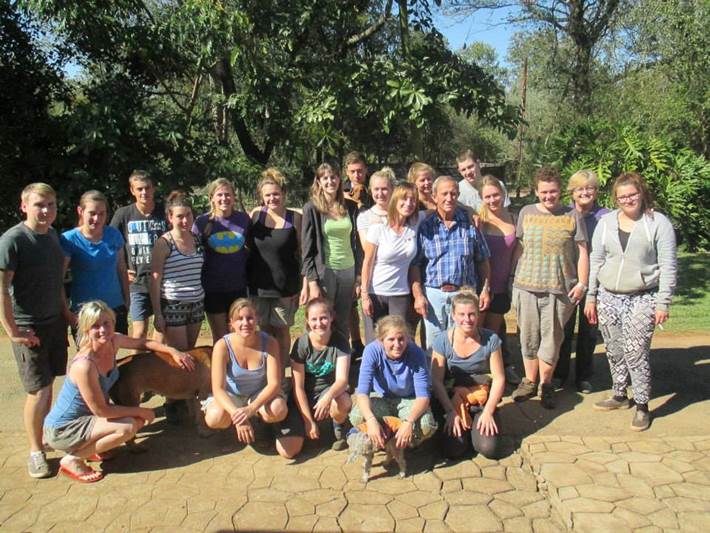 For more information on volunteering with monkeys and baboons in South Africa please visit our webpage or contact Anne the destination manager directly on +44 (0) 1892 771975 or by emailing [email protected]