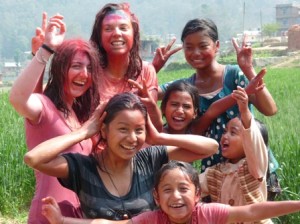 I lived in a small village in the Kathmandu valley with a wonderful family. I lived with the headmaster of my school and his family. I was the first long-term volunteer they had had and they were very keen to make me feel welcome. At first, living with a family was a little daunting but I soon settled in and became very close to the daughter in the house. She soon grew very chatty and I was able to see her confidence with English grow everyday. I also became good friends with a close relative of the family. She was fifteen and at college, she was always there for me to talk to, there is never a dull moment with her! I had quite an extended family so there was always someone to talk to. Next to my house, lived one of the family member's mother, brothers and his nieces and nephews. The girls were quite young and I always loved playing games with them when I came home from school, they were three of the smileiest girls I've ever met.
I taught in three Secondary Schools in the local area.
My first was a small school and it was ran by the community. I would walk to this school, The father of the family (and headmaster) would follow later on his motorbike with his wife who also taught at the school. Assembly would start at 10am, the students would line up for their short military-like stretches which was followed by a prayer and the national anthem. I would stand at the side trying to keep the easily distracted class ones in line. When assembly finished, each class would walk in line to their classroom with bright smiles and a series of "Good morning, Miss", "Good morning, Sir". Then lessons would begin, I would teach three lessons each day. Dickson, Miss was my co-ordinator teacher, she was fantastic, she was so supportive during my time there and became a very good friend. My favourite lesson was the extra language class for class 6 and 7. I would do longer projects with this class and I feel I made most progress with this class.
At my second school I taught with Pete, another volunteer, for some weeks. I saw the pupils less often here, so building a relationship with the pupils was more of a challenge, which made discipline more difficult sometimes. But my experience here, overall, was very positive, and I found the students very responsive and they would produce some excellent work.
At the third school the students were learning English as a third language after their local language, Thamang, and Nepali. This, of course, meant that their level of English was much lower than at the other two schools. Pete and I would teach here every Friday, so the best things to teach in these lessons were word games, like hangman and pictionary, as we weren't there often enough to commit to a project. We always had fun in these lessons, but the students were learning too, but in a very different way from what they were accustomed to.
For each individual class, in each school, my teaching style would have to adapt to their level of understanding. I would have to constantly be aware of my speech: the pace, the pronunciation and of course, the actual words to use. I would find that hand gestures were invaluable, to aid understanding and also to keep them looking at me. In fact I would often find myself acting out what I was saying in order to get it across to those who didn't quite "get" what I was saying.
I found that teaching was a great experience, the students and teachers were fantastic and Nepal is a wonderful country. I have made a lot of life long friends and I will definitely be returning in the near future. I feel I have come out of this experience a much more independent and confident person and more sure of my future.
Thank you Oyster.
Thank you Penny, so glad you had a fantastic experience!
For more information about teaching in Nepal please visit the website www.oysterworldwide.com