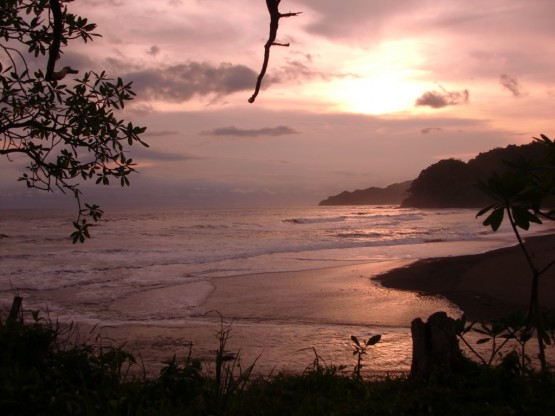 Anne tells us about her free time in the Community Project, whilst helping with conservation efforts to save turtles in Costa Rica:
Keeping busy here does not seem like a tricky thing to do- how can it be when you have the Pacific Ocean on your doorstep and you are surrounded by dry rainforest? There is much to explore on foot around the area, walking up into the mountains, along the coastline or simply to the next village- on hand there are always a hoard of gibbering monkeys, colourful parrots or imposing vultures to keep your eyes and your camera busy. As I walked from the next village yesterday I stood captivated as several monkeys dashed across some electricity cables, soared from the pylon to a nearby tree, and then proceeded to scamper up and down the tree before hopping on to the next tree. One even had a tiny baby on its back, it was beautiful to see.
Efraín and Isabella keep giving me ideas for walks to do in the area, and most mornings I will follow their advice and hop onto some unknown trail. Walking is just such a fantastic way to explore, as you hear the noise of the jungle and see things that you would not usually have the time to see. It also means that, whether you want to be or not, you are put on a weight loss through extreme perspiration regime, guaranteed in the stifling heat and humidity. You will also find yourself spending a lot more time than anticipated lugging yourself across rivers- often the roads just run into the rivers, so irrespective of the deluge of water roaring across the ford after heavy rains, you have no choice but to attempt to cross without losing your footing and ending up drifting off into the Pacific waves. At least twice a day I find myself knee deep in angry river water, always questioning why on earth a simple bridge could not be constructed for ease of passage, but my internal grumblings are always affectionate- it's part of the fun, the lifestyle and the quirks that are Costa Rica, and I wouldn't want it any other way.
Today I spent the day at the beach with the assistants digging up nests- this isn't necessarily work that volunteers do, but I really wanted to see baby turtles. And amazingly, I was lucky enough to see one. Approximately fifty days after the eggs have been laid, the assistants will keep an eye on the nesting spot, recorded through a series of measurements taken when they are laid, and then when they see an indentation in the sand, it is clear that the eggs are hatching. These nests are then opened, and it is monitored how many eggs hatched, and of those that didn't, what stage of development the turtle reached. Today we dug up a nest in which 73 had hatched, eight had fully formed but something had prevented them from hatching, and seven had not formed at all. Amongst these shells and un-hatched eggs was a tiny black baby turtle. We fished him out of the hole, and watched as he found his bearings, seemed to catch his breath and then made a tottering attempt to reach the sea. He was so small and vulnerable, and finally I could understand why the survival rate for these baby turtles was so small. Firstly, after having dug himself out of a hole with a depth of 45cm, this newly born tiny creature, about 5cm long, had to cover a distance of about 15 metres over open sand to reach the safety of the sea. And even then, how safe could it really be? Moving large pieces of driftwood that would impede his success in reaching the sea, we kept an eye on his dogged progress. I was told that we could help him reach the sea, but he had to cover at least 5 metres of the journey on his own, so that he could get his bearings and learn to survive. According to some research, the turtles will return to the same beach where they were born to give birth to their own babies approximately 15 years later, so they have to learn how to recognise it. Part of the reason why we tag the nesting turtles is to be able to add to this research, either building on it or disproving it. It was so wonderful watching this tiny baby finally reaching the sea, and swimming off into the foam- how amazing nature is that he immediately has the instincts to move off in the direction of the sea, and then swim into it. It was beautiful to see.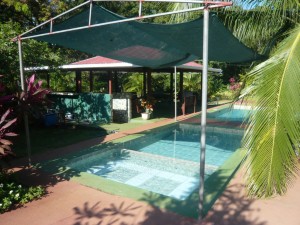 Eva, one of the assistants here, is fully involved in the community projects here. Sadly, as I am only here for ten days, I will not have time to participate. But she tells me that you can teach English, help with the beach clear up scheme, take the children on nature walks, and participate in all village festivals such as bingo (so much more fun when played in a tumbling shack than at Gala Bingo) and the Liberation Day celebrations on August 15. To commemorate their independence from Spanish rule, the local children will carry a burning torch, similar to the Olympic Flame, from their village to the next. That village's children will then continue the flame's journey to the next village. Eva and Emiliano have also run a recycling day and a turtle awareness day, where they took the local children to the beach, taught them how to dig a turtle nest, recognise tracks and measure the shells, done through getting the children to create a life-size sand turtle. There are also art classes, exhibitions and football matches- so much to set oneself up here happily.