Jacqueline, one of our recent teaching volunteers in Nepal, has sent us a brilliant account of the school trip that she participated in with her students from the village school:
"Ma'am, Ma'am, we are going on a picnic, we are going on a picnic! Please Ma'am, will you come with us? Please Ma'am!"
"When?"
"The day after tomorrow. Please Ma,am, please…"
"I will have to ask the principal."
The principal told me that this was not to be just a picnic, it was actually a proper school trip, and that of course I could go.
It seemed like the whole school would be going on their school trip on the same day – 9 buses and 500 children… Class 1-3 would be going to the botanical gardens in Godawari, Class 4-6 to Swyambuth and the National Museum and Class 6-8 to Bhaktapur. Now I was faced with a difficult decision – which trip to join?! All the classes kept insisting that I should go with them, but I choose Class 4-6 as I teach them most regularly.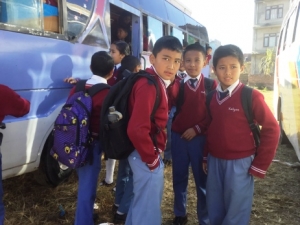 The bus ride with all of the children was an experience in itself. As with school trips the world over, there's always one who is sick and makes a mess of himself! Music was playing and children were singing and dancing in their seats. The children just love to dance at every opportunity.
Everyone was very excited to be on the trip. Even though we were not travelling far, some of these children will have never left their villages before, so this was quite the experience for them.
Swyambuth Temple is famous in Nepal for its resident wild monkeys that roam the 365 steps waiting to run away with your camera, or whatever snack you might be enjoying. Whilst holding my hands, the children were asking me "are you happy Ma'am, do you like this… is it not soooo beautiful?"
One child got scared at the top of the steps on the way down and needed some help from me. Not being able to face carrying her down the steps, I encouraged her with a song, and together we all came down the steps. It felt like a miracle getting her down!
After the temple, everyone got back in line to get on the bus again for our next destination, The National Museum. This is where we enjoyed the much anticipated picnic, consisting of delicious cooked food, sweets and Fanta.
The museum itself was amazing, we started off with stonework, than fabulous bronze sculptures, metal and wood work, mostly of the Hindu deities. The children all took out there notebooks and were scribbling down what they had seen, asking questions and telling me what they recognised and what they knew. Then we went to another building where Buddhist art was on display.
One of my lasting memories was when one of the children gave me a small necklace with a Durga image on it. I thought he had found it on the floor. However, I realised he had bought it with his pocket money from a souvenir vendor for me, and I was almost moved to tears.
I will always treasure that little necklace, all the children and the memory of this school outing.
A big part of our teaching programmes in Nepal, and elsewhere around the world, is the ability to become immersed into school life. Your volunteering time may not just be spent in the classroom, you may be lucky enough to make memories that will last a lifetime by getting involved school trips or other extra curricular activities.
With group departures in May, September and January, you can secure your place today by completing our short booking form. If you have any questions, feel free to comment or email Jon, who runs this programme.