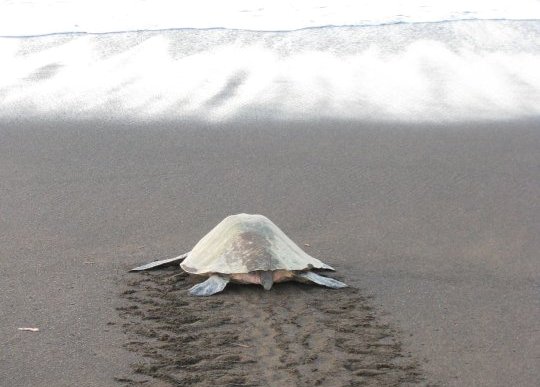 After my hatchery watch last night, I crawled back into bed for a few hours of kip. I woke up in the morning feeling terribly hungover, which seemed unfair as it was caused by extreme exhaustion rather than any alcohol. I dragged myself out of bed however and found that there was a trip to the village to use the internet and have lunch in a restaurant. I was very keen for this, as I knew that there is a supermarket in Coyote, and as it had been over a week since my last chocolate bar and a beer, I was feeling like I had to get my fix.
The sun was blazing down crazy hot, despite the fact that it was only 9am. The first 2km of walking was along the beach. The next 7km was along dirt road, with lovely views over the sea and the rainforests. I drank 2 litres of water in this time. Luckily about 1km before the village a nice man with a pick up stopped for us, and we leaped into the back for the final stretch into town. It felt like such a treat to be in civilisation. The supermarket is no bigger than a petrol station shop, but I think I spent about 40 minutes checking out everything that was on offer. Ice cream, chocolate, ice cold drinks, beer… it felt like I was in heaven. No matter how much I love the isolated experience, I am undeniably a person that loves my comforts, simple as they may be. Holding that ice cream in my hand and taking the first bite, I felt like I was the happiest person on earth.
After using the internet for a few hours we went for lunch, which was a very simple affair, but again, I was so happy I felt I could have cried. Cooking facilities at the beach camp means no meat; to recompense this I ordered a great big steak and salad with the inevitable rice and beans, with a large beer. The whole time that we were eating we uttered not a word. We each needed to appreciate the beauty of eating good food, rather than the desperate creations that we were banging together at the beach. (Yesterday we had mashed potato and ketchup for lunch). After lunch, I was unbelievably ready for a siesta, but in order to be able to have one, I had to walk 9km. This was demoralising to say the least.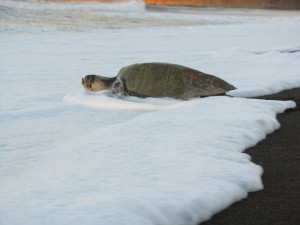 We stopped by the supermarket again to stock up on chocolate and drinks, before heading off on the long walk home. Luckily about 2km down the road a pick up full of school children came past. There were maybe eight of them in the back, but the driver stopped for us anyway, and we leaped in with them for a chirpy ride most of the way home. Again, I was overwhelmed by the kindness, and also loved the normality of it. I mean, at home you would never ride down a public road in the back of a pick up. Health and safety would kick in before you could say seat belt, and the police would be all over you like a rash. I enjoyed the guilty pleasure of doing something that to me felt like a small crime, despite the fact that here it is totally the norm.
When we got to the beach the evening was beautiful. I did some yoga on the beach in the setting sun with the girls, before heading to shower in the evening sun. It was so warm out, and the water was lukewarm from the sun. It was so lovely to stand outside, with a view out over the mountains, and bathe myself like people centuries ago had to. Again, a simple pleasure, that anywhere but here would be annoying and far from pleasurable, but this place has something about it that makes such things a treat.
Tomorrow I am heading back to San José before flying down to my next project site, the tropical placement. Could I possibly get a bigger contrast in Costa Rica than the wilderness of this rustic beach to the urban sprawl of San José?
Many thanks to Andres for his fab photos!
Find out more about volunteering in Costa Rica.