Returnee volunteer Victoria tells us all about her experiences working as a vet in Jordan.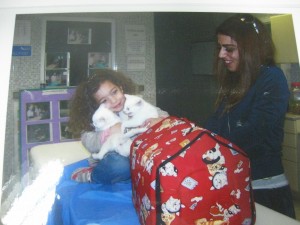 Jordan: to me it meant camels, deserts and Arabian nights- not exactly the first place that comes to mind when planning a gap year. But if you're looking for total submersion in a way of life very different to what you're used to and the opportunity to practice and develop your veterinary skills then Jordan should be high on your list. Intense heat, crumbling monuments, local peculiarities and not to mention Lawrence of Arabia lookalikes, Jordan is a country that I found open hearted, tolerant and welcoming.
A few years ago the term animal welfare would have meant very little in Jordan. Jordanians had no time for animals when human life mattered more and humans faced so many struggles of their own. Generic images of Arabs callously flogging their horses, skinny dogs running loose with severed tails and cats lying on the road as a result of reckless car driving were common. Arabs habitually mistreated their animals either because they don't know different or, more often, simply because they didn't care. Today things have changed very little but this cruelty and negligence that prevails against animals has resulted in the establishment of an institution that helps spread more awareness about animal welfare among people in Jordan. This is your chance to make a difference to the lives of all kinds of animals who, if the centre wasn't there, would have no chance at all.
The Humane Centre for Animal Welfare (HCAW) is a sprawling Arabic style green building pressed against a gentle but rocky slope about 20km out of Amman. It is surrounded by a forest of pine trees on dry stony terrain.
The first thing that strikes you on entering the building is its cleanliness. Two Philippine girls are responsible for keeping the place spotless and work tirelessly around the clock every day. Somehow they manage to keep themselves equally immaculate and they are always smiley and bright in their well pressed blue overalls. Two vets work full time at the centre. Although both are newly qualified you wouldn't think it by the way they calmly respond to the wide variety of cases that present themselves at the clinic. A more experienced Croatian vet works twice a week which is when the surgeries are carried out. Depending on your level of experience you can expect to assist with the consultations in the treatment room and with patient ward rounds. Again, if you have the experience, your help in performing castrations and fracture repairs would be made full use of on Tuesdays and Thursdays. The vets work as a team and are always at hand to discuss and advise on cases. The working day is 8.30am to 3.30pm six days a week with Fridays off. There is a mini bus that takes staff back into Amman and you'd be advised to make sure you are on this or else it is very easy to end up staying at the centre till late in the evening. However, if you're organised and efficient and make sure you leave on time, the working day still leaves plenty of time for visits and sight seeing.
There are all kinds of animals at the centre. New born orphaned kittens with their eyes still pasted shut turn up almost every day. A vervet monkey confiscated from a pet shop does somersaults in his cage; raptors flap helplessly into the roof of their enclosures; puppies squeal at first sight of you and cats acrobatically scale their cages. Camels with gentle pretty faces and baffled expressions eye you up from a distance while horses with sorrowful misty eyes shy away with distrust to the back of their stables. Even the tortoises parked half hidden under straw seem to have an air of resignation about them. In every corner, in every space are creatures that are simply just being themselves.
To be honest, every animal at the centre is desperate for fuss and attention, as much as they all seem to be ravenously hungry. I spent a lot of my time with the older kittens, who pleaded for play and games. I couldn't pass their cages without taking at least a couple out for a scamper. I paired them up and shut the playmates together in empty rooms to burn off their energy and inquisitive natures. They were full of mischief and endearment. One cat, we called Zeus, was congenitally blind. His marble like eyes remained uncovered by lids and made them a vulnerable target in rough and tumble. I paired him with little Ginger and he showed all his boldness and strength of character padding around blindly, lifting his paws up high, not at all deterred by knocking into table legs and chairs, tracking his mate down by smell and then batting him with paws that he waved in the air. He gave as good as he got. I was so proud of him and his courage. I was also so proud of another little hairy tabby kitten who when I first met him trembled at the sight of a hand but after only a week he would hurry purring up to the front of his cage rubbing his body against the bars and his chin against my fingers, huge eyes pleading for a cuddle and a play. The adoption rate at the centre was very low, at most only a couple of cats and dogs are rehomed each month. So I was concerned when I came to leave about my kittens and their ongoing development and wellbeing. I mention this to remind you to find the time to give affection and attention to the animals. Food, water and medical treatment will keep the animals stay alive but, like any living creature, they will only begin to live a meaningful and contented life if they receive attention and affection. Also, well socialised friendly pets are easier to rehome.
Thanks Victoria! The next post of Victoria's experiences of living in Jordan are to be posted this week!