Big thanks to our recently returned career break volunteer Melanie for writing about her experiences in Nepal.  Enjoy part one of this great blog, parts two and three to follow!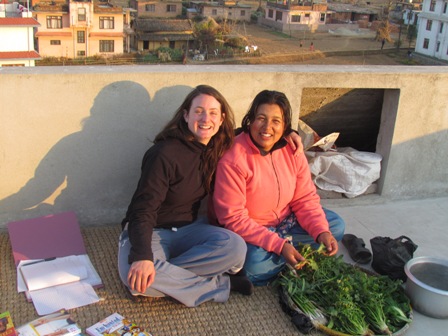 My life as a volunteer in Nepal: A Normal Day!
During the first few days of my stay with my wonderful Nepali family, I woke like clockwork at 5am to the sounds of singing, music and the ringing of bells wafting through the air. I soon learnt that this came from one of the Hindu temples dedicated to Lord Shiva, located on top of a small hill near our house. I also soon grew accustomed to the sounds and if they didn't wake me, I would eagerly listen out for them.
I was incredibly lucky to have a room with three windows looking out over the Kathmandu Valley. On a clear morning, at 5:30 am the silhouettes of the Himalaya range provided a staggering backdrop to 80% of my view, and I never tired of their command and splendour.
On Saturdays, the Grandpa would visit us at 7am, but on weekdays I would normally be up by about quarter past. I would greet the family with a 'Subha Prabhat' and make a black tea before doing some morning yoga.
My Nepali mother used to prepare our Dal Bhat in a cooking area on the roof of the house and I would join her to peel garlic or chop vegetables and have a great chat. I am yet to test out the amazing recipes that my Nepali family taught me, but I can tell you that I really missed Dal Bhat when I got home! This meal is a staple for Nepali families, particularly those living in rural areas, and comprises rice, lentils, a pickle – often tomato and coriander based, and lightly curried vegetables. We would eat our meal at around 9am, and at first this size of breakfast was obviously very hard to get used to. But in the mountain air you adapt very quickly, and I soon grew to love it. What could be better than fresh, seasonal vegetables picked from your garden or shared out by others in the community? Just go easy on the rice… 😉
Between breakfast and work, I would make sure my room was spotless and prepare any washing. I worked as a public affairs manager in a centre for children with cerebral palsy for half the week, and as an English teacher in my family's school for the other half.
Check out next instalment to hear about Melanie's time as a volunteer teacher in Nepal.
For more information check out our volunteer in Nepal webpage or
you can contact Jon directly on +44 (0) 1892 771972 or by email: [email protected]