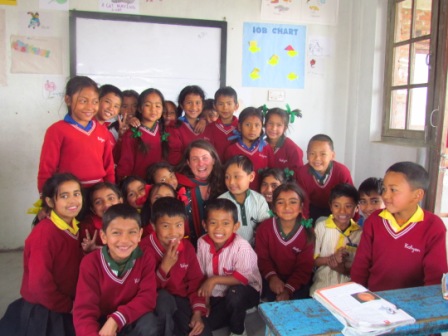 Big thanks to our recently returned career break volunteer Melanie for writing about her experiences in Nepal. Enjoy part three of this great blog!
My life as a volunteer in Nepal: During My Days at School!
On days of work at the Cerebral Palsy centre, I would dress into trousers and a long sleeved top, fill up my water bottle with cooled boiled water, pack some nuts and fruit to snack on, and head through the school playground on my 5-7 minute walk to work.
Walking through the playground and along the track to work, I would be stopped by my school students, to say hello, give me a sweet, show me something or ask if I was in school that day.  I loved our morning chats!
My walk took me through fields of vegetables and flowers and past the neighbours houses, we'd all greet each other along the way and the sky was normally blue which made for a lovely journey to work!
I would spend some time with children at the Cerebral Palsy centre, on these days I would help older children to learn my craft skills which would serve them as adults.  There are facilities at the Cerebral Palsy centre, but I would recommend taking one or two items to get started, and looking for new craft project ideas.  Some of the children learn to weave rugs and sew table cloths but they definitely appreciate new things to do.  Balloons for papier mache are always useful!
The remainder of my time at the centre was spent in the office, helping to develop the business.  Everyone at the centre had such an encouraging and positive outlook and the few children there seemed very happy to be able to be there.  I always left my day feeling very inspired by everyone.
I would normally head back up to the family home by 4:30pm after school, or 5:30pm after working at the Cerebral Palsy centre, and would have a snack with my Nepali brother or sister, swapping stories of our day, or having informal Nepali / English lessons!  I learnt so much from every member of my household about etiquette, language, culture and history.
I would spend early evening preparing for lessons or making props for the school play, and would always offer to help with the evening's Dal Bhat, which we would normally prepare and eat between 7pm – 8pm.  Electricity is very limited in Nepal, so after lively discussions at dinner, we would often all retire to our rooms by 9pm, my brother and sister to study, and the rest of us to plan lessons or read.  I would be asleep by 10pm ready for the enchanting sounds from the temple the next morning :).
For more information check out our volunteer in Nepal webpage or
you can contact Jon directly on +44 (0) 1892 771972 or by email: [email protected]