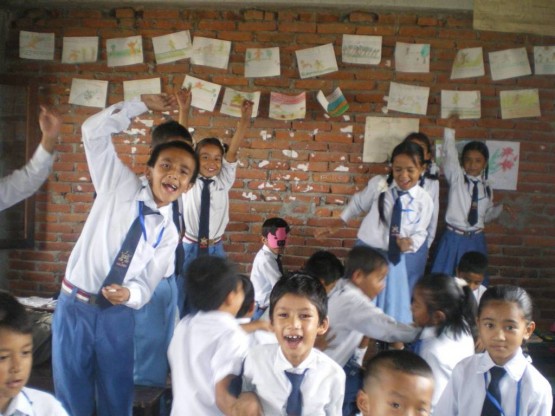 A fantastic experience for Oyster volunteer Erin. Thanks Erin!
Teaching was, for lack of a better metaphor, really a roller coaster ride! The experience as a whole was full of ups and downs, but in hindsight I wouldn't change a thing. I also think that looking back on the past 6 weeks or so of teaching, I really enjoyed it far more than I realized at the time. It was easy to get caught up in the stress of having good lesson plans and activities. Yet in reality, working with the kids, regardless of how well things turned out, was a lot of fun.
One of the most memorable teaching experiences for me was our first government school lesson. We decided to do a class about food and dining starting with basic vocabulary. Once we went over all the names of the foods and dining ware, we taught basic phrases such as "I like_____, I do not like_____" and "I have_____". To aid the lesson, I spent hours the night before drawing and cutting out pictures of all the vocabulary words as props. We tacked them on the board next to their corresponding names and for the lesson on "I have___", for example, we let them take the pictures to their seats.
The students responded so well to the lesson, loving the props and the chance to have a more interactive lesson. That day we were only teaching classes 4 and 5. What stuck with me was when I could hear our lesson being mimicked in next classroom. I could hear, in a quiet moment, students going "I like apple" "I like carrot". When I peaked in, I saw the teacher for that class had tried to emulate my drawings and do the lessons with her own students. I was so proud and flattered. I really felt like I had made a contribution to the school that day which, even if somewhat misplaces, was an awesome feeling.
Some of the my other favorite activities from the past few weeks have stuck with me as well. One of the best was being able to set up a pen pal correspondence between my class 5 and two grad 5 teachers in Stamford. (Big thanks to Ms. Park and Mrs. Woodside!!) In class 6A we started a class newspaper that featured all different sections from sports to arts. My favorite lesson in class 3 was sharing a New York City picture book, then completing a Venn Diagram comparing Nepal and New York. And the monster project in class 4 went over well. The students had to draw a monster, describe it in detail, the swap papers and try to draw their classmates' monsters based on the description alone. It was tough, but they did well with it!