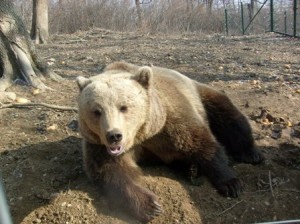 Romania is a beautiful spectacular country, so from the moment I was travelling from Bucharest to Brasov I knew that I had come to a really excellent destination. I was very impressed by the people who run the sanctuary on a daily basis particularly, especially Razvan the representative from Oyster who was around to show us (myself and another volunteer) some of the sites. The bears were fantastic to see, so many and all different, there were also about 20 rescue dogs who were really friendly and brightened up the daily tasks, also a little stray cat Shim was doing her bit by visiting the volunteer flat! Brasov is a nice city to be in a complete contrast to what I am used to. Brasov is laid back with lots of cafes and restaurants and most people spoke English, the weather was fine, the views were fantastic, there was plenty to see as we travelled around.
I had no preconceived ideas about the trip, but I had done some research into the history of Romania and the bear sanctuary which helped to prepare me, I packed away a couple of pairs of washing up gloves! My main tips for someone who is looking to volunteer at the Bear Sanctuary would be that to remember that currency is in Lei not Euros! Bring some clothes to wear to go out in the evening.
It is important to realise that you are at someone else's place of work and be prepared to do what is required, I would say having experience of conservation work would be an advantage but not a necessity but you have to go with the flow, which could include collecting boxes of food, sorting out meat and fruit for the bears and feeding the bears, I was only there for 2 weeks, although I am glad I went I think if its possible 1 month or more would be worth doing. Anything you may need you can buy in Brasov. Get in touch with EHIC before you go! All the other volunteers I met from USA and Austraila had expensive rabies injections, but EHIC told me they were not necessary and they sent me a card in case I needed medical help with anything.
I think that any project that brings people to Brasov is beneficial because Romania does seem to have a bad reputation and when people visit they can make up there own mind and maybe recommend Romania to other people. Although I wouldn't say as an individual you make an impact on the economy but as a project it probably makes some difference. The fact that the volunteers are helping take food that otherwise would be discarded to the bears where it is used is reducing waste. I would like to think that the volunteers help the local people who work at the sanctuary by giving them more time to work away on sanctuary projects and thus improving the sanctuary.
I would say that I had a fantastic experience and I am definitely feeling now that I am back home in Edinburgh that I would like to go back, sure there isn't a Tesco's, but you can't have everything! I would definitely recommend it to anyone who wants to experience this type of volunteering, its not too faraway from Britain and I didn't feel that I was in a really foreign country.
I am reborn! Simply the best experience I have ever been involved with!
A great article Cathy, thank you.
For more information on volunteering in Romania, check out our Romania webpage or email Anne at [email protected]