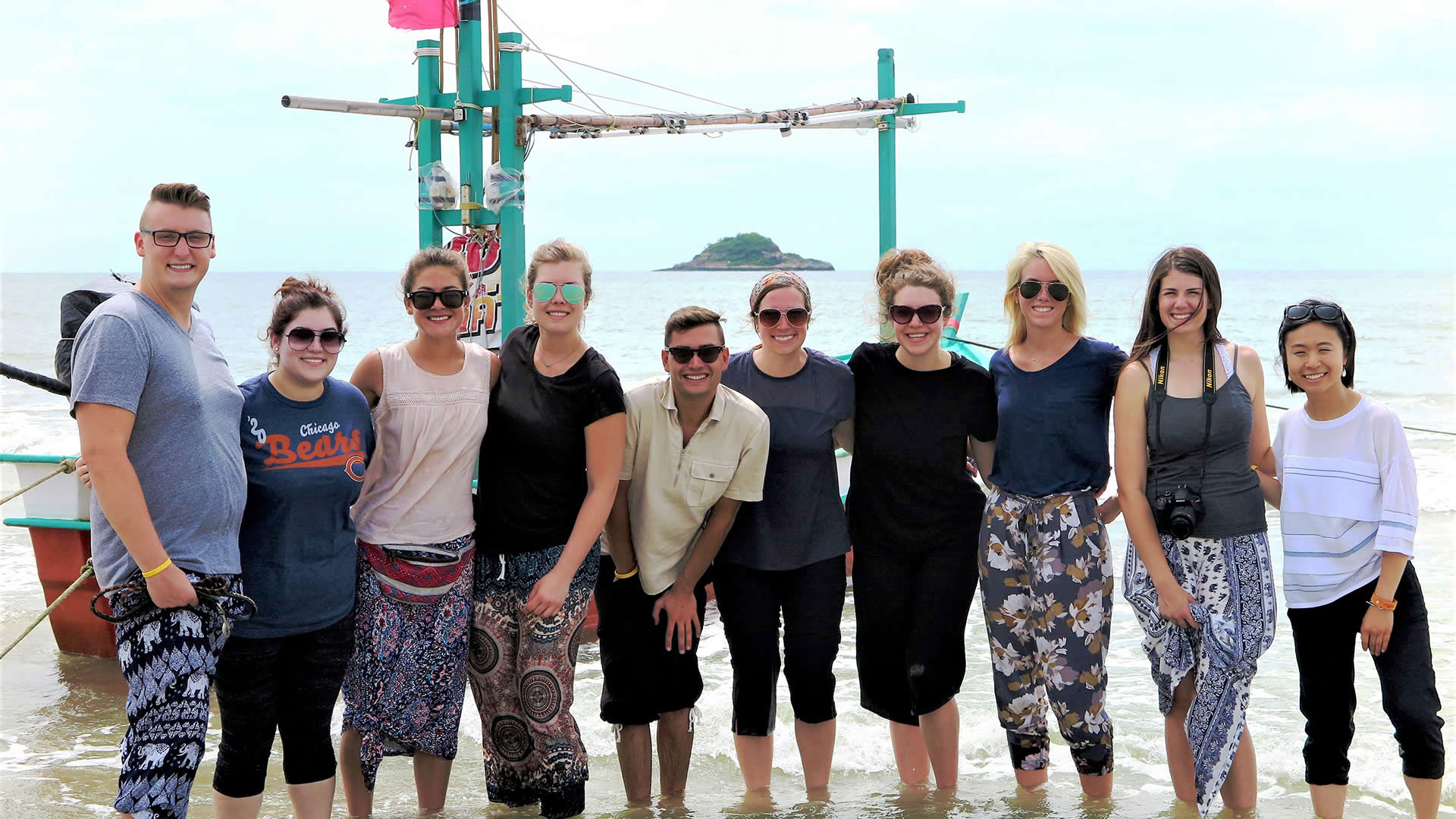 Gain a TESOL/TEFL and teach English in Thailand. Join one of our 120-hour courses in Hua Hin or Chiang Mai, helping to prepare you for a well-paid teaching job for 4-6 months.
Duration: 4 week course/ 4-6 months teaching
Dates: 2021 dates
Arrival day: Monday
Return day: End of course/ teaching contract
Eligibility: Native English speakers/ with BA degree
Age: 21 – 39
Obtaining an internationally accredited TESOL qualification from an experienced provide
Gaining hands-on teaching experience which will improve your chances of success in the classroom
Taking part in cultural activities during the orientation week
Experiencing the wonders of Thailand as a full-time teacher
Receiving 24/7 support from Oyster and the in-country team throughout your time on the program
Gaining lifetime guaranteed school placement support in destinations across Asia
Hua Hin Prachuap Khiri Khan Thailand
If you want to spend time in the 'Land of Smiles', why not earn a TESOL and teach English in Thailand? The course is delivered by an experienced course leader (and a native English speaker). With such extensive knowledge and enthusiasm, it is hard not to feel passionate about teaching abroad.
Whether you are looking to gain a TESOL in Thailand, to work as a teacher or both, we can help you to achieve this.
You can gain an internationally accredited TESOL (Teaching English to Speakers of Other Languages) in one of two beautiful locations: Hua Hin, a coastal resort based 2-3 hours from Bangkok, or in Chiang Mai, located in mountainous North of Thailand. Accredited by the Online TESOL and TEFL Standards Agency (OTTSA), the course can be used internationally to teach English to those who do not speak it as their first language. During the 120 hour course, you will get 2-3 days of real experience teaching at a non-profit local English camp.
The course runs every month of the year. Please note that Thai schools are on holiday for 7 weeks across April and May. In Thailand, the school year starts at the end of May and there are two semesters. The second holiday is in October.
We are aware that there is a huge choice of TESOL/TEFL courses online and that the quality of courses varies. We gained first-hand knowledge of our provider so that we could reassure and inform potential applicants that the course would be right for them. After careful research and a visit to the TESOL course in Thailand, we believe that this course is great value for the money and the best by a long way.
TESOL and TEFL courses are very similar. The main difference is that typically, TEFL courses focus on teaching grammar, whereas TESOL courses predominantly look at how to improve communication and spoken English. In Thailand, students tend to be much stronger at writing English than speaking which is why a TESOL course is highly respected.
The cultural orientation week
Once you have arrived in Thailand, you will spend the first week taking part in a cultural orientation week. The aim of the week is to introduce you to Thai customs, culture and language. There is also a teacher workshop which will provide information on what life is like living and teaching in Thailand. On top of this, you will be taken to some of the local attractions – providing you with lots of opportunities to learn more about the country and to bond with your fellow participants. Some highlights include a Muay Thai boxing class and visiting local temples. Find out more about the excursions included in Hua Hin and Chiang Mai.
The TESOL course is enjoyable, sociable and exciting. Located in stunning locations with access to top quality facilities and shops, the course is a fantastic way to start your Thailand adventure.
If you are looking to gain paid work abroad, teaching in Thailand, at the end of the course, the placement team can organize this for you so that you can start working straight after the course. Degree holders can earn between 30,000 and 40,000 Thai Baht a month ($800-1200). Typical contracts are 4-5 months. All schools are reputable and can offer assistance, helping you to find accommodation on arrival. The school will provide you with a working visa and the team are on hand throughout your time teaching to offer support.
To be eligible for paid teaching, you must be a native English speaker with a degree.
While working, you will get all your school holidays off, giving you plenty of time to travel and explore Thailand and surrounding countries. There are plenty of work and volunteer opportunities available for you to get involved in.
At the end of the first teaching contract, many teachers extend their time in Thailand, either staying at their school or moving to a new one. The team can help with this and will provide free lifetime placements in schools – with opportunities in other Asian countries.
Got a TEFL or TESOL already?
No problem. If you are looking just for a teaching job, get in touch. You could join the group for the orientation and then head straight to work at the end of the first week
Comfortable air conditioned apartment accommodation close to the course.
Both course centers in Hua Hin and Chiang Mai are located close to modern shopping centers, markets, restaurants and medical facilities.
Shared accommodation is included in the price during the course.
For those heading to Hua Hin, the first night is spent in Bangkok at a hotel.
Advice will be provided about how to organize accommodation before you begin teaching.
Food is not included in the program price, but delicious meals can be bought for about 50 Thai Baht.
What do I need to know regarding Covid-19?
We have been working closely with our partners in Thailand and keeping an eye on the current travel restrictions to ensure we have the most up to date information and give you peace of mind. Please see the links below for more information.
Program updates:
We expect there to be small changes to the program in order to accommodate restrictions in place at the time of travel. These may include:
social distancing
accommodation amendments
private transfers instead of groups
proof of a negative Covid-19 test upon arrival (taken within 72 hours before travel)
wearing masks and other protective clothing
extra health and safety measures
Depending on when you are due to travel, some of these may become obsolete. We advise to be prepared for a quick turnaround of travel arrangements and having back up options should changes need to be made.
Airport: Suvarnabhumi International Airport (BKK) for Hua Hin or Chiang Mai International Airport (CNX)
Arrival day: Before midday on Sunday. Course begins on Monday
Departure day: At the end of the course or your teaching contract

The participant coordinator is Jon, who has both completed the course and taught in Thailand. After teaching, he chose to live in Thailand and he is enthusiastic about sharing his love of the country with you. The team make sure that participants settle in during the orientation and the course. Jon will be your main contact point while you are in Thailand and is dedicated to ensuring that you have a good time while you are away.
Access to your own personal 'My Oyster' account – our online portal where you can find out much more about the program and manage your booking
Dedicated contact time with an experienced destination manager to discuss the project, answer any of your questions and for us to find out more about you
Help and advice from our UK office before arrival and whilst you are away
In-country support
Pre-departure information covering medical, safety and project advice
Financial protection: ATOL (if we book your flights); IPP (if we don't book your flights)
Thorough orientation on arrival
Accommodation (see the 'accommodation' section above for details)
Advice on visa requirements
Oyster plants a tree in Africa with TreeAid to help reduce the impact of global carbon emissions
An internationally accredited certificated TESOL training course run by a well-regarded course leader
Practical teaching experience in a 2-3 day local non-profit English camp
Airport pick up and transfer to course location
Cultural orientation activities
Comprehensive course book
Budget guide
Welcome home pack (on request)
References (on request)
Flights – as an ATOL bonded company, Oyster can book flights for you
You need a valid passport that meets the requirements of the country you will be travelling to
Insurance (covering your time with Oyster and any planned independent travel)
Any costs associated with changing your return flight date if you need to
Independent travel costs
Home country travel costs
Spending money for additional trips, food and entertainment
A police check CRC or International Child Protection Certificate
Cost of accommodation damage deposit on the course (approx £100)
A passport valid for a minimum of 6 months after your return date with at least two clear pages
A laptop rather than a tablet – easier to print from when on the course
Money for food – on the course, lunch can be bought for 50 Thai Baht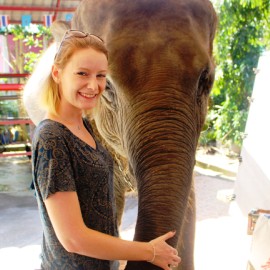 "Sarah visited the team in Thailand and really enjoyed meeting such a passionate and fun team. They will do their best to make sure participants are well informed about the adventure that lies ahead. All of them live in Thailand and are passionate about sharing their knowledge. Be prepared for an intensive course run by superb instructors."
You will not only gain a first class TESOL in Thailand's most beautiful locations, you will also have the chance to work as a well-paid teacher in Thailand. You will meet like-minded people, join a network of teachers in Thailand and gain access to a resources database. As well as enjoying living and working in Thailand, you will also give your CV/Resume a boost. If you are looking at working abroad, you can gain lifetime school placements in destinations across Asia.
The 120 hour TESOL course includes:
A comprehensive TESOL Course Book
Helpful ESL hand outs
Thai Language lessons
Helpful tips and preparation for living in Thailand
Real teaching experience
Access to online teacher resources
The course will cover:
Lectures on understanding Thai culture, politics, history and society
Thai language
Theory of teaching English as a second language
Practical training in how to plan, develop and present lessons
How to teach children of different ages
How to effectively manage a classroom
Practical experience (8-16 hours) working in a non-profit English camp for disadvantaged children in a real Thai school.
Hua Hin:
A Muay Thai boxing lesson
A Buddhist temple visit, including monk meditation
A day visiting a rescue dog centre
Beach barbecue
Thai cooking and market visit
Chiang Mai:
Doi Suthep Temple visit
Visiting Wat Umong
A Muay Thai boxing lesson
Trip to a local night bazaar
Rice plantation visit
If you are looking to teach in Thailand, the placement team will speak to you on your arrival to find out your teaching preferences. Location cannot be guaranteed so you will need to be flexible. All schools are reputable, they will offer accommodation assistance and will pay a minimum of 30,000 Thai Baht (for degree holders).
Native English speakers who have BA degrees are highly sought after. Once you are accepted on the program, you are guaranteed a job, subject to you passing the TESOL course.
You are very welcome to take the course as a non-graduate and we have plenty of non-graduates that do.  Regardless of whether you want to teach in Thailand or not, the course gives you skills, teaching experience and gives any CV/ resume the edge.  It's also a good way of working out whether you might be interested in a career in teaching before you commit to teacher training.
There are plenty of non-graduate TEFL/TESOL teachers in Thailand. However, the Thai Government state that foreign teachers must have a degree.
We are very happy to give a view on your employment prospects before you book a place. All you need to do is to send us an up to date CV/ resume.
The TESOL course is internationally accredited by the Online TEFL and TESOL Standards Agency (OTTSA).
The climate is warm all year round in Thailand. The cold season is from December-February with temperatures ranging from 15-30C.  March-June is the hottest time of the year with temperatures between 30-45C, and the rainy season is between July-November when it will be around 25-35C.
Thailand is very cheap with a good quality dinner out costing around £3. We would recommend budgeting around £5-£10/ $7-12 a day during the course to cover your extra expenses. Once you have secured a job, you will receive a salary which should cover all your costs.
We will offer budgeting advice in the run up to your departure.
There is really easy access to ATMs in Thailand so you do not need to take all your cash with you.
On arrival, the team will take you to a local bank branch so that you can set up a Thai bank account.
You will need to either get a 60-day tourist visa or apply for a non-immigrant B visa prior departure.
We provide full advice on visas and work permits prior departure.
Most of our volunteers are independent travellers and you will become part of a group of people from around the world here. It is fine to travel with friends or as part of a small group too, however – more the merrier! It may even be possible that you end up working together in the same school, however, this is not guaranteed.
You should visit your doctor or travel nurse to find out what vaccinations you will need. Your routine vaccinations will need to be up to date. Please follow your doctor's advice.
Whilst on the course, there is a medical centre in the town where you'll be living and a big hospital up to half an hour away. When you secure a job, there is likely to be a hospital in the town or very nearby.
The course centre and accommodation is in a friendly area that welcomes tourists. The only thing we would not recommend for safety reasons is riding on local mopeds. You are unlikely to be covered for this by your insurance. If you do choose to ride a moped, we would highly recommend you wear a helmet.
You will be living in a town close to all local amenities, including restaurants, banks, shopping centres, markets, pharmacies, dentists and opticians.
You will be living in a comfortable, air conditioned apartment accommodation. It is within 10 minutes from the course and is close to inexpensive local shops and restaurants.
Thai food is really tasty! Most people tend to go out for dinner as it is so cheap! Thai food is based on rice and noodles, spices, and lots of vegetables. It is extremely delicious and you will be spoiled for choice on any menu. Western options are frequently available too. There is a cafe next to the course where you can order lunch for 50-60 Thai Baht.
You will be provided with a full orientation on arrival. Throughout the orientation and course, you will be supervised by the in-country staff. When working, you will have a member of staff at the school that you can discuss issues with, Day to day, you will work independently in the school.
Staff at Oyster's head office and in-country will be responsible for your safety and welfare while you are at the project. This will start from the moment you are picked up from the airport until the time you leave your school. Before and after these times, you will be outside Oyster's responsibility and should make sure that you act safely and avoid risk. This is also true if you choose to leave the project during your time off. We will give you plenty of guidance and advice about this.
WiFi is available on the course, in the cafe and at the accommodation.
There is good mobile phone reception but international calls/texts can be expensive from your phone. A Thai SIM card is included in the project cost, so make sure that your phone is unlocked before you go.
Thailand is 7 hours ahead of GMT (GMT +7).
A 2 pinned plug can be picked up at most airports and travel stores (either European or American).
In the evenings and on the weekends, there is a lot to do in both Hua Hin and Chiang Mai. There are plenty of tourist attractions in both areas. The team in Thailand can offer suggestions. While teaching, you can use the school holidays to explore Thailand and neighbouring countries.
During the course, you will generally have some free time at weekends and evenings. You will have some preparation to do for the course in the evenings. Once you get a job, this may vary slightly but is likely to be similar to school hours in your home country. You will have school holidays free.
Chiang Mai:
September 20, 2021
September 19th, 2022
Hua Hin:
March 29th, 2021
May 3rd, 2021
May 31st, 2021
June 28th, 2021
September 27th, 2021
November 1st, 2021
December 27th, 2021
January 24th 2022
March 28th, 2022
May 2nd, 2022
May 30th, 2022
June 27th, 2022
September 26th, 2022
October 31st, 2022
Other adventures like this