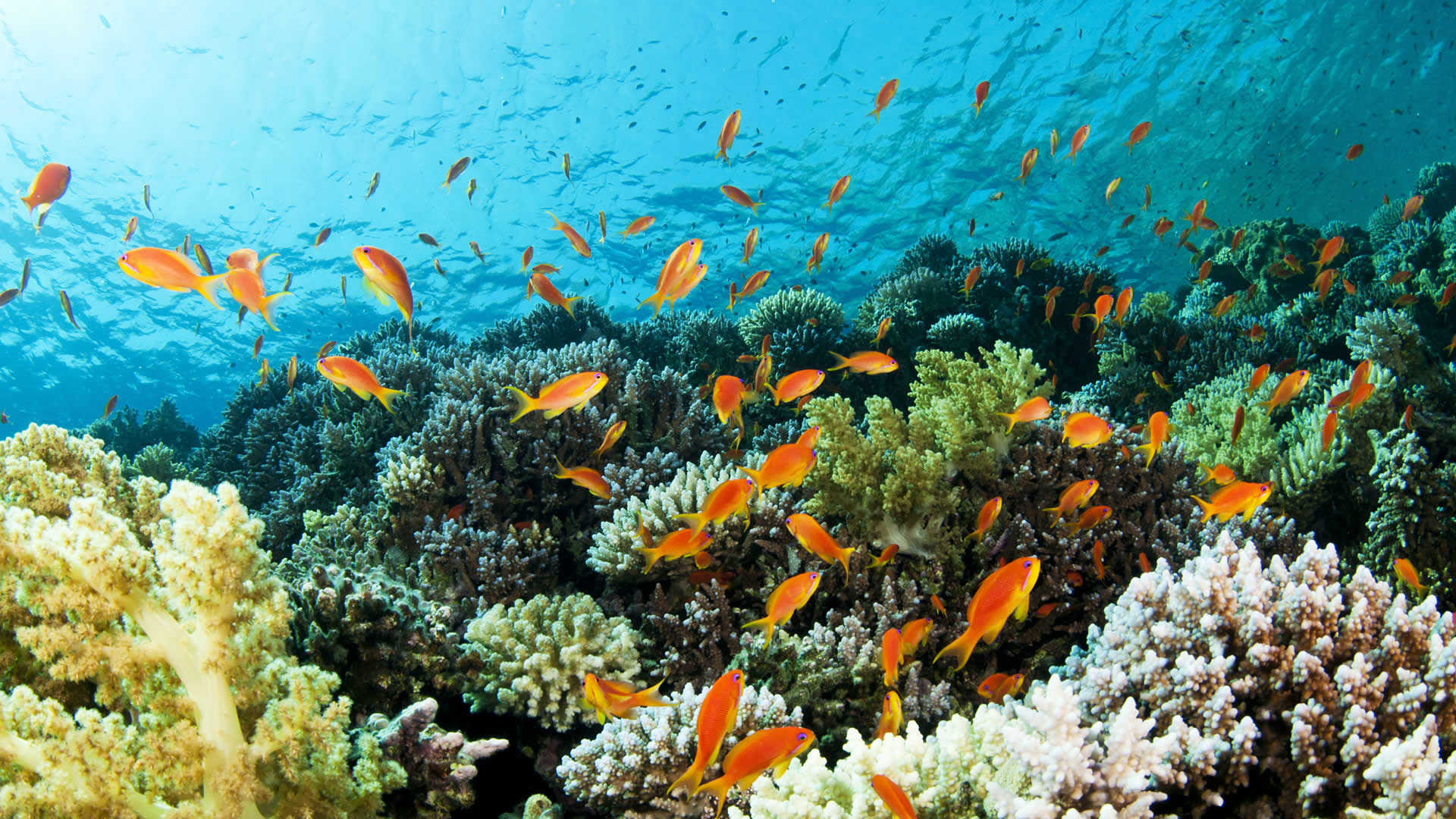 Oyster's team of experienced, enthusiastic and well travelled staff will give you the passion, care and commitment you need to make your trip overseas a success.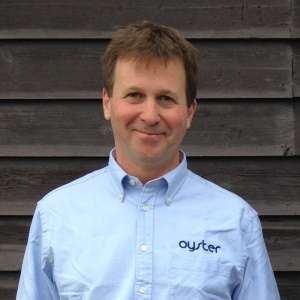 Roger Salwey, Founder and Director
Roger first got involved in gap years and youth travel in 1994 before starting Oyster in 2006.
Favourite travel memory: Kayaking down the Zambezi on the Zambian/Zimbabwe border passing crocs, hippos and elephants – being told not to put our hands in the water was good advice.
Strangest travel experience: Flying Aeroflot in Russia in 1994 and not being offered a brightly coloured drink because the hostess couldn't reach where I was sitting because of all the heavy luggage left in the aisle.
Top travel tip: Take two portable battery chargers. Offering electricity is always a good way to make friends and running out is very distressing.
Next destination on my bucket list: It has to be Iceland, I have wanted to go there since studying Geography a very long time ago.
You can contact Roger directly on +44 (0) 1892 771971 or by email [email protected].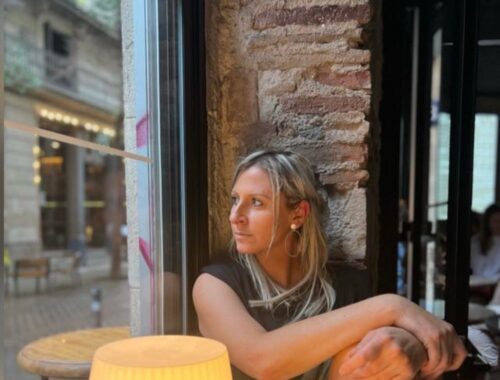 Georgie Collcutt, Director of Operations
Georgie joined Oyster in 2016 after moving back from Australia where she managed our outback farm programme for 6 years.
Favourite travel memory: Winding through the Sri Lankan jungle at dawn watching the sun rise over the mountains from the back of a colonial train. The first time I saw the iconic Statue of Liberty, The Golden Gate Bridge and The Sydney Opera House were moments that I will never forget.
Strangest travel experience: In outback Australia one of the workers accidentally started a bush fire when a tractor part hit a rock and sent a spark into the drought stricken grass. I spend 6 hours in the blazing sun beating out flames in my flip flops with a tree branch. The following week the farm was hit with one of the largest cyclones in living memory. My entire house was under water, the tarmac was peeled from the road, and we were isolated for 5 days.
Top travel tip: Expect the unexpected, live in the moment, and go with the flow. Don't assume what things should be like and certainly do not try to control them. You'll get an authentic experience by immersing yourself into a completely different culture, environment and way of thinking. When in Rome, do as the Romans!
Next destination on my bucket list: Having lived overseas for years, I now have a real desire to see what has always been right on my doorstep. The beauty of Sweden, Norway and Finland really appeals to me. I am also passionate when it comes to any trips that involve horses; ranches in the Rockies, Kenya, South Africa, Argentina or New Zealand.
You can contact Georgie directly on +44 (0) 1892 771 977 or by email [email protected]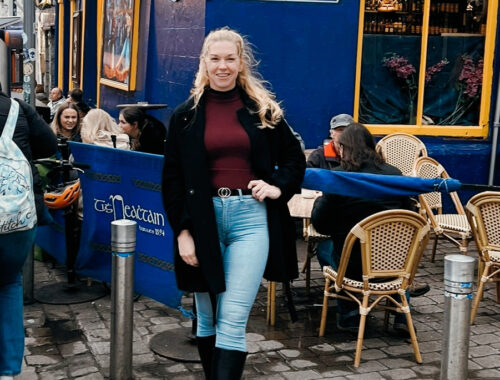 Sami Streatfield, Destination Manager
Sami joined the Oyster Worldwide team in 2022 following her previous role in recruitment and relocation for a large travel company, She works primarily on preparing people for success in finding jobs in Canada and in TESOL programs across the globe.
Favourite travel memory: There are so many, it is impossible to pick just one. For 2022, watching the sunsets on deserted beaches in Ilha Grande, Brazil or getting stuck in the rain in Venice, Italy – one of my favourite places to visit.
Strangest travel experience: Hiking through the jungle to find ´off the map´ Mayan ruins in the middle of Mexico, being followed by a family of monkeys for two hours who then tried to attack us from the trees when we reached our destination!
Top travel tip: Research where you are going but don´t be too upset if things don´t go to plan – every experience will make a good story when you get home – both when it goes well, and when it doesn´t.
Next destination on my bucket list: I would love to return back to Asia especially after hearing all the great times our Oysters have had on the tours we offer there! Japan is still on my list, as well as visiting Petra in Jordan, hopefully later this year.
You can contact Sami directly on +44 (0) 1892 771976 or by email [email protected]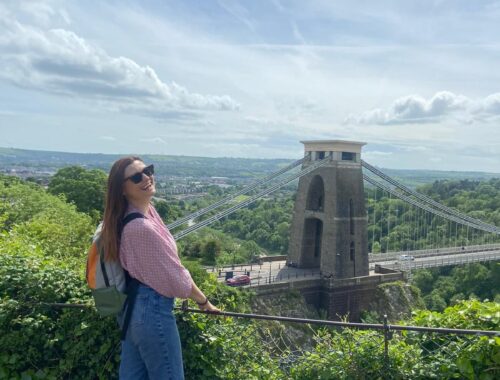 Kate Tipler, Destination Manager
Kate joined Oyster in 2022 after moving back to the UK from Vietnam, where she lived and taught English for almost 8 years.
Favourite travel memory: Age 19 in Peru… climbing up the steps of Huayna Picchu with my best friend for an early morning view of Machu Pichu. It was the first time I had been travelling and I remember feeling so overwhelmed with joy and wonder!
Strangest travel experience: Sipping a coconut whilst sat on the end of a Violin shaped pier in a former Leprosy Colony in Vietnam!
Top travel tip: Learn a bit of the language if you can. As even if no-one understands your accent, it shows goodwill and respect to local people.
Next destination on my bucket list: I'm excited to travel around Europe more as I was based in Asia for so long that most of the travelling I've done has been there. I think next on my list has to be Portugal. That said… I'd love to go and visit my friends in Vietnam and Borneo is definitely on my bucket list!
You can contact Kate directly on +44 (0) 1892 771971 or by email [email protected]
Overseas representatives and coordinators
You don't get anywhere without reliable ground staff. They are the overseas face of the company, acting as our eyes, ears and hearts and providing a real lifeline for participants. We're really proud of ours; most of them have been with us since the beginning of each project and their warmth, humour and experience is frequently cited by participants as the most crucial element in adjusting to life abroad.
On each of our projects, you will have the support of an Oyster Representative, Volunteer Coordinator or Leader.