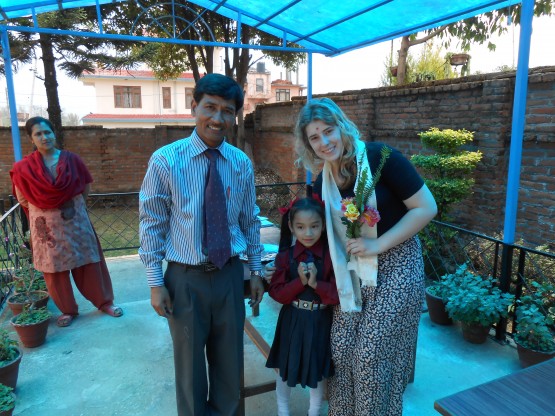 The great thing about travelling on your gap year is that it gives you the best opportunity and time to not just pass through a country as a tourist but to truly get under the skin of the country and learn far more about the people, their culture and history. When else in life will you get this chance to take time out of the day-to-day?
This is certainly the case on our 4 month program in Nepal where volunteers get to live as a local in the Kathmandu Valley. We have been sending volunteers to the Kathmandu Valley since 2002 and have developed the program to where it is today. Over the years the program has been tried and tested by many great volunteers.
Nepal is a great gap year destination as it is well off the beaten track. Unless you love trekking, you are unlikely to accidently find yourself in Nepal at any other stage in life. It's not a country you can easily get to from the UK or US as you have to change planes in either India or the UAE.
Our volunteers arrive in Kathmandu and embark on our orientation course which lasts for a couple of nights based in a central hotel. During the orientation, Basant, our Representative will give you a tour of the city, show you where to get medical care, arrange your Nepali lessons and brief you on the next stage of your adventure: The Trek!
Next, you will take part in the 8 day Langtang trek in the Himalayas. This is not something that is designed to be too physically challenging. It is a great way to get to know the group and the country!
After the trek our teaching volunteers settle into village and family life in the Kathmandu Valley. Living with a well-selected family for nearly 4 months is a great way to learn the local language, experience local cuisine and also be a real part of that family. Recent volunteers have even attended festivals and weddings with the family – giving you a rather unique aspect on Nepal life.
Oyster volunteers teach English in schools where they can make a real difference to the lives and education of the children. As a volunteer you can expect to teach 3-4 classes a day with around 30-40 students in each class (quite a bit of planning and marking of books to do!). A big part of the role is to also run extra curricular activities so we are looking for volunteers with passion. Whether that's in sport, music, drama or art, come along and set up your own clubs and societies!
Throughout the 4 months all of your food and accommodation is included, making this a program where you have to spend very little money on your day to day living in Nepal.
As well as the 8 day trek we also include an 8 day cultural tour of Tibet and a 3 day river rafting & safari trip!
We are now recruiting volunteers for our January 2014 program so do check out our Nepal webpage for more details and to book!