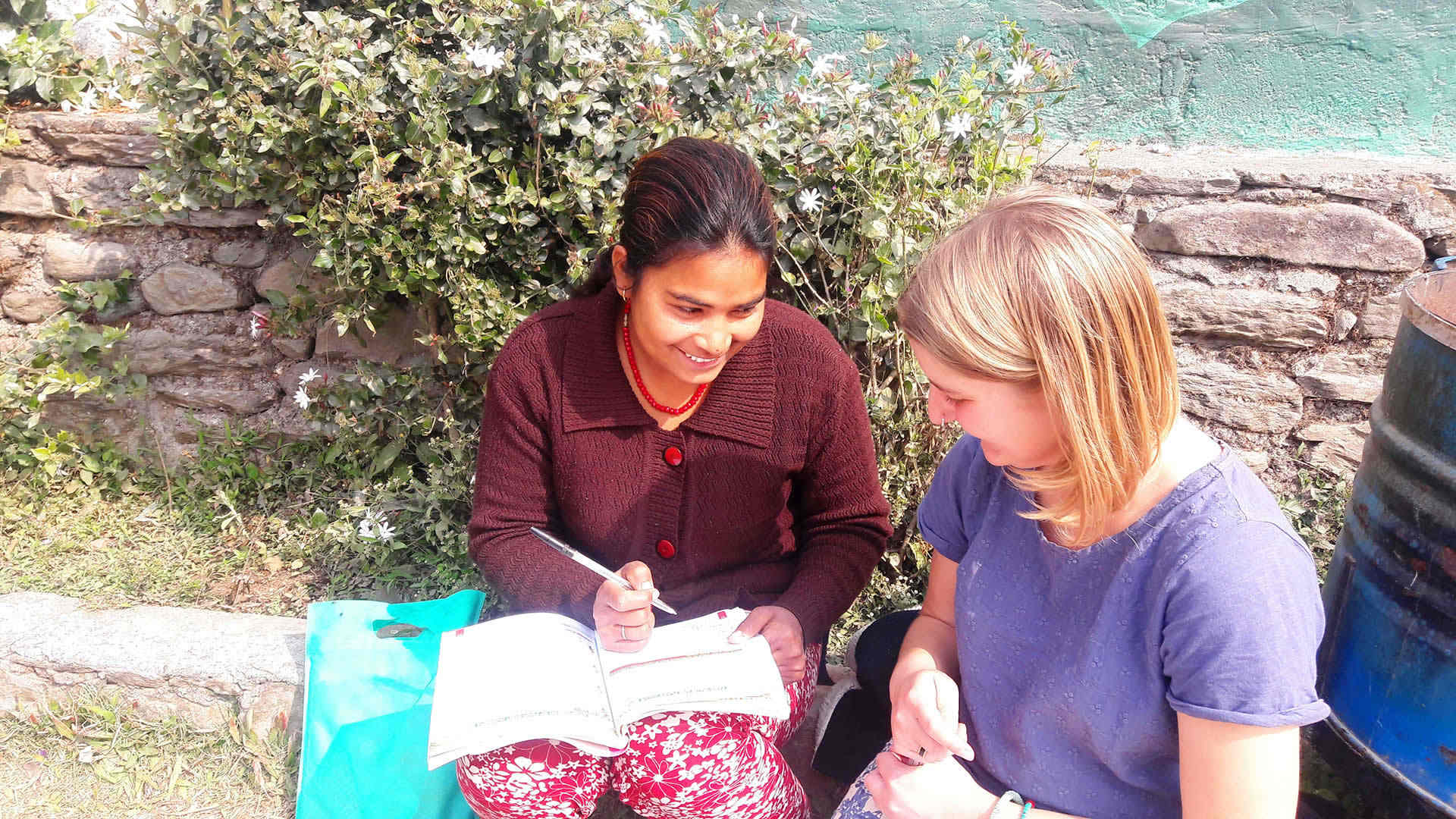 Volunteer in Pokhara, Nepal and see for yourself why so many travelers fall in love with the stunning landscape. Join a women empowerment program in Nepal that aims to reduce the unemployment gap between men and women. Teach local women English and skills that will help to increase their career prospects and self-esteem.
Duration: 2-12 weeks
Dates: 2019 and 2020 dates
Arrival day: Friday (ready to start at 10am on Saturday)
Return day: Saturday
Eligibility: Good English speakers
Age: 18+
Contributing to amazing projects and meeting incredible Nepali women
Working with other dedicated volunteers
Taking part in training that will improve your own teaching and presenting skills
Living in Pokhara – a tourist hot spot in Nepal
Living with a Nepali host family and experiencing authentic food
Methlang Marga, Pokhara 33700, Nepal
Want to do something worthwhile with your time abroad? Head to Pokhara, the second largest city in Nepal and contribute to a project that aims to empower women through education. Live with other volunteers in a host family's home and experience warm Nepali hospitality for yourself.
On arrival, you will be picked up from the airport. You will then take part in a 2-3 day orientation, including a boat trip to a temple, Nepali language class and cooking class.
The aim of the project is to help to identify the needs of individual communities in and around Pokhara and to help provide women with essential skills and workshops to improve their daily life.
English is a skill that many Nepali women prioritize because it helps them to expand their career options. Due to gender inequality, many women do not have access to good quality education. This is particularly true of women who live in the countryside or who marry young and cannot complete their education. Alongside English, many women are not taught about preventative healthcare to help them stay healthy. Careers advice for women, in many areas of Nepal, is also limited and volunteers can help to teach valuable skills, such as resume writing or sewing to help women to expand their career prospects or even to come up with their own enterprise. The key aim of the project is to meet women and to find out what they want to learn, tailoring programs specifically for them and getting them involved in workshops that they would find useful.
The women you will be teaching will be a range of ages and abilities. The role of the volunteer is varied. At the start of the week, you will receive a timetable outlining which projects you will be taking part in. You will begin the day at 8am with breakfast and work Monday to Friday. As you could be volunteering in different areas, hours may vary, depending on the focus of the day. Below is a list of the types of project, you could get involved in as a volunteer:
Tutor women in the rural areas, near Pokhara, who have nearly no access to education. As a volunteer, you would work 1 to 1 or with a small group, focusing on conversational English or basic math.
Help to support an organization, dedicated to providing support and education for female survivors of human trafficking.
Take part and help to run workshops, focusing on sports, crafts, art or health. They are fun and are really enjoyed by both volunteers and those who attend.
Every Friday, help run sessions to help women to focus on creative thinking and problem solving. The women can then apply these skills to their day to day life.
You will receive training on lesson planning, TEFL skills and specific women's empowerment training. You will also be able to chat to a teaching mentor regularly and access resources used by past volunteers.
You will stay with other volunteers at a host family's house. The host family live on the top floor and volunteers have access to the three floors below.
The shared dormitory style bedrooms are single sex and have en-suite bathrooms.
There are plenty of communal areas to relax in and unwind after a day of volunteering.
A project coordinator also lives at the accommodation and is on hand if there are any issues.
Living with a host family is an amazing way to gain an incredible insight into Nepali culture.
All meals are included. You will be provided with two meals a day by your host family.
For lunch, you will be provided a delicious snack, such as momos, chow mein or fried rice at your project.
Typical Nepali food includes 'Dal Bhat' (Lentils, vegetables and rice).
Want to trek before or after volunteering?
We are excited to offer our volunteers the opportunity to explore the stunning mountain ranges in Nepal. Find out more on our treks page.
Airport: Pokhara Airport (PKR). You will need to fly from Tribhuvan International Airport (KTM) in Kathmandu.
Arrival day: Saturday at 10am – you will need to book pre-project accommodation and we advise on this.
Departure day: Saturday – we advise you book a night in Kathmandu, before flying home. This is because internal flights can often be delayed.
Access to your own personal 'My Oyster' account – our online portal where you can find out much more about the program and manage your booking
Dedicated contact time with an experienced destination manager to discuss the project, answer any of your questions and for us to find out more about you
Help and advice from our UK office before arrival and whilst you are away
In-country support
Pre-departure information covering medical, safety and project advice
Financial protection: ATOL (if we book your flights); IPP (if we don't book your flights)
Thorough orientation on arrival
Accommodation (see the 'accommodation' section above for details)
Advice on visa requirements
Oyster plants a tree in Africa with TreeAid to help offset your carbon emissions
Airport pick up
3 meals a day, while on the project
Boat trip, Nepali class and cooking class
Oyster Worldwide volunteer t-shirt
Oyster luggage tag
Welcome home pack
Certificate of Recognition (on request)
References (on request)
Flights – as an ATOL bonded company, Oyster can book flights for you
You need a valid passport that meets the requirements of the country you will be travelling to
Insurance (covering your time with Oyster and any planned independent travel)
Any costs associated with changing your return flight date if you need to
Independent travel costs
Home country travel costs
Spending money for additional trips, food and entertainment
Provide a recent police certificate/DBS check – we can organize DBS for £10.40
Women empowerment volunteers enjoy traveling to Nepal because so much of the scenery is untouched. The jagged mountains and the pristine lakes draw travelers to this incredible country each year. This project is an amazing opportunity to give back to the local community and to get to know incredible Nepal women, living in rural locations. Each project that you will be working on is tailored specifically to the needs of the women you will work with, which means that you can make a real impact while in Nepal.
When volunteering in Nepal, you will receive a timetable at the start of each week.
Each day is varied, depending on the project that you are involved in. You will have breakfast at 8:15am. Typically, you will have 3-4 hours of teaching a day and plenty of time to plan.
On certain days, you will also meet up with the project coordinator to discuss how the project is going and receive training on lesson planning, women's empowerment and TEFL skills.
You can take part in this project all year round. There are set dates that start on a Saturday. Book early for the summer.
Nepal has five seasons:
Winter (mid December to mid February) – the mornings can be cold. Bring plenty of layers
Spring (mid February to early April) – the weather is mostly warm and sunny with a few short showers
Summer (early April to mid June) – it can get very hot at this time with temperatures as hot as 35 degrees Celsius
Monsoon (mid June to mid September) – often referred to as the green season. It is a bit cooler with lots of short and heavy downpours
Autumn (mid September to mid December) – the skies are clear and it is very green. This is a popular time to travel so it may be busier
Our recommended budget is £20/$25 a week for snacks, food at the weekend and drinks.
ATMs can be found all over Nepal. You can also find exchange bureaus. You cannot order Nepali rupees before you travel. It is recommended that you bring USD to change at the airport.
Cash cards are a safe and convenient way to take your money traveling with you – they act just like debit cards, but do not have the same fees as you might have to pay on your bank cards from home. We recommend the Caxton card. Check out our blog for details on how the card works here.
You will need to ensure that you have the correct visa before departure. It needs to be organized before travel.
You will need a tourist visa for the first 90 days.You can extend this for a further 30 days in Nepal. If you want to stay longer, you can extend for approximately $2 a day for up to 5 months.
We will advise you on how to obtain your visa.
Most of our volunteers in Pokhara are independent travelers. When you arrive in Nepal, you will meet plenty of other volunteers.
If you want to travel with a friend or group, let us know – the more the merrier.
Before traveling to Nepal, you should visit your doctor or travel nurse to find out what vaccinations you will need. Your routine vaccinations will need to be up to date; hepatitis A and typhoid are likely. You should follow your doctor's advice.
There are medical facilities in both Kathmandu and Pokhara. You will never be more than a few hours away and both facilities are of high standard.
Nepal is a safe country to travel to. Pokhara is a safe tourist city. You will be given a full orientation and briefing on arrival and the project staff will advice on how to stay safe. Common sense rules apply.
If you are doing a trek, please make sure that your travel insurance covers you for trekking at high altitude.
When volunteering in Pokhara, you will be staying with other volunteers and a project coordinator at a host family's home.
The maximum capacity in the house is 18.
The family live on the top floor. The rest of the house is space for volunteers. The rooms are dormitories and have en-suite. There will be a western shower, that has cold water only, and a western toilet.
Nepalese food is delicious. The traditional dish is 'Dal Baht' which is a dish made of lentils. Momos are also incredibly popular and are dumplings filled with vegetables or meat. There are lots of different types of momos to choose from. You will have plenty of curry options to choose from.
Supervision will be fairly intensive during the first few days, when you will receive a thorough induction and work-related training. Once you are comfortable with things, you might not always have a supervisor working alongside you, but there will always be staff and other volunteers around to help, and you will always be accompanied for any high risk activities.
Staff at Oyster's head office and in-country will be responsible for your safety and welfare while you are at the project. This will start from the moment you arrive at the meet up point at 10am on Saturday morning until the time you finish your project. Before and after these times, you will be outside Oyster's responsibility and should make sure that you act safely and avoid risk. This is also true if you choose to leave the project during your time off. We will give you plenty of guidance and advice about this.
You will be volunteering Monday to Friday. Your evenings and weekends are free.
When you are in-country, there will be plenty of options to sign up to treks and tours. The project staff will be able to advise you on this.
As Pokhara is surrounded by lakes, there are also plenty of water activities you can take part in.
There are plenty of cafes with WiFi near the accommodation. The accommodation does not have WiFi.
SIM cards are affordable and accessible. It is recommended that you unlock your phone if you want to use a Nepali SIM card in your own phone. You will need to bring passport photos with you as they are required when buying a SIM.
Nepal is just under 6 hours ahead of GMT (GMT +5:45)
An international adapter is recommended in Nepal. A mixture of 3 round pin (small or large) and 2 round pin sockets exist.The supply is 220/230V.
Here are the next available arrival dates:
30 Nov 2019
14 Dec 2019
28 Dec 2019
11 Jan 2020
25 Jan 2020
08 Feb 2020
22 Feb 2020
07 Mar 2020
21 Mar 2020
04 Apr 2020
18 Apr 2020
02 May 2020
16 May 2020
30 May 2020
13 Jun 2020
27 Jun 2020
11 Jul 2020
25 Jul 2020
08 Aug 2020
22 Aug 2020
05 Sep 2020
19 Sep 2020
03 Oct 2020
17 Oct 2020
31 Oct 2020
14 Nov 2020
28 Nov 2020
12 Dec 2020
26 Dec 2020
Other adventures like this