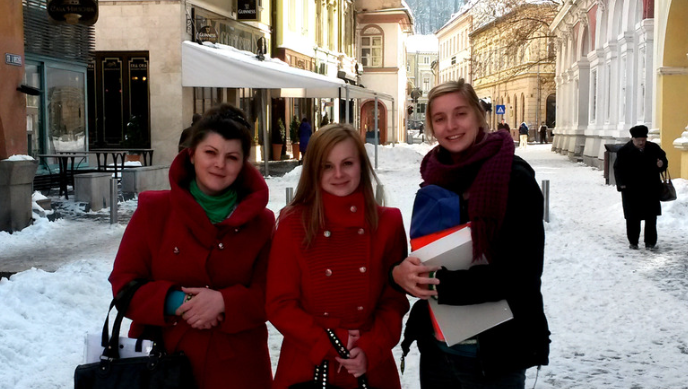 A Destination Manager's insight into the medical volunteering project in Brasov County
In January I boarded an early morning flight to Bucharest, where I was greeted with deep snow and a smiling Razvan. We had a busy few days ahead of us setting up a medical volunteering programme and were keen to get the ball rolling.
Romania in the winter is like nothing else I have ever experienced. Whilst chilly outside it is amazing to see the deep deep snow, enjoy the beautiful blue skies and above all, realise that life does not have to stop because the whole world has turned white.
We were soon at a lunch time meeting with Flavia, a fluent English speaker who runs a mobile medical unit in and around Brasov. Flavia was looking to establish a medical volunteering programme, and was keen to work with Oyster to set this up.
The medical unit is a travelling team of doctors, nurses and physiotherapists who visit patients in their homes. Many of these people are too elderly or infirm to receive care in the hospitals, or they simply would prefer to convalesce at home. The medical unit cares for about 100 patients around Brasov County.
Our first port of call was to visit an elderly gentleman in his home on the outskirts of Brasov. We were welcomed warmly by his wife and son, who although concerned about their loved one, were extremely welcoming and pleased to see us. This was something that I had not expected about this project- the opportunity to really immerse yourself in Romanian life, and to really understand the lifestyles of people from all over the area.
Of course, visiting people in their homes does mean that you cannot expect the same standard of living as in hospitals or other such facilities. Whilst everyone we met was extremely kind, very welcoming and kept a fantastic home, it was initially a shock to experience such a different way of life. Their homes were immaculate, yet very small to my eye. Many of the patients were religious, and several of them had really quite serious injuries. It made me realise that you must be prepared for shocks and surprises on this project- as every practicing doctor or nurse must in their day to day life.
The main thing that struck me after visiting patients was the incredible opportunity that this presents to those interested in gaining medical experience. Not only will you be able to learn from full time staff, immersing yourself in their daily routine, but you will also get to experience the challenges of life as a doctor- but without the weight of the ultimate decision upon you. You will learn a lot on this project, and you must be mature, independent and prepared for some challenging situations. But after all, this is what life in the medical service is all about, and if you are looking for some life changing and formative experience, this is a valuable place to start.
I left Romania feeling excited about this medical internship, and am looking forward to getting even more people involved in this rewarding experience.
For more information about medical volunteering, see our medical internship project.