Take Care of Yourself: Know Before You Go Campaign
Get the best out of your Travels and have a hassle-free trip by taking some simple steps before you travel suggested by the 'Know Before You Go' Campaign: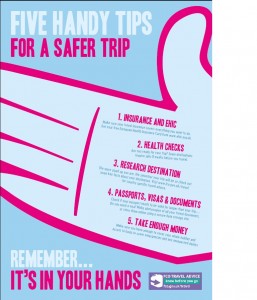 • Get comprehensive travel insurance
• Check health requirements
• Research your destination
Get comprehensive travel insurance
Things can and do go wrong when abroad and many people deeply regret not taking out travel insurance. Credit card accident cover, home insurance, or private health cover is usually not sufficient. An emergency abroad can be extremely expensive – if you need to be returned to the UK it could cost you thousands of pounds, unless you are adequately insured. The FCO cannot pay bills for you and you may need to call on a family member or friend to help you out.
Make sure you: 
• Read the small print so you know you are covered for everything you want to do on your travels – for example, you may need to extend your cover for certain activities such as riding a moped or jet-skiing.
• Get a European Health Insurance Card (EHIC) – it entitles you to free or discounted healthcare in most European countries. But be aware, you will still need appropriate insurance to ensure you are fully covered for all eventualities.
• Always declare any current or past medical conditions you think might affect the cover. You may not be covered by your policy if you don't.
• Shop around to find a good price and the right product rather than opting to travel without insurance – but remember cheaper policies will often have less cover.
Check health requirements
Travelling to different climates and environments abroad can expose you to disease and health risks. You should be aware of the dangers and how to stay healthy:
• Research the health risks of the country you are visiting online as soon as possible before travelling, so you can get the right vaccinations and preventative measures (e.g. malaria tablets) if required. Visit Travel Health for more information.
• Ensure your medication is legal in the country you are visiting – contact the Embassy of the country to which you are travelling and visit the National Travel Health Network and Centre and the NHS for more information.
Research your destination
• The more clued up you are, the smoother your trip will be so check out some key facts about your destination – even if it's a familiar one.
• Check out important information such as local transport, local dress codes and availability of ATMs by researching online using the Foreign Office website, and other sites such as; Trip Advisor, Lonely Planet, Rough Guides, Facebook, Twitter message boards and blogs, as well as tourism authority websites.
• The Foreign & Commonwealth Office updates its travel advice on a country-by-country basis the moment situations change, check out FCO or follow FCO on Facebook or Twitter.
Also don't forget to:
• Make copies of important travel documents and/or store them online using a secure data storage site.
• Check your passport is valid and you have all necessary visas.
• Tell someone where you are going and leave emergency contact details with them.
• Take enough money and have access to emergency funds.
What Does Oyster Provide?
– Finding you a suitable placement in projects/jobs that have asked for help.
– An informal Interview and Briefing.
– A Pre Departure Course with work, accommodation, health and travel advice.
– An Induction Course on arrival including language classes (where appropriate).
– Optional return flights with a transfer on arrival to your placement.
– Our representative meeting you at the airport, taking you to your accommodation and settling you in.
– Help and support throughout your placement from our experienced in-country representatives.
– Help and support from our UK office before departure and whilst in-country.
Oysters Placements Aim to…
– Immerse you in the culture and tradition of your host country.
– Give you challenging and worthwhile voluntary or paid work.
– Be of genuine benefit to the host projects.
– Develop your confidence and independence.
– Enable you to learn a language, or gain qualifications.
– Allow you the freedom to experience the country for yourself.
– Give you the support you need to keep you safe, healthy and happy.
Interested in a gap year? Check out our website and view the variety of options available! If you are just looking for some impartial advice on what to do next, our highly experienced team are more than happy to help, call us on 01892 770771.