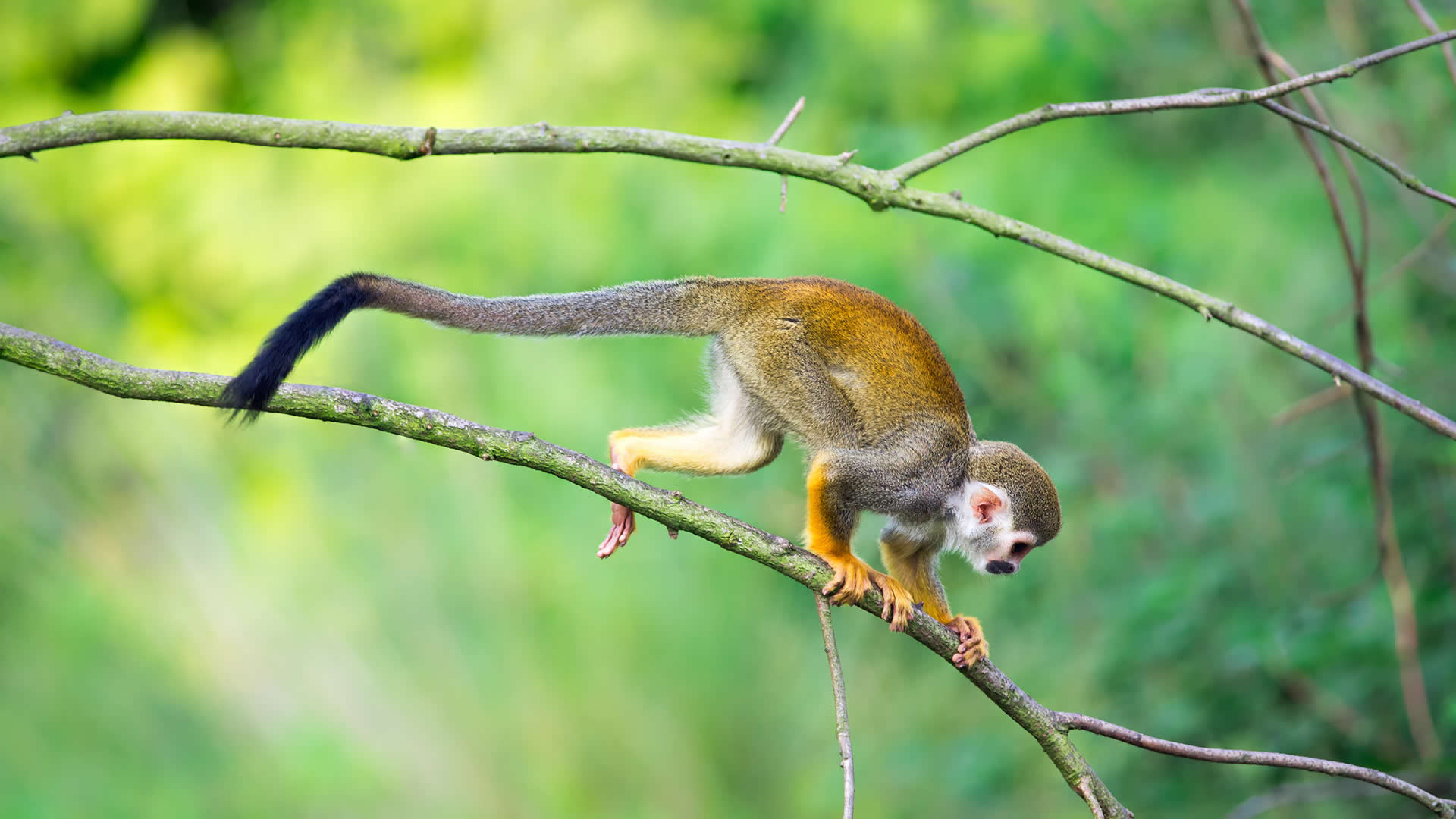 Head into the jungle as a volunteer at a primate rescue centre on the fringes of the Amazon rain forest. Help to care for rescued monkeys, enabling them to live a life as close to the wild as possible in this stunning riverside sanctuary.
Duration: 1 – 12 weeks
Dates: Throughout the year
Arrival day: Sunday
Return day: Sunday
Eligibility: General level of fitness and competency in Spanish essential
Age: 18+
Make a valuable contribution to an important primate conservation initiative in an Amazonian wildlife haven
Live surrounded by the sounds of the jungle on the edge of the Amazon rainforest
Experience jungle living in rural Ecuador, and take the opportunity to practice your Spanish
Explore in your free time – meet local tribes, go white water rafting, and trek in the jungle
Work closely with the local staff  and get stuck in to ensure that the monkeys receive the care that they need
Sin Número, Puyo, Ecuador
Available
Limited availability
Very limited availability
Unavailable
Help to care for over 60 monkeys and other amazing Amazonian creatures in this wildlife haven. The sanctuary is home to a wide variety of rescued monkeys, including capuchin monkeys, spider monkeys, woolly monkeys, tamarins and squirrel monkeys, as well as other creatures such as margays (a South American big cat), coatis (a member of the raccoon family – very cute looking!) and tortoises.
Many of these animals were previously held as pets, although others have also come from the illegal pet trade. Sadly, due to their familiarity with humans and the rapid rate of deforestation in the area, these animals cannot be released back to the wild. Instead, this jungle paradise has been created for them so that they can roam free and live a life as close to the wild as possible. Huge tunnels have been created through the trees, so that the monkeys can explore the vegetation as they would do in the wild – look out for them scampering along as you walk past, often looking for some attention!
This project is a genuine grassroots conservation initiative, aiming to give these mistreated animals a natural retirement home. The sanctuary could not exist without the volunteers, and so you will be put to good use and expected to work hard. Prepare to get mucky and stuck in – and to do everything under the watchful eye of your primate friends.
Volunteers coming here are required to come armed with initiative and independence. It is essential that you have a good grasp of Spanish, as you will be working and living amongst Spanish-speaking people. Other languages spoken by some members of staff are French and English, however the main language of communication is Spanish. If you do not have much Spanish knowledge, but are keen to volunteer with monkeys and other animals in Ecuador, why not check out our wildlife sanctuary project?
No one day is the same here, as caring for wild animals can be unpredictable! You will be put to good use working alongside and under the guidance of local staff, however initiative is required so that you can work well independently. Some of the jobs can include, but are not limited to:
Food preparation
Feeding
Ensuring the animals have water
Cleaning of enclosures
Creating enrichments
Helping to raise orphan babies (if relevant)
Assisting in quarantine (where necessary)
Basic maintenance of the centre – raking leaves, chopping back undergrowth, clearing paths
Building new structures and enclosures for the animals
Improving the centre eg painting, making signs, making flower beds, planting, weeding
Other tasks that are a daily part of life at the centre are more domestic tasks. These tasks are really important and help you to contribute to your volunteer community as well. The jobs are shared out with the other volunteers, and can include:
Preparing meals for yourself and the other volunteers
Cleaning the kitchen, bathrooms and accommodation
Feeding the fish in the aquarium
Feeding the pet dogs that also call the sanctuary home
The accommodation is located at the heart of the sanctuary – wild monkeys run across the rooftops, you hear the birds calling and the cicadas making a racket. It is a friendly and welcoming place, although the monkeys on the roof can be a surprise on your first night when trying to get to sleep!
The main living area consists of a kitchen, dining area and living room, where films are often projected up on to the wall at night time. There is a small terrace outside, often shared with an animal or two!
You will be sharing the volunteer house with other volunteers, living in dorm rooms that can host up to 6 people in each. There are two bathrooms with hot and cold water
Ingredients for food are provided, however it is up to you and other volunteers to take control of the kitchen. This is a fantastic opportunity to try cuisines from around the world, so come prepared with your favourite recipes!
The diet is largely vegetarian and you will be given fruit, vegetables, rice, pasta, bread, dairy products, sauces and spices to work with
Optional extra: Spanish lessons
Learn Spanish remotely before you travel with our wonderful Oyster representative in Ecuador, Monika. Monika is a qualified teacher of Spanish and for many years she has been helping volunteers to improve their Spanish abilities. She is happy to teach any level of Spanish ability, from complete beginner to someone who has a good grasp of the language.
Price guide and details:
Whatever your ability, Monika will tailor a teaching programme around you
Lessons are mainly based around what would be useful for life as a volunteer in a Spanish-speaking country, although can be amended to your preferences
Lessons are conducted online and you must have access to a laptop and internet connection
Lessons are 2 hours each and take place twice per week
Lesson scheduling is flexible around your availability. Monika is available between 11am UK time and 2am UK time each day.
8 hours of teaching (2 weeks of lessons): £150
16 hours of teaching (4 weeks of lessons): £275
24 hours of teaching (6 weeks of lessons): £400
32 hours of teaching (8 weeks of lessons): £525
If you are interested in learning Spanish with Monika, please let us know on your booking form.
What do I need to know about Covid-19?
We have been working closely with our partner organisations to ensure that you travel with the utmost confidence and peace of mind. Follow the links below to learn more about how to do this:
Airport: Quito (UIO)
Arrival day: Sunday. Collected from the airport and overnight stay in Quito. Transfer to the project on Monday
Departure day: Sunday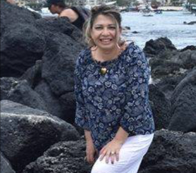 Monika has been welcoming international volunteers to Ecuador since 2006. She speaks fantastic English, and is a wonderful friendly face for your arrival to your new temporary home. She is passionate about wildlife, cooking and travel – you will get to enjoy her cooking whilst you are in Quito! She is originally from Colombia, but Ecuador has been her home for over 30 years.
Access to your own personal 'My Oyster' account – our online portal where you can find out much more about the program and manage your booking
Dedicated contact time with an experienced destination manager to discuss the project, answer any of your questions and for us to find out more about you
Help and advice from our UK office before arrival and whilst you are away
In-country support
Pre-departure information covering medical, safety and project advice
Financial protection: ATOL (if we book your flights); IPP (if we don't book your flights)
Thorough orientation on arrival
Accommodation (see the 'accommodation' section above for details)
Advice on visa requirements
Oyster plants a tree in Africa with TreeAid to help reduce the impact of global carbon emissions
Transfer from Quito airport to first night accommodation
First night accommodation in Quito (dinner and breakfast provided)
Transfer from Quito to the sanctuary
Food for meal preparation
Local SIM card (make sure your phone is unlocked)
Free wifi at the sanctuary (may be slower and patchier than you are used to!)
Donation to the project
Oyster Worldwide volunteer t-shirt
Oyster luggage tag
On your return:
Welcome home pack
Certificate of Recognition (on request)
References (on request)
Flights – as an ATOL bonded company, Oyster can book flights for you
You need a valid passport that meets the requirements of the country you will be travelling to
Insurance (covering your time with Oyster and any planned independent travel)
Any costs associated with changing your return flight date if you need to
Independent travel costs
Home country travel costs
Spending money for additional trips, food and entertainment
If you will be flying through the USA you need to comply with US regulations- make sure you have an ESTA (Electronic System for Travel Authorization) at least 72 hours before you leave
Cost of changing your return flight date if you need to
Public transport return transfer to Quito and onward travel- from £25. Private transfers can also be arranged for an extra fee.
Any additional costs such as trips, snacks, entertainment (allow maybe £30 per week depending on lifestyle)
No visa is necessary for under 90 days from UK and most western European countries
No compulsory inoculations are necessary although do check with your doctor to make sure polio, typhoid and Hep A&B jabs are up to date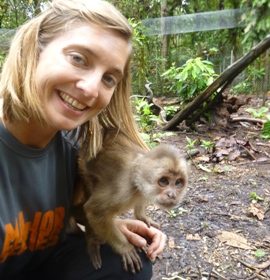 "I volunteered at the monkey sanctuary and instantly fell in love. It is wonderful to work with these primates that have obviously been through so much, and to see them living in such beautiful surroundings. Be prepared to work hard, get stuck in and live a basic Ecuador lifestyle – which is all worth it for being around these amazing creatures," said Destination Manager, Anne
Oyster is working hard to reopen this project. This will involve some changes to the running of the project including:
Transfer amendments – all volunteers must upgrade to a private transfer to the project site, at their own cost. The cost is £110pp for one way.
Accommodation amendments – to be confirmed
All volunteers must bring masks, gloves and hand sanitiser
All volunteers must be able to provide proof of a negative Covid-19 test (taken within 72 hours before departure)
Prepare for a thorough orientation on arrival regarding health and safety measures at your project and in your country destination
Social distancing of 1.5m must be observed during project work
Volunteers must wear masks during the airport transfers
There will be a daily check for temperature and symptoms
Protocol is, and will continue to be, followed with the aim to minimise risk to staff and volunteers
Strictest hygiene controls are in place for equipment and all public areas.
Returning home
In order to fly home, your government may require you present a negative PCR test taken a maximum of 72 hours before your flight. This may not apply to you, however please make sure that you aware of the situation between the country you are returning from and returning home to. Oyster Worldwide will support you with this process but it is your responsibility.
Below are details of getting a PCR test from this project site:
It is best to return to Quito before taking your test. Our rep, Monika, can arrange a private transfer for an extra fee of £110 to return you to Quito. She will arrange for you to stay at her house and take a private test, which takes 24 hours to come back. You can stay at Monika's home for £15 including bed and board.
The costs associated with getting the PCR test are at your own expense. At the time of writing, the test costs 80USD.
Breakfast: 07.30 – 08.00
Morning tasks: 08.30 am to complete the mornings tasks
Late morning tasks: Once this is complete, other jobs such as conservation work, maintenance work and enrichment can be carried out.
Job include:
food preparation
feeding
watering
general animal care
cleaning the kitchen
cleaning the accommodation
Lunch: 12.00 – 13.00
Afternoon tasks: 13.00-18.00 In the afternoon there are is another round of food preparation and feeding. The enclosures need cleaning out and general maintenance is completed.
This is a fantastic opportunity for those who love animals to make a genuine difference. This project allows you to get hands-on both with the animals (where necessary) as well as hands-on in the improvement and running of the sanctuary. People enjoy the centre itself, and love being able to work hard to improve the lives of the animals living here.
Community spirit is also especially important here – you will work as a team and all muck in together. As volunteers are responsible for the cooking (and cleaning!) this is a wonderful way to learn about foods from around the world and to create some of your own delicacies (or your equivalent of beans on toast!)
It is essential that you have a good grasp of Spanish, as you will be working and living amongst Spanish-speaking people. Other languages spoken by some members of staff are French and English, however the main language of communication is Spanish. If you do not have much Spanish knowledge, but are keen to volunteer with monkeys and other animals in Ecuador, why not check out our wildlife sanctuary project?
This is a fantastic opportunity to get some hands-on experience working in a grassroots monkey sanctuary. You will be making a genuine contribution to their livelihood and welfare, providing day to day care and working to promote their well-being through improvements to the sanctuary. You will be working alongside Spanish and English speaking staff, allowing you to immerse yourself fully in this caring way of life.
This project is perfect for those who are independent, hard working and happy to chip in. Everything that you do here is for the good of the animals, and it is a privilege to be part of this. You will be living a much more relaxed and simple way of life, in a beautiful part of the country that is ripe for exploring.
If you are looking to make a real difference and work hard to improve the lives of animals, this is a great option for you.
Whilst late-availability is possible, we would advise booking as soon as you can to guarantee your ideal dates. Our projects are very popular and spaces can fill up several months in advance, especially for the months of June to September.
Some of the animals that have been brought here have been victims of quite an abusive past at the hands of humans. These monkeys are generally more aggressive, and as such live in huge fully enclosed enclosures, with wire tunnels running through the trees so that they can live a life as close to the wild as possible. There is no contact with these animals.
Other animals have been pets in a previous life, handed over to the sanctuary when the owners ran out of space or the ability to care for them. They are a lot more humanised, and may reach out to hold your hand. Watch out, they can be strong! You will be introduced to the animals with which you can be more hands on.
Some of the animals are so humanised that they require plenty of human contact, often coming up to the volunteer house to socialise. This is certainly not a hug a monkey experience, but the opportunity exists to interact with these adorable creatures.
Oyster assesses projects carefully to ensure that they offer high standards of animal welfare and environmental practice. We also check that volunteers understand key points of good practice before working with animals. To find out more, see our animal welfare policy.
The weather is relatively similar year round in this area of the country. Temperatures average about 20 – 22 degrees celsius, but can feel a lot hotter when you are working directly under the sun due to the proximity to the equator.
This area of the country experiences a lot of rainfall, often in short sharp bursts or overnight. This can change quickly however and often a raincoat is needed just seconds after you have been putting on sunscreen.
Life in Ecuador is relatively inexpensive. Your food and accommodation is included, so it is just your own personal expenditures that you need to take into account.
Whenever you travel  between Puyo and the project site this costs about £3 for the journey. You should budget from £25 for your return to Quito and onward travel.
If you plan to do any larger trips, you should budget separately for this.
There is really easy access to cash machines in the local town so you do not need to take all your cash with you.
If you are going for over 4 weeks, you might like to consider getting a cash card. Cash cards are a safe and convenient way to take your money travelling with you – they act just like debit cards but do not have the same fees as you might have to pay on your bank cards from home. Check out our blog for details on how the card works here.
No visa is necessary for under 90 days from UK and most western European countries. You will receive a tourist stamp upon arrival allowing you stay in the country for free for up to 90 days.
You need to make sure your passport is valid for a minimum of 6 months from your date of entry into Ecuador.
Most of our volunteers are independent travellers and you will become part of a group of people from around the world here. It is fine to travel with friends or as part of a small group too however- more the merrier!
The simple answer to this question is, yes absolutely!
It is important to bear in mind however that this may not be like other holidays that you have taken. Remember that you are volunteering, and this means that you will be put to work! This sort of holiday is a world away from sun loungers and cocktails, with our volunteers often heading home tired but immensely satisfied. If you think that you will need a bit of relaxing time on your trip too, do make sure to factor this in when your time on the project is complete.
You should visit your doctor or travel nurse to find out what vaccinations you will need. Your routine vaccinations will need to be up to date; hepatitis A and Typhoid are likely. You should follow your doctor's advice.
Please check below for where the closest hospital to the project is- your doctor may ask to know this so that they can provide information on rabies.
There are hospital facilities in Puyo, just 15 minutes from the centre.
The centre is in a very secure and safe area.  Accommodation is located on site and the staff live on site as welll. The project is located in rural Ecuador, approximately 5 hours from Quito. It is a beautiful and unspoilt area. The local town of Puyo is small and friendly.
The town of Puyo is about 15 minutes' drive from the sanctuary. It costs just about £3 to travel into town from the sanctuary, and this can be divided between other volunteers.
There is wifi access in the dining room. Please bear in mind that signal and speed are unlikely to be as reliable as you might be used to back at home.
There is good phone reception here.
Ecuador is 5 hours behind GMT (GMT – 5)
Plug sockets are two flat prongs (US and Canada adapter).
The sanctuary is located on the fringes of the Amazon rain forest, close to the gateway city of Puyo. There are lots of jungle tour operators here that do trips to indigenous communities, hiking, and more.
The town is also a transport hub of the area, with frequent bus connections north to Tena and Coca, south to Macas and west to Banos and Ambato. Banos is famed for its thermal baths. There is lots that you can do here including swimming in hot pools, getting spa and massage therapies, white water rafting, hiking, cycling and canyoning.
The sanctuary is able to arrange for you to do tours in the local area with a local tour operator.
You will have one day off per week from the sanctuary. Evenings are also your own to relax and go into Puyo for some food if you wish.
Supervision will be fairly intensive during the first few days, when you will receive a thorough induction and work-related training. Once you are comfortable with things, you might not always have a supervisor working alongside you, but there will always be staff and other volunteers around to help, and you will always be accompanied for any high risk activities.
Staff at Oyster's head office and in-country will be responsible for your safety and welfare while you are at the project. This will start from the moment you are picked up from the airport until the day that you leave the project at the end of your stay. Before and after these times, you will be outside Oyster's responsibility and should make sure that you act safely and avoid risk. This is also true if you choose to leave the project during your time off. We will give you plenty of guidance and advice about this.
Please note, in contrast to your time on the project, whilst you are in Quito you will not be under direct supervision. We expect you to make sensible choices and follow our advice on staying safe.
Oyster has personally hand-picked some of the best volunteering projects out there. With so much amazing choice, it can be hard to make a decision. Our Animal Welfare Destination Manager, Anne, has written a guide to help you to choose the best animal volunteering project for you.
Other adventures like this