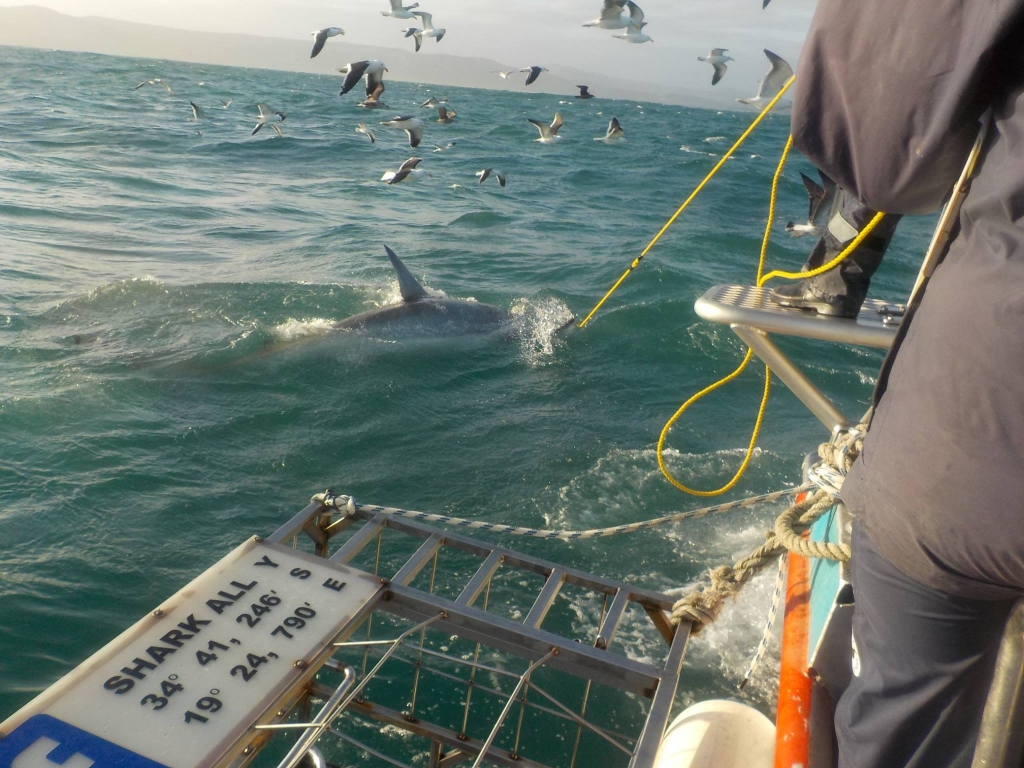 "Today was an incredible day on the boat! Our trip started out with two Southern Right whales seen close to the boat on the way to the shark area. The whales were so close that a few on board got a surprise misting when the whale blew beside the boat. Whales can be seen between June and November generally, so this was a real treat.
Right after getting to the shallows we had a young male shark measuring 1.9 m in length swimming around the boat. A short while afterwards  Caroline, a shark we've known for a while, made an appearance. She made several strikes at the bait and circled the cage close enough for the divers to see her unique moustache-shaped scar on her left side. Following in Caroline's tracks, another shark we've known for a while, Mini Nemo, came to take a peek at the cage. This shark, a large 3.8 m male with white faded scars on its right side, disappeared slowly after, but was quickly followed by three more sharks we haven't met before including one large female coming in at 3.7 m in length! This is great to see more sharks in the area.
We then saw Pieter, a 2.5 m male shark. Pieter was very active today, jumping all over and striking at the bait and float. He was quickly followed by none other than Caroline, who's moustache-scar made its second appearance of the day. Later in the trip our divers met another young and active shark. The next shark was Claudia, a 3.3 m female who showed off her scarred dorsal fin before swimming away. This shark was followed by another active juvenile and then two sting rays. After this our divers saw another large shark, measuring 3.8 m with large healing cuts on its right side. Another amazing day at sea for everyone on board!"
Forrest and the team enjoyed a particularly busy day out on the boats! Check out our website to find out more about volunteering with sharks.