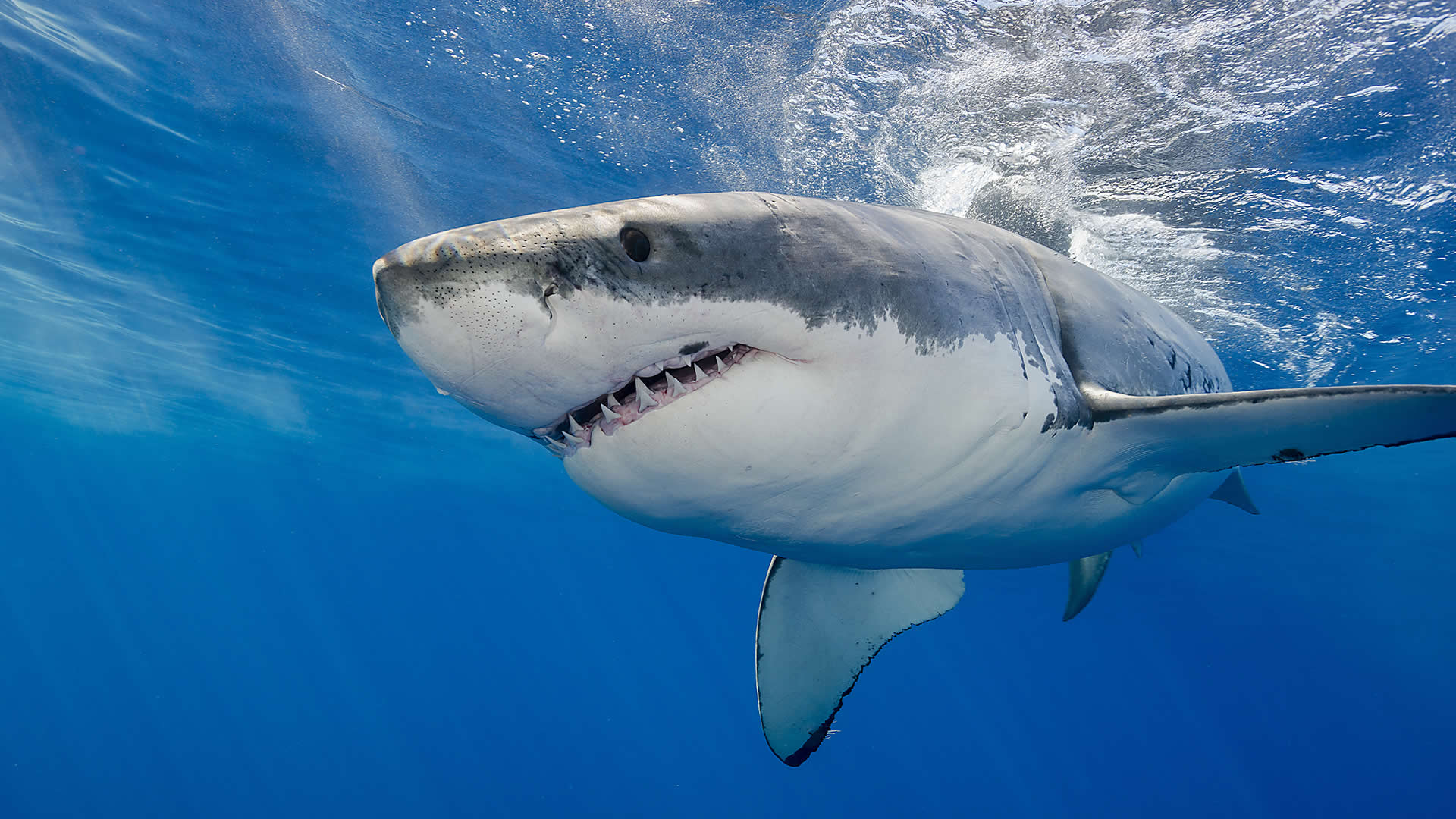 Push yourself out of your comfort zone by volunteering with South Africa sharks and taking part in cage dives. If becoming a shark conservation volunteer isn't a big enough draw for you, remember you'll also be involved with penguins, whales, dolphins and seals.
Duration: 1 – 12 weeks
Dates: Arrivals throughout the year
Arrival day: Sunday
Return day: Monday
Eligibility: General level of fitness required
Age: 18+ (17 year olds welcome if you travel in the same year that you turn 18)
The moment when you first see a shark swimming towards you underwater… wow!
Seeing dolphins leaping from the water as you go by on the boat
The feeling of hope and expectation – will you see a whale breaching?!
Cage diving with sharks and working with penguins – what's not to love?
Exploring in your free time – think great scenery, lovely vineyards and the most southern point of Africa
Hermanus, Western Cape, South Africa
Volunteering along a beautiful stretch of South Africa's rich coastline, you will work with the marine Big 5, comprising whales, great white sharks, cape fur seals, dolphins and the African penguin.
The project is located in what is known as the "great white shark capital of the world". Despite the daily sightings, very little is actually known about these mighty creatures, which makes shark conservation all the more difficult. This project aims to learn more about sharks and their behaviour so that their population decline can hopefully be controlled and reversed.
Whilst the main component of marine conservation volunteering in South Africa is shark volunteering, marine conservation research is essential for all species. The ecosystem is very much reliant on all animals, and as such you will also be doing all that you can to preserve all of the Marine Big 5.
Out on the eco-tourism and education boat every day, you will predominantly be helping out with shark spotting (all year round) and whale watching (June to December only), educating visitors about marine conservation.
Most days you will be out at sea in the morning and early afternoon, although depending on the weather this can change. Afternoons are generally spent doing extra conservation tasks.
Typical tasks can include:
Daily boat trips: The research team take groups of tourists on shark and whale watching trips. You will be working alongside them, operating equipment, preparing the cage, recording data, helping with photography and looking after the passengers. You'll never tire of seeing the wildlife along this coastline – whales lifting their flukes as they dive, penguins, dolphins and, of course, sharks! You are encouraged to get involved in the shark cage diving too!
Monitoring: Whilst out on the boat you will help researchers in their work to identify the movement of the sharks and other marine life throughout the year. This involves observing, identifying, tracking, recording data and taking photographs.
Extra conservation initiatives: From painting penguin houses to helping out with local education programmes, from beach clean ups to bird surveys, from animal rescues to shark egg collection – there are a whole host of extra conservation tasks that you can get involved with each week.
Volunteer with penguins: A penguin rehabilitation centre is located just next to the volunteer accommodation. Working with penguins can involve feeding, data collection, cleaning and monitoring.
The daily admin: Each day there are blogs to be written, data to be logged and equipment to be cleaned down. You are encouraged to get stuck into everything to really make the most of life as a conservation volunteer!
Marine conservation internship opportunity
If you are studying marine science, or have just graduated in this field, you can join a 4 week long skills based internship. This marine conservation internship is also open for all students in the natural science and biology fields (biology, natural science, environmental science, marine science, marine biology or wildlife biology). Arrival dates and availability can be seen on the booking calendar here.
The internship provides students with experiences that will help increase their knowledge and improve employability in this field. The internship covers:
Boat based data collection: be the assistant biologist on shark and whale watching vessels, collecting data and helping with photo IDs
Seabird and penguin rehabilitation: assist expert staff with handling and feeding injured seabirds and penguins at a rescue and rehabilitation centre
Environmental monitoring: collecting data at a local estuary, doing bird surveys and an introduction to water sampling technologies (YSI)
Videography training: using baited remote underwater video (BRUV) and drones to do habitat mapping
Tagging and tracking: ID and acoustic tagging and tracking of coastal shark species
Statistical training and species measuring: learn how to use GIS, do data workshops, get an introduction to laser stereo and 3D photogrammetry
Lectures: Enjoy learning about the biology and ecology of South African marine species, research, methods, sampling and data management
Development of key skills: Oral presentations, scientific discussions, peer review training, communication, scientific guiding, critical thinking and team work
This is a fantastic way to gain more experience in your chosen field and add something further to your CV. If you are interested, please email Georgie.
Campus-style accommodation located 10 – 15 minutes walk from the main project building
The campus has four spacious chalets, each of which houses 4 – 6 volunteers
Swimming pool, games room, braai and garden located on site
WiFi, TV and DVDs available at the accommodation
Breakfast including tea, coffee, bacon, eggs, cereal and toast is provided at the volunteer house
Lunches including bread, tomatoes, lettuce, cucumber, cheese, peanut butter, jam, fruit and fruit juice
Dinner is on a self catering basis in the well-equipped on-site kitchen
Fancy exploring the Garden Route after the project?
Turn your volunteering adventure into a volunteer holiday in Africa on our Garden Route tour. We are excited to offer our conservation volunteers the opportunity to join a 5 or 6 day tour after the project. This tour will collect you from the project and take you along the world-famous Garden Route, stopping off at the major tourist sites as you go. Join a group of likeminded people and keep exploring. To find out more about the tour, see our Garden Route Adventure page.
Airport: Cape Town (CPT)
Arrival day: Sunday. Overnight accommodation in Cape Town and transfer to the project on Monday
Departure day: Monday evening
Access to your own personal 'My Oyster' account – our online portal where you can find out much more about the program and manage your booking
Dedicated contact time with an experienced destination manager to discuss the project, answer any of your questions and for us to find out more about you
Help and advice from our UK office before arrival and whilst you are away
In-country support
Pre-departure information covering medical, safety and project advice
Gold level, 24/7 Pharos crisis management and incident support cover
Financial protection: ATOL (if we book your flights); IPP (if we don't book your flights)
Thorough orientation on arrival
Accommodation (see the 'accommodation' section above for details)
Advice on visa requirements
Oyster plants a tree in Africa with TreeAid to help reduce the impact of global carbon emissions
Airport collection and transfer to guest house accommodation in Cape Town
Guest house accommodation in Cape Town
Transfer from guest house to project site
Project equipment
Breakfast provided, as well as lunch when out on the boats
Return transfer to Cape Town
On your return:
Welcome home pack
Certificate of Recognition (on request)
References (on request)
Flights – as an ATOL bonded company, Oyster can book flights for you
You need a valid passport that meets the requirements of the country you will be travelling to
Insurance (covering your time with Oyster and any planned independent travel)
Any costs associated with changing your return flight date if you need to
Independent travel costs
Home country travel costs
Spending money for additional trips, food and entertainment
This project would suit any nature lover, but is particularly good for someone with an interest in marine biology, conservation and also eco-tourism.
It is great for anyone who is really keen to experience life working within an eco-tourism organisation and to see sharks living out in the wild at sea.
Morning:
The day starts early, at times as early as 05:00 to get the boat ready for launch
Depending on sightings, weather and season, you could be out at sea for anywhere between 3 – 4 hours
Afternoon:
Depending on your morning's timetable, you will either be free for the rest of the afternoon, or working for 2 – 4 hours on conservation initiatives
Depending on weather and season, you will generally be finished by 17:00
There is so much that you will touch upon whilst you are volunteering on this project. You will likely be getting involved in tasks such as:
assisting the crew in the dive operations
helping clients
recording data
capturing data
observation
taking water samples and testing temperatures
getting the boat ready before launch
helping operations when the boat returns to land
cleaning wetsuits
preparing boat equipment
interacting with the eco tourists
assisting the crew during trips
helping out at the penguin sanctuary (cleaning pens, feeding, recording data, caring for the birds)
beach clean ups (preventing plastics from entering the food chain, causing animals to starve or become poisoned)
examining any deceased marine life – dissections, data collection, recording GPS
collecting sharks eggs for research, showing species occurence, abundance and distribution
In addition to these tasks, there are also some great presentations laid on so that you can learn as much as possible. These are delivered by the skipper, deckhand, conservation trust, marine biologists and visiting scientists / student. These presentations can cover:
shark biology
shark behaviour
about the research
whale and dolphin research and biology
basic seamanship
knot tying
Whilst late-availability is possible, we would advise booking as soon as you can to guarantee your ideal dates. Our projects are very popular and spaces can fill up several months in advance, especially for the months of June to September.
South Africa is one of the few white shark hot spots in the world, offering the best opportunities to observe these sharks in their natural environment throughout the year. The colony of about 60,000 cape fur seals in the bay attracts one of the densest and most accessible populations of great white sharks in the world.
Peak shark viewing: May-September: Shark sightings are generally a daily occurence throughout the year, however.
Summer: December – February: The weather is warm but sometimes the visibility in the water can make it harder to see the sharks. This is due to algal blooms in the water. That being said, the sharks spend time in the shallow water at this time of year, and it is often possible to see some very large female sharks.
Winter: June – August: The sharks tend to head further out to sea to the islands, their main hunting grounds. This means that there is better visibility. Surprisingly, the water temperature is slightly warmer too! There can be some rough winter storms which can keep the boat off the water at times. However, the project organises loads of other amazing activities on no-sea days!
This area of coast is an important calving and nursing area for the Southern Right Whale. Each year, these whales migrate from their feeding grounds in the sub-Antarctic to breed in this area.
Peak viewing: July – December: Southern Right Whales are either in mating groups or accompanied by recently born baby whales, known as calves. Humpback whales and Bryde's whales also move through at this time of year.
Going out to sea each day relies on good weather conditions. We therefore recommend staying for as long as you can to gain the full benefit of of the programme and to ensure that you experience as much as you can. 2 weeks is great, but 4 weeks is even better!
Yes, if it is done properly, with respect towards the sharks, the other wildlife in the area and the general ecosystem according to the regulations in place. The mission for this project is to change people's mindset and attitudes towards great white sharks through education and appreciation. This change in the public's perception is vital to establish an appreciation of, and thus conservation of this wonderful species.
Oyster assesses projects carefully to ensure that they offer high standards of animal welfare and environmental practice. We also check that volunteers understand key points of good practice before working with animals. To find out more, see our animal welfare policy.
No. This is one of the great advantages with sharks in that they are very active at the surface and can be observed from the boat without having to go into the shark cage. Surface viewing from the boat is often better than from the cage, as the underwater visibility is often limited (3-6 metres on average). Surface viewing is great and provides you with the best opportunities to capture these amazing and beautiful animals on camera!
Yes. The South African cage diving industry is regulated by a Code of Conduct and regulations from Marine and Coastal Management (DEAT – Department of Environmental Affairs and Tourism).
Scuba equipment is not used as it produces a lot of noise and bubbles under the water, which often keeps the sharks from coming close. The experience is much better if you simply hold your breath when going under!
That being said, if you wish to learn to dive whilst in South Africa, we can arrange that. See our learning to dive in South Africa page.
The water temperatures vary during the season, but you should expect 10-15ºC in the winter months (June-September), and 15-20ºC in the summer months (November-March)
The launch is generally between 8 and 10 in the morning. The time spent on the ocean depends mostly on the marine life- sometimes you might even need to wait for a couple of hours to spot anything!
Moreover, sharks present different personalities, and although curious by nature, they are generally very cautious, and while some sharks will sometimes stay around the boat for hours, most sharks only remain around the boat for 5 to 15 minutes. The return to shore is usually after about 3 -4 hours.
If there are several boats going out in one day, you might be asked to help out on another trip in the afternoon.
The research trust is well-respected in the field and includes expert scientists and entrepreneurs among its trustees. It has worked in partnership with the Department of Environmental Affairs; CapeNature; SANCCOB (Southern African Foundation for the Care of Coastal Birds); research units at the University of Cape Town and the University of Pretoria; the WWF and various local conservation organisations.
Research is done on:
shark population
migration
behavioural habits
interaction with other marine species
wound healing capabilities
parasites found on sharks
This research is done by recording sightings, tagging and tracking and dorsal fin identification. Thousands of photographs are being built up to help further understand the shark population in the area.
Sharks are attracted using chum, which creates a scent trail to the boat. Research suggests that this does not have an adverse effect on the natural behaviour of sharks, as long as the chum is only dispersed where the sharks are already active (following their seasonal behaviours) and the sharks are not fed. This organisation follows strict protocols to that effect and has been at the forefront of campaigns to ensure shark products are not included in chum. Chumming is used to formulate research on the great white shark, which is severely lacking to date.
The research-only trips are rare and depend upon the time of year and specific projects running at the time. Usually only volunteers who are staying for 4 weeks or more are invited on research-only trips, if there is one at the time.
Research and monitoring is carried out on each boat trip and on each shark sighting. In turns with other volunteers you can assist with data recording, sketching the dorsal fins and taking ID shots. The main focus whilst out on the boats however is environmental education.
Volunteers who are really interested in research can assist the biologists on the vessel and also after hours. Remember that for every hour a biologist spends at sea they spend another 15 back in the office punching, verifying and analysing data- so if you do want to help with research you could also be doing data capture, measuring shark eggs that have washed ashore, weighing and classifying plastic pollution etc. You shouldn't expect to be tagging sharks day in and day out – this is done by the experts only, and you shouldn't anticipate seeing this in action.
This area of South Africa has a Mediterranean Maritime climate, with moderately hot summers, and mild to chilly winters. It is one of the richest rainfall areas in South Africa, with most rain occurring in the winter months. The area is perennially green, making it a beautiful region to visit.
November – March: Summer months. Daily temperatures of about 24-30ºC.
April – September: Winter months. Average aytime temperatures in the low 20s. During the winter months the days can still be warm (up to 20ºC), but expect chilly nights.
Volunteers come in all shapes and sizes, with the majority aging between 18 and 30 especially during the holiday periods. We cater for any age however, and as long as you are happy to get fully stuck in you will be a highly valued member of the team.
We would recommend budgeting £50 per week for any meals out, souvenirs and trips that you would like to do.
There is really easy access to cash machines in the local village so you do not need to take all your cash with you.
No visa is necessary for under 90 days from UK and most western European countries. You will receive a tourist stamp upon arrival allowing you stay in the country for free for up to 90 days.
You need to make sure your passport is valid for a minimum of 30 days after you leave South Africa.
Most of our volunteers are independent travellers and you will become part of a group of people from around the world here. It is fine to travel with friends or as part of a small group too however- more the merrier!
The simple answer to this question is, yes absolutely!
It is important to bear in mind however that this may not be like other holidays that you have taken. Remember that you are volunteering, and this means that you will be put to work! This sort of holiday is a world away from sun loungers and cocktails, with our volunteers often heading home tired but immensely satisfied. If you think that you will need a bit of relaxing time on your trip too, do make sure to factor this in when your time on the project is complete.
You should visit your doctor or travel nurse to find out what vaccinations you will need. Your routine vaccinations will need to be up to date; hepatitis A and Typhoid are likely. You should follow your doctor's advice.
Please check below for where the closest hospital to the project is – your doctor may ask to know this so that they can provide information on rabies.
For any more information, including entry requirements related to Covid-19, please see the Fit for Travel website or the UK government's travel advice page for South Africa.
There are medical facilities 10 minutes' drive away and a large hospital 40 minutes' drive away.
Safety is of paramount importance to us. Before your departure you will be given a full briefing and will be given information on how to stay safe. We have chosen programmes in areas which do not have safety concerns, but we do monitor the situation and follow the advice of the FCO here in the UK. We have excellent staff on the ground who ensure that our volunteers stay safe. Having said all this it is of course your responsibility to make sure that you are careful and follow guidance on safety.
The South African cage-diving industry is regulated by a Code of Conduct and regulations from Marine and Coastal Management (DEAT – Department of Environmental Affairs and Tourism). Apart from minor injuries due to the boat or cage itself, and sea-sickness and dehydration, no injuries or accidents have been recorded in over fifteen years.  You will receive a full health and safety briefing on arrival on how to work out on the boats and in the vicinity of the sharks.
The accommodation is in a lovely precinct area about 1km inland. There you will share small chalets with other volunteers with locks on the doors, good outdoor lighting and an alarm / CCTV system. A groundsman and his guard dog live on site with the volunteers so this is probably one of the most secure projects that we work with!
This area of South Africa is very popular with tourists and is a very safe area indeed.
There is internet available at your accommodation, as well as at internet cafes in nearby towns. Please bear in mind that you are in Africa, and signal and speed are unlikely to be as reliable as you might be used to back at home.
There is good phone reception here.
South Africa is 2 hours ahead of GMT (GMT +2).
In South Africa, a mixture of European plugs and South African plugs are used.
The Gansbaai area is popular with tourists because of its beautiful scenery and marine life. There are some excellent cafes, bars and restaurants within easy reach of your accommodation if you fancy an outing after work.
This is a perfect destination for nature lovers. If you haven't got tired of being on the water, you can take a boat trip out to see African penguins and the fur seal colonies at Dyer Island – a very impressive sight.
Trekking is popular along the local coastline where you can explore large shoreline caves and sandy beaches. The cliffs and hills are beautiful too, with their covering of shrubs, fynbos and flowers – many of them quite rare.
Cape Town is under 2 hours drive away and well worth a visit. You could simply hang out on its lively waterfronts, but the more intrepid should visit Table Mountain for its magnificent views or take a tour of Robben Island (Nelson Mandela's prison for 28 years).
Other options include horse riding, quad biking, cave hiking, shopping, paintballing, wine tasting and kayaking (approx £15 – £30 depending on the activity).
This is likely to change daily based on the weather conditions and tides. The project operates 7 days per week, weather permitting, but it can be arranged for you to take some time off each week. Generally speaking you should expect to have 2 days off each week with evenings free too- and some good free time activities can be laid on by the project too!
Turn your volunteering adventure into a volunteer holiday in Africa on our Garden Route tour. We are excited to offer our conservation volunteers the opportunity to join a 5 or 6 day tour after the project. This tour will collect you from the project and take you along the world-famous Garden Route, stopping off at the major tourist sites as you go. Join a group of likeminded people and keep exploring. To find out more about the tour, see our Garden Route Adventure page.
Other adventures like this