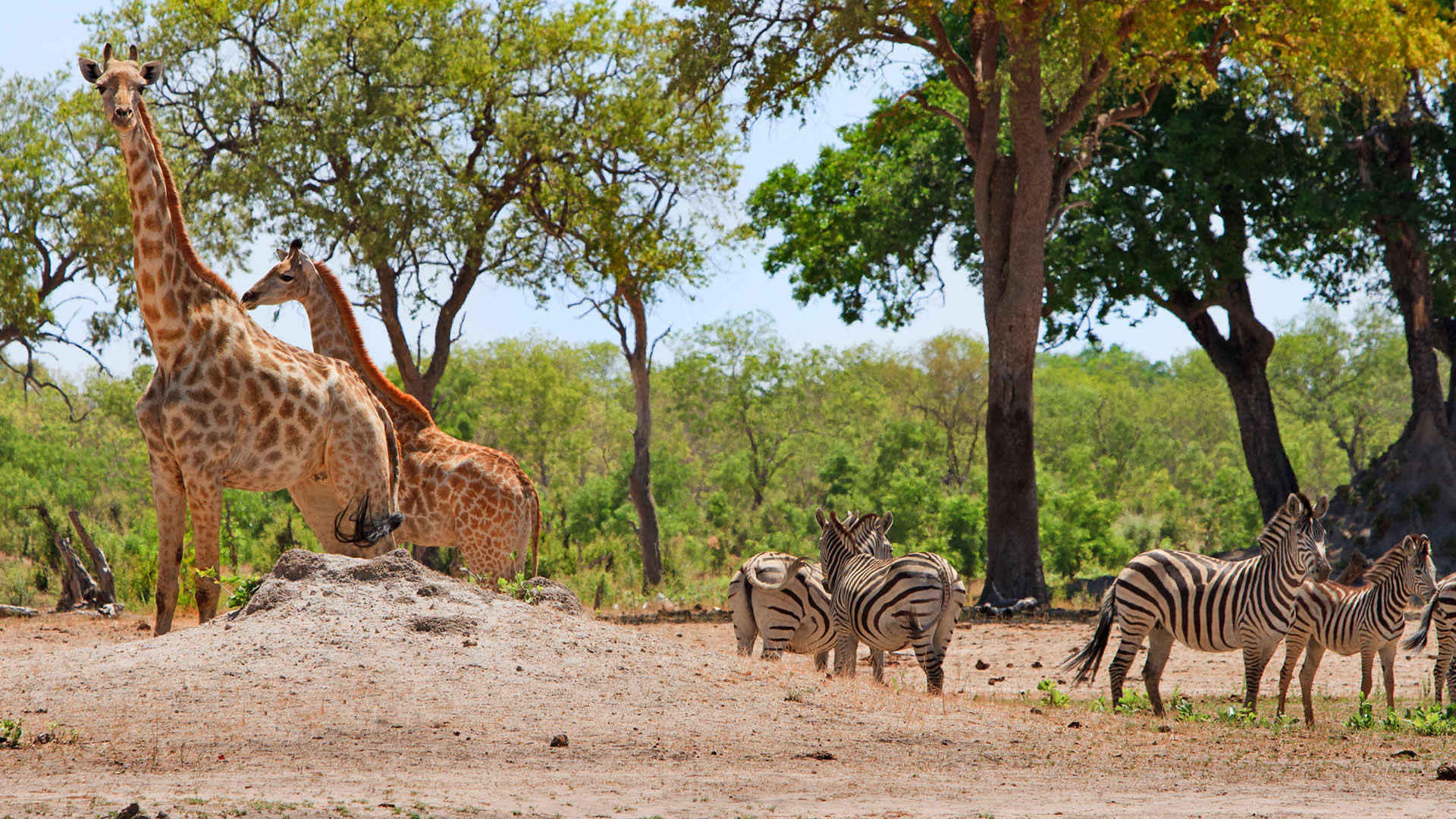 Take a trip on the wild side on this exciting African conservation experience. Even better than a safari, this project immerses you fully in the role of an assistant game ranger on a private Big 5 game reserve. Work alongside some of the world's most iconic animals as you help out around the reserve to promote the survival of African flora and fauna – think lions, elephants, zebra, giraffes, monkeys, rhinos, buffalos, cheetahs – and more!
Duration: 1 – 12 weeks
Dates: Arrivals throughout the year.
Arrival day: Monday
Return day: Saturday afternoon / Sunday
Eligibility: General level of fitness required
Age: 17+
Taking your first game drive and seeing your first animal – and then another, and another!
African sunsets – a beautiful end to a wonderful day
The moment when a herd of elephants wanders by as you work
Beaches, bungees, shark cage diving, swimming, exploring – need we say more?
Grahamstown, South Africa
This beautiful reserve is home to Africa's impressive Big 5 –  elephants, lions, rhino, Cape Buffalo and the elusive leopard. In addition to these famous African icons, you can also see zebra, hippos, giraffes, monkeys and baboons to name but a few. The reserve is at the forefront of conservation, and over 20,000 trees per year are planted to promote the many different habitats found here. This is the perfect place to experience wildlife conservation in South Africa, a country which is renowned for its amazing animals.
Joining the game reserve as a volunteer gives you an experience which is even bigger and better than a safari. Every day you can experience the thrill of seeing lions dozing, elephants grazing and hippos lounging in the mud as you head out to tackle the day's tasks.
This hands-on conservation experience gives you the opportunity to work with animals abroad and promote wildlife conservation in South Africa. In addition to its leading role in African wildlife conservation, the park works closely with the local community, where you can contribute to a worthwhile scheme helping local school children.
No day will be the same, as life on a reserve is very changeable. The project runs from Monday – Friday, with weekends free. Tasks that you might help out with can include, but are not limited to:
Tracking and monitoring wildlife
Completing game counts and wildlife surveys
Sunrise and sunset game drives
Capturing and relocating wildlife
Tree planting and erosion control
Working in the animal rehabilitation area
Clearing non-native vegetation from the reserve
Fence patrols, repairs and maintenance
School community projects and feeding schemes (during the school year)
On-site accommodation in shared single-sex dormitories
Single-sex toilet and showers
Lockers provided for your belongings
Access to swimming pools, tennis courts and gardens throughout your stay
Basic dormitory accommodation provided in Port Elizabeth for participants wishing to explore on the weekend (no extra charge)
Food is included throughout your stay at the reserve
Three meals per day prepared for you by local cooks
Breakfasts include cereals, bread, jams, tea, coffee and sometimes cooked options
Lunches and dinners are buffet style and comprise of mainly western, African and Asian food
If you choose to leave the reserve at the weekend, you will need to provide your own food
Most dietary requirements can be catered for
Your programme will keep you busy at the reserve from Monday to Friday, with weekends free for study, relaxation and exploring
At the weekend many participants choose to head in to Port Elizabeth to enjoy the sea, surf and sand, as well as to use it as a base from which to explore the area
Alternatively, you are more than welcome to remain at the reserve to enjoy the fantastic facilities there and simply relax
Want to go travelling after your project?
We can arrange a week-long Garden Route tour after your time on the project.
Follow the link to find out more about the Garden Route Tour.
Airport: Port Elizabeth (PLZ)
Arrival day: Monday before 17:00. You will be collected from the airport and transferred to the reserve
Departure day: Saturday after 12:00 or Sunday at any time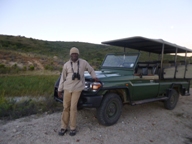 The team of coordinators on the reserve will be your support network whilst you are on this project. Get to know the game rangers as they teach you their craft and get you involved in assisting them on the project. The full-time team who work in the offices to coordinate your project are also there as a helping hand and can offer great advice on things to do on your weekends.
Access to your own personal 'My Oyster' account – our online portal where you can find out much more about the program and manage your booking
Dedicated contact time with an experienced destination manager to discuss the project, answer any of your questions and for us to find out more about you
Help and advice from our UK office before arrival and whilst you are away
In-country support
Pre-departure information covering medical, safety and project advice
Gold level, 24/7 Pharos crisis management and incident support cover
Financial protection: ATOL (if we book your flights); IPP (if we don't book your flights)
Thorough orientation on arrival
Accommodation (see the 'accommodation' section above for details)
Advice on visa requirements
Oyster plants a tree in Africa with TreeAid to help reduce the impact of global carbon emissions
Airport collection
WiFi
Food full board at the reserve
Bed Linen
Weekly return transport to and accommodation in Port Elizabeth
Return transfer to Port Elizabeth at the end of your stay
On your return:
Welcome home pack
Certificate of Recognition (on request)
References (on request)
Flights – as an ATOL bonded company, Oyster can book flights for you
You need a valid passport that meets the requirements of the country you will be travelling to
Insurance (covering your time with Oyster and any planned independent travel)
Any costs associated with changing your return flight date if you need to
Independent travel costs
Home country travel costs
Spending money for additional trips, food and entertainment
Food when not at the reserve
This is an amazing opportunity to get close to some of Africa's most magnificent species in a beautiful location. It goes much further than simply doing a safari, and involves total immersion in the life of a game reserve. Rather than simply witnessing the Big 5 and other wildlife, you will be actively working alongside them.
The typical day starts at around 9.30am and comes to a close at around 16:30 / 17:00. An example itinerary:
08.30 – 09.30 Breakfast
09.30 – 13.00 Morning tasks
13.00 – 14.00 Lunch
14.00 – 17.00 Afternoon tasks
18.00 – 19.00 Dinner
Whilst late-availability is possible, we would advise booking as soon as you can to guarantee your ideal dates. Our projects are very popular and spaces can fill up several months in advance, especially for the months of June to September.
On the same reserve as the Big 5 project there is also a game ranger course. Whilst these two options incorporate the same daily working activities out on the reserve, on the game ranger course you will learn a lot more about the theory of being a game ranger and how to put that theory into practice. The course lasts for 8 weeks at set times of the year. It is great for people who are keen to work with animals, build up some work experience and come away with a deeper knowledge of nature, as well as a recognised qualification.
In addition to the general conservation programme, the game ranger course covers:
Practical and theoretical training required to become a qualified field guide
Insight into geology and astronomy
Knowledge of weather and climate
Learning about basic ecology
Animal identification and management
First Aid level 1
A written exam is completed at the end for your FGASA (Field Guide Association South Africa) level 1 qualification. This is recognised across Africa.
This conservation experience is designed to excite participants about life in a private reserve. It will open you up to the complexities of animal management and care, and to the important conservation issues that face private game reserves today.
Our ideal candidate will be enthusiastic and willing, with a genuine desire to take part in an educational experience learning about conservation, animal management and life on a private game reserve. It is important to understand that this project has been designed as a conservation experience where you can learn and get involved as much as possible.
One of the most important things to remember when you are on this programme is the importance of being flexible. You will be working within a dynamic game reserve environment, and as such things can change last-minute and without warning. Additionally, you should remind yourself that you will be in a very different culture where life can be more laid back than you might be accustomed to. You will enjoy the programme most if you are open-minded, motivated and willing to get stuck in.
There is no contact with animals living wild in the reserve. Participants will act under the careful guidance of the rangers when out in the reserve.
There may be some animals within the rehabilitation area that you can interact with, however you should go with the expectation that this is a hands-off project.
Oyster assesses projects carefully to ensure that they offer high standards of animal welfare and environmental practice. We also check that volunteers understand key points of good practice before working with animals. To find out more, see our animal welfare policy.
We are an approved activity provider for the Duke of Edinburgh's Award. You are able to put the time that you spend volunteering abroad on this project towards achieving your Gold Duke of Edinburgh's Award. We are happy to sign off your completion of this programme to show that you have achieved the Residential section of the Gold Award.
The reserve is situated an hour from Port Elizabeth and gets moderately hot summers, and mild winters. It is one of the richest rainfall areas in South Africa. Most of the rains occur in the winter months, brought on by the humid sea-winds from the Indian ocean. The area is perennially green, making it a beautiful region to visit.
Spring: late August to October.
Summer: November to March, with December to February seeing mid-summer daily temperatures of about 24-30ºC.**
Autumn: April and May, with average daytime temperatures in the low 20s.
Winter: June – August, where the days can still be warm (up to 20ºC), but expect chilly nights.
**We have noticed in recent years a dramatic increase in temperatures in December and January. Temperatures have been rising to 40 – 45 degrees celsius during the day time. This heat may result in project activities having to be adapted for the health and safety of participants and animals.
You will know your spending habits the best, however a recommendation would be to budget for £40 per week for drinks, meals when in Port Elizabeth, laundry and treats. If you plan to travel further afield and do trips at the weekend, you should budget separately for any outings that you wish to do.
There is really easy access to cash machines in Port Elizabeth so you do not need to take all your cash with you.
No visa is necessary for under 90 days from UK and most western European countries. You will receive a tourist stamp upon arrival allowing you stay in the country for free for up to 90 days.
You need to make sure your passport is valid for a minimum of 30 days after you leave South Africa.
Most of our volunteers are independent travellers and you will become part of a group of people from around the world here. It is fine to travel with friends or as part of a small group too however- more the merrier!
The simple answer to this question is, yes absolutely!
It is important to bear in mind however that this may not be like other holidays that you have taken. Remember that you are volunteering, and this means that you will be put to work! This sort of holiday is a world away from sun loungers and cocktails, with our volunteers often heading home tired but immensely satisfied. If you think that you will need a bit of relaxing time on your trip too, do make sure to factor this in when your time on the project is complete.
You and your family should visit your doctor or travel nurse to find out what vaccinations you will need. Your routine vaccinations will need to be up to date; hepatitis A and Typhoid are likely. This project is not located in a malarial area of the country, but you should follow your doctor's advice.
Please check below for where the closest hospital to the project is – your doctor may ask to know this so that they can provide information on rabies.
For any more information, including entry requirements related to Covid-19, please see the Fit for Travel website or the UK government's travel advice page for South Africa.
There is good access to pharmacies, doctors surgeries, first aid clinics and hospitals in and around Port Elizabeth. The main hospital is a 60 minute drive away and there is 24/7 access to vehicles.
You will be based about one hour from Port Elizabeth within the beautiful reserve. Safety is the main priority here as you will be living in a reserve full of wildlife. The accommodation is in a large and fully enclosed area away from the main reserve. Staff live onsite and there is 24/7 access to help and assistance. When working out on the reserve you will always be accompanied by a member of staff, whether that be a game ranger or an other expert in the field. You will receive a health and safety briefing on each different activity that you undertake to ensure that you understand it fully.
Port Elizabeth is known as the "Friendly City" (but also the Windy City!). It is at the far end of the Garden Route linking it to Cape Town. This makes it very much on the tourist trails and you will not feel out of place here! The city is very modern with large shopping malls, a beautiful promenade and great free time activities. During your weekends you are free to go to Port Elizabeth, where safe accommodation is located in the leafy suburbs of the city.
Crime in South Africa is mainly concentrated in the larger townships of the country however you are advised not to walk alone at night time and to take a taxi back to the accommodation if you have been out and about at night time. The streets are less well lit in South Africa than you might be used to at home.
Port Elizabeth is about an hour from the reserve, and weekly trips are arranged at the weekends.
There is wifi access available but this can be intermittent. You will need to take a device to be able to connect to it.
Please bear in mind that you are in Africa, and signal and speed are unlikely to be as reliable as you might be used to back at home.
There is good phone reception here.
South Africa is 2 hours ahead of GMT (GMT +2).
In South Africa, a mixture of European plugs and South African plugs are used.
Weekend trips are arranged to Port Elizabeth and other local attractions
If you choose to go to Port Elizabeth for the weekend your accommodation and transport are included, but not food
If you choose to go further afield this is possible but covered at your own expense
Participants are welcome to remain at the reserve and enjoy the tennis courts, swimming pools and other leisure facilities
Port Elizabeth is a vibrant city, with great water sports, shopping and leisure facilities. There are plenty of bars and restaurants where participants often enjoy their down time at the weekends
Many of our participants have gone to Addo elephant park, have done bungee jumping and surfing, or simply enjoyed the glorious beaches
Your project is Monday – Friday, with evenings and weekends free. At the weekends you can go into Port Elizabeth if you fancy exploring the area a bit more.
If you are keen to do some organised travel after your project, we are pleased to be able to offer you a Garden Route tour. This lasts for 6 days and takes you from Port Elizabeth to Cape Town with some exciting stops in between. The trip only leaves on selected dates each year, and as such you will need to coincide the end of your programme with the beginning of the tour. To find out more about this, and see the upcoming dates, visit our Garden Route tour page.
Supervision will be fairly intensive during the first few days, when you will receive a thorough induction and work-related training.  Once you are comfortable with things, you might not always have a supervisor working alongside you, but there will always be staff and other volunteers around to help, and you will always be accompanied for any high risk activities.
Staff at Oyster's head office and in-country will be responsible for your safety and welfare while you are at the project.  This will start from the moment you are picked up from the airport until the time you are dropped back to Port Elizabeth.  Before and after these times, you will be outside Oyster's responsibility and should make sure that you act safely and avoid risk.  This is also true if you choose to leave the project during your time off. We will give you plenty of guidance and advice about this.
Oyster has personally hand-picked some of the best volunteering projects out there. With so much amazing choice, it can be hard to make a decision. Our Animal Welfare Destination Manager, Anne, has written a guide to help you to choose the best animal volunteering project for you.
Join an award-winning photographer on a conservation and wildlife photography course from 21st February – 5th March 2022. This trip costs £3860.
This is a photography holiday course with a difference, as it incorporates photography and conservation. We passionately believe that photographers should make a positive impact on their environment whilst taking some stunning shots and improving their skills. Additionally, to help you to develop your skills, this course offers different modules and culminates in a wildlife photography certificate, led by Scott.
Whilst in South Africa, your course will cover:
Photography skills such as aperture, shutter speed, ISO, white balance, metering, focusing, etc.
Telling stories through conservation documentary photography and words
Photographing for fine art & creative perspectives
Photo editing with Lightroom & Photoshop
Camera trap & wide angle remote photography
Video blogging
Species identification
Understanding animal behaviour
Field Craft and safety in the field
On this trip you will:
Live in a twin room on the reserve (it is possible to upgrade to a private room – total cost £4860)
Receive three meals per day, served on site
Enjoy morning and evening game drives to capture the best light for photography
Follow a structured and interesting course led by Scott Latham, wildlife photographer
Visit a local school and participate in a wildlife hike
Participate in various conservation activities
Be supported throughout by wildlife photographer Scott Latham
Be supported by the expert team on the ground in the game reserve
This trip costs £3860. To book your place, complete the booking form and specify that you would like to join the conservation photography trip.
Other adventures like this