Follow up your wildlife project with a Garden Route tour!
Keen to do some further travel? Along with our partners at the Big 5 game reserve in South Africa we are now delighted to be able to offer a Garden Route tour to round off your trip in style!
The Garden Route tour is open to participants joining the veterinary experience, game ranger course and wildlife conservation experience.
The Garden Route tour lasts for 6 days and takes you from Port Elizabeth to Cape Town with some exciting stops in between. This costs  £775 extra in addition to your programme on the reserve. The trip only leaves on selected dates each year, and as such you will need to coincide the end of your programme with the beginning of the tour.
(please note that post-covid there may be small changes to the itinerary and suppliers)
2023:
30 January 2023
20 February 2023
10 April 2023
7 May 2023
5 June 2023
10 July 2023
21 August 2023
18 September 2023
9 October 2023
13 November 2023
2024:
5 January 2024
26 February 2024
8 April 2024
29 April 2024
6 May 2024
8 July 2024
19 August 2024
16 September 2024
7 October 2024
11 November 2024
All nights in between the volunteering and touring will be included.

The Garden Route tour itinerary
Day 1: Tuesday – Port Elizabeth
Enjoy some free time in and around Port Elizabeth for the day. You will have a busy week ahead, so getting in some downtime will be a good idea too!
Ideas of places to visit: Red Location Museum, township tour, beach, shopping mall, oceanarium.
Day 2: Wednesday – Jeffrey's Bay
8am: leave Port Elizabeth and head to Jeffrey's Bay, the surfing Mecca of South Africa.
Check into your accommodation when you arrive. It is very close to the beach, perfect for relaxing and exploring.
You can either take part in a surfing lesson in the morning (approx 10am) OR  a horse ride in the afternoon (approx 2pm). Activities are weather dependent.
The rest of your time is free to relax and explore!
Day 3: Thursday – Tsitsikamma
8am: Depart for Tsitsikamma, about one hour away.
Tsitsikamma has one of the highest bridges and bungee jumps in the world!
Your accommodation will be situated in the Tsitsikamma village which is a few minutes from the rafting activities, bungee jump, zip line tours, and many more. So make sure you try out some of these activities while in the area!
Included in your trip is a visit to the Tsitsikamma National Park lasting for about 1 – 2 hours.
Day 4: Friday – Knysna
10am: depart for Knysna, one of the famous coastal towns on the Garden Route, known for the Knysna Quays and Knysna Heads.
14:30 You will take a boat ride to the Knysna Heads
The rest of the day you are free to explore the town and the wonderful coastline and waterfront.
Day 5: Saturday – Oudtshoorn
9am: leave Knysna and head inland to Oudtshoorn
Oudtshoorn is famous for the Cango Caves as well as the Oudtshoorn Crocodile Ranch.
You will enjoy a tour of the crocodile ranch, after which you are free to explore the Cango Caves, go ostrich riding, or explore this Karoo town.
Day 6: Sunday – Cape Town
6am: today you leave nice and early as it is a 4 – 5 hour drive to Cape Town. It is well worth the drive however!
Cape Town is a place which has everything for everyone…so we are sure that you will find some sort of activity that will suit your tastes.
As part of this tour you will either visit Table Mountain, Cape Point or Robben Island.
Other than that, you are at leisure to explore and make the most of your time in Cape Town!
Activities in Cape Town include speed boat rides, shopping galore and a lot more.
7pm: In the evening, you will all enjoy a group dinner before everyone departs the next morning.
This Sunday night accommodation is included.
Day 7: Monday – Cape Town
Today everyone will say their goodbyes and will leave for the airport while some will stay on to enjoy Cape Town
The vehicle will depart once at about 7am for Cape Town airport for those that need a transfer.
Please note that the above is merely an outline of the trip and is subject to change depending on certain factors such as the weather etc.
We also urge you to plan ahead and to think about what you would like to do along the way as time may be a limiting factor.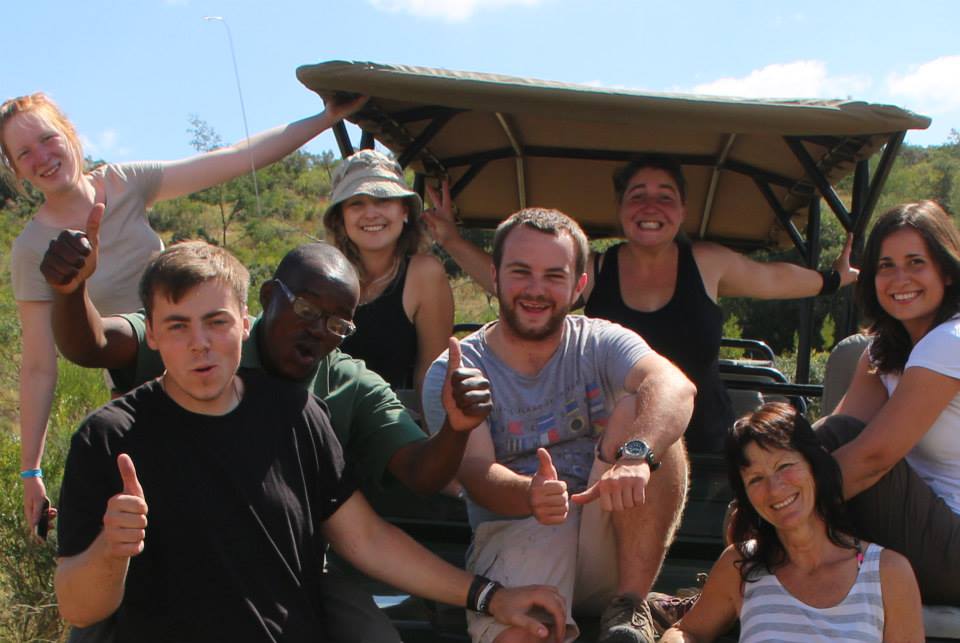 The admin
What's included:
6 nights along the Garden Route on a bed and breakfast basis
Transport from Port Elizabeth to Cape Town over 6 days
Surf lesson OR horse ride in Jeffrey's Bay (weather dependent)
Entrance to Tsitsikamma National Park
Boat ride along the Knysna Heads
Visit to the Oudtshoorn Crocodile Ranch OR Congo Caves visit
Cable car ride to Table Mountain OR trip to Cape Point OR a visit to Robben Island (weather dependent)
Last night meal as a group in Cape Town
Meals:
Breakfast is arranged every day throughout the trip
A last night supper is also arranged in Cape Town. This will be a set meal and a soft drink.
Other meals will be at your own expense throughout the trip
Accommodation:
Accommodation is in dorm style
The accommodation has been chosen for your safety and your comfort
Activities:
We are sure that you are very excited to get out and explore the Garden Route. It is for this reason that some great activities are arranged for you (see What's Included). To allow you to have the flexibility to explore yourselves however, there is also a good amount of free time built into the trip.
You will be given information on the tour about how to plan extra activities if you would like. It is best to book activities on the day rather in advance, as many activities are weather dependent.
Some of the activities that you may be able to get involved in are below. Please note, some of these will already be included in the tour eg Cable car ride to Table Mountain OR trip to Cape Point OR a visit to Robben Island (weather dependent), however it may not be achieved depending on group size / weather / timings. If you would like to find out more about these activities, it is worth searching for them online to get the most up to date prices and details:
Port Elizabeth
o The Sacramento Trail
o Tour of the Volkswagen Pavilion
o Donkin Lighthouse
o South End Museum
o Penguins at SANCOBB
o Ice skating at Baywest Mall
Jeffreys Bay
o Jeffreys Bay shell museum
o Surf Museum
o Sandboarding
o Horse-riding
o Surf lessons
Tsitsikamma
o Kayak and Lilo adventures
o The big tree hiking trails
o Segway Tours
o Blackwater Tubing
o Bungy Jumping
o Canopy zip line tours
o Quad bike tours
Knysna
o Sailing
o Scooter tours
o Boat dining experiences
o African drumming experiences
o Deep sea fishing
Oudtshoorn
o Ostrich farm tours
o Crocodile cage diving
o MTB routes
Cape Town
o Robben Island Museum
o Table Mountain visit
o Boat cruises
o Walking city tours
o V&A Oceanarium
Safety:
As with anywhere in the world, you need to remember to be aware of your personal health and safety. You receive a full briefing of this in your My Oyster account and on the tour.