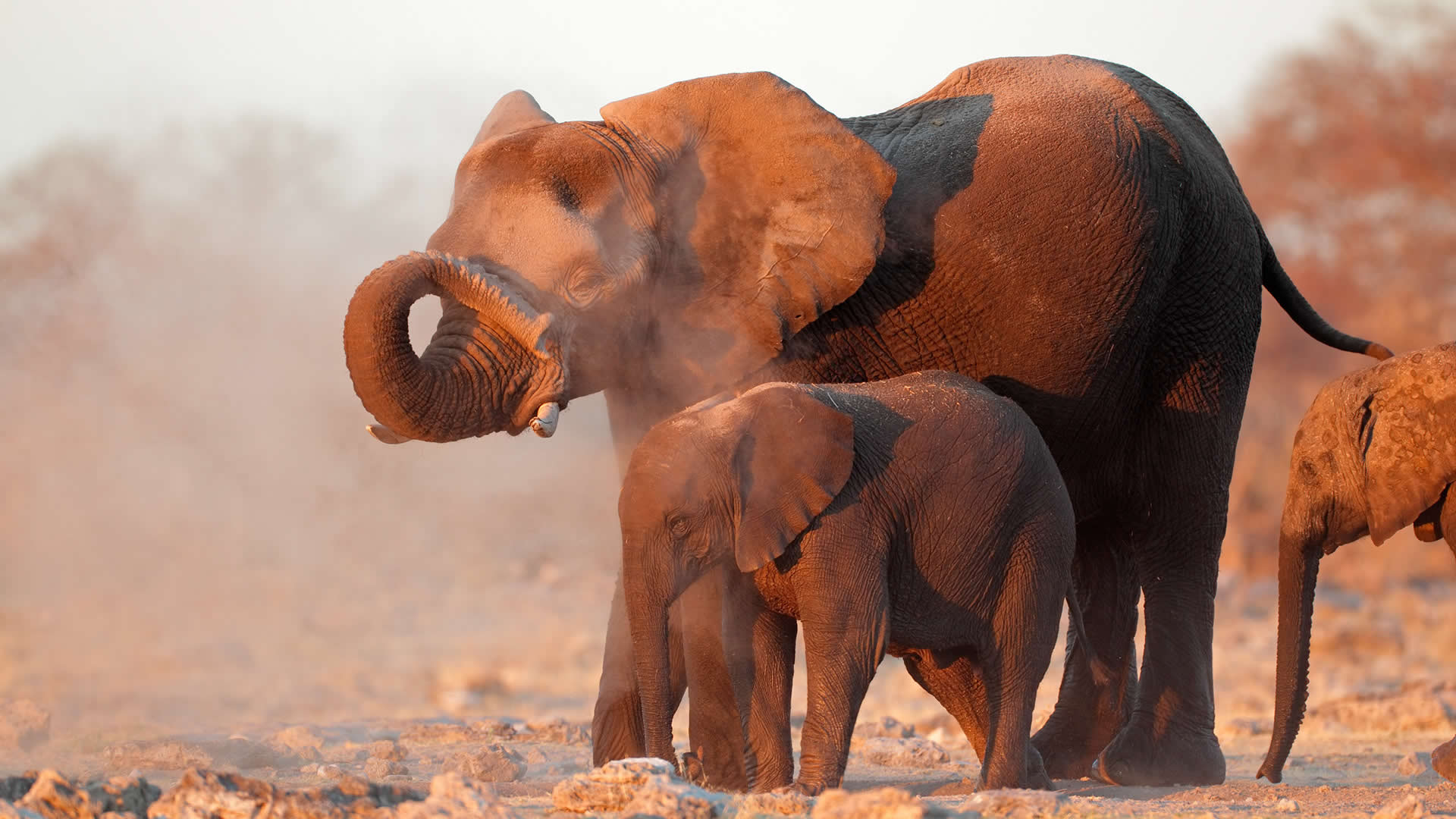 Help local communities make a difference, on an important mission to unite people and elephants living in southern Africa's vast and beautiful Namib desert. Immerse yourself in desert life – cooking over camp fires and sleeping under the stars – and have the privilege of seeing desert elephants in the wild.
Duration: 2 – 12 weeks
Dates: See here for dates and availability
Arrival day: Sunday
Return day: Saturday
Eligibility: Good level of fitness required.
Age: 17+
Experience desert life, unchanged for many hundreds of years
See elephants in Namibia for the first time – a heart in mouth moment
Sleep under a glittering blanket of stars, tell stories around the camp fire, live without Wifi!
Explore areas where you will see little evidence of human existence – this is really off the beaten track!
Deep in the wilderness, elephants roam the Namibian desert in search of food and water. Life is tough for these displaced elephants who have had to adapt to survive in these unusually arid conditions. This is one of only two places in the world where elephants can be found living in the desert – and you could be part of helping their survival.
Elephants all but disappeared in this area for over thirty years, but in the early 1990s they returned to live alongside the farming communities. Sadly, during the years that the elephants were absent, humans forgot how to live alongside these gentle giants, and now both live in conflict with each other. This project aims to re-establish the delicate balance that has historically always existed between people and elephants.
Working with a local NGO, volunteers spend time building walls to protect farmers' watering holes and pumps from the thirsty elephants – don't worry, elephant drinking areas are built too! You may even find that you are visited by the elephant herd as you build.
The second component of this volunteer project is to track and monitor elephants in the wild, enabling the authorities to better understand and protect these gentle giants. Seeing elephants living in the wild is certainly an incredible privilege and one of the many great highlights of this project.
Every other week, you will spend 5 days at local farmsteads doing volunteer building projects. You and your team will be building walls to protect the farmers' water sources from elephants. This work can be tough, especially in the hot weather, but it is extremely satisfying to see your progress over the course of the project – and to celebrate that with a nice cold beer at the end of the day! Follow the link to find out more about the building volunteering.
On every other week, alternating with the building projects, volunteers will be going on patrol to track, monitor and protect the Namibia elephants. This is an extremely exciting part of the project, as you will be seeing elephants living in the wild. You will learn how to pick up tracks, identify where the elephants might have gone and how recently they have passed through the area. You will usually see the elephants on most of the tracking days and though this isn't guaranteed, the uncertainty just adds to the excitement as the elephants could always be "just around the corner".
Once you find the elephants, important observations are made, such as which elephants have been sighted, where they are, where they are going, how their health is and whether they are displaying any unusual behaviour. This data is all recorded and used for protection campaigns and other conservation projects in Namibia – as well as to understand which farms might be at risk, and which will necessitate walls around their water sources. Find out more about elephant tracking.
You will be camping in the desert whilst being an elephant conservation volunteer in Namibia.
You will camp in various locations. All campsites have portable kitchen areas, camp fires, seating and sleeping areas.
In building week, you sleep in a communal camp on the farm property with an outdoor western style composting toilet.
In tracking week, you sleep in temporary camps which move each night. The toilet facilities are limited to a shovel, a bush and a lighter to dispose of loo roll.
Shower facilities are only available at weekends, when you will return to Base Camp with hot running water, electricity and other home comforts. At other times, volunteers wash with soap and water or wet wipes.
Volunteers should bring a mosquito net, sleeping bag and pillow (sleeping bags can rented on request)
Three meals per day are provided in the desert
Breakfast is typically porridge or cereal
Mid-morning snack usually consists of some fruit
Lunch is usually DIY sandwiches
Dinners typical include pasta, meat, potatoes, veg, curry – all cooked over the fire
Vegetarians are catered for, however please expect the diet to be less varied than the meat eaters!
Each day two volunteers will be in charge of food preparation and cooking
Airport: Walvis Bay (WVB) or Windhoek (WDH)
Arrival day: Sunday
Departure day: Saturday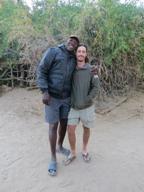 You will be in the capable hands of the volunteer coordinators whilst you are volunteering in Namibia. All staff have plenty of experience of wildlife tracking, charity work, community engagement and volunteer management. They are a fantastic and fun-loving team, who can't wait to get you involved.
Access to your own personal 'My Oyster' account – our online portal where you can find out much more about the program and manage your booking
Dedicated contact time with an experienced destination manager to discuss the project, answer any of your questions and for us to find out more about you
Help and advice from our UK office before arrival and whilst you are away
In-country support
Pre-departure information covering medical, safety and project advice
Gold level, 24/7 Pharos crisis management and incident support cover
Financial protection: ATOL (if we book your flights); IPP (if we don't book your flights)
Thorough orientation on arrival
Accommodation (see the 'accommodation' section above for details)
Advice on visa requirements
Oyster plants a tree in Africa with TreeAid to help reduce the impact of global carbon emissions
Pre-arranged airport collection and transfer. arrival and return- this must be paid in cash on arrival – see 'not included'
Transfers to the desert and back
Weekly shopping trips to top up on supplies
All camp provisions including a roll mat, canvas, toilet, cutlery, camp fire, chairs etc
Three delicious meals per day prepared by the volunteers, a mid-morning snack, tea, coffee and drinking water
Training in making camp fires and cooking over fire
Training on how to build a wall
Training in elephant tracking and monitoring
On your return:
Welcome home pack
Certificate of Recognition (on request)
References (on request)
Flights – as an ATOL bonded company, Oyster can book flights for you
You need a valid passport that meets the requirements of the country you will be travelling to
Insurance (covering your time with Oyster and any planned independent travel)
Any costs associated with changing your return flight date if you need to
Independent travel costs
Home country travel costs
Spending money for additional trips, food and entertainment
Money for your airport transfers (approx £20 in each direction for Walvis Bay, £30 in each direction for Windhoek)
Money for dinner in Swakopmund on your first night (approx £10 – £15)
Money for accommodation in Swakopmund on your last night (approx £30 sharing, £50 single room including breakfast)
Money for dinner in Swakopmund on your last night (approx £10 – £20)
If you are staying for longer than 2 weeks (highly recommended!) you might like to return back to Swakopmund on your second weekend at the project. If this is the case you would need to budget for 3 nights accommodation and food until you return to the project on the Monday morning.
Pocket money for trips, souvenirs, drinks etc- approx £150 for 4 weeks
A sleeping bag, sleeping bag liner and mosquito net
A sun hat and water bottle
Warm outdoor clothing for the evenings
A passion for elephants and the outdoors!
One of the most appealing parts of this project is the opportunity to really live life in the bush. You will learn about cooking over fires, how to build fires, how to build a wall, how to track animals… and so much more. In addition to this, the work that you will be doing in Namibia is essential. Farmers with little to no resources need the help of the volunteers to protect their water sources (and hence their livelihoods!), and the research work completed on the elephants is essential to promote their survival in this area. The project also runs local education programmes to teach farmers and communities how to live alongside elephants- something that generations of their predecessors have done, but due to hunting and wars, this generation have never had to know.
Namibia is a wonderful country to visit throughout the year, boasting contrasting seasons which makes it beautiful for many different reasons.
Winter: June – August. Daytime temperatures can reach 25 degrees celsius, although nights become very cold.
Summer: November – March. Daytime temperatures can reach 37 degrees. There can be  short sharp rain showers at this time of year – which carpets the desert in flowers and plants.
Shoulder seasons: March to May and September to November. The most temperate time to visit the project, and spaces at these times of year can fill up fast.
Whilst late-availability is possible, we would advise booking as soon as you can to guarantee your ideal dates. Our projects are very popular and spaces can fill up several months in advance, especially for the months of June to September.
Volunteers should aim to arrive in Swakopmund on a Sunday.
It is encouraged that you fly in to Walvis Bay (WVB), where you will be collected by a pre-arranged transfer service. The service costs about £20 to take you in to the guest house where you will be staying on your first night.
Alternatively, you can fly in to Windhoek and a transfer can be arranged from here. It is best to arrive either on a Saturday or early on the Sunday morning for this transfer to be available. The transfer would cost approximately £35 and takes about 4 hours.
The project is divided into 2 weekly programmes:
Week 1: building week
Week 2: tracking week
This means that if you stay for 2 weeks, you do one week of each. If you stay for 4 weeks you will do 2 building weeks and 2 tracking weeks alternately.
You will leave Swakopmund on the Monday morning to drive up into the desert. You will spend your first night at the Base Camp before going on to the farm where you will complete the building of a wall around a water source. You should expect to finish the building project on the following Saturday, and return to Base Camp for some relaxation and a good shower! You will have Saturday afternoon and Sunday free to enjoy, relax and explore.
You will leave the Base Camp again on the Monday morning to track elephants for the week. You will return to Swakopmund on the Friday. If you are staying for 2 weeks only, you should arrange your flight to leave on the Saturday.
If you are staying for longer, you will return to the desert once more on Monday morning after a weekend of enjoying all that Swakopmund has to offer. Most volunteers who are staying for more than 2 weeks choose to go to Swakopmund at the end of their 2 week period to enjoy some city and beach life before returning to the desert.
The building projects are located on farmsteads around the area surrounding the Base Camp. They are owned by local families who keep livestock.
All of the farms have water holes, which pump water up from many metres below the surface. The elephants roaming in the wild will smell this water, and will try to access it. In their eagerness to access water, they will tear up pipes and often break the pumps, all to no avail as the water is so deep underground. The farmers' water source and hence their livelihood is then destroyed. They have to start from nothing to rebuild so that they can survive in this arid environment.
Our volunteers work hard on the farms that are often accessed by the elephants. You will be constructing walls around the windmills / pumps so that the elephants cannot get in and destroy them in their attempts to get at the water. The walls go to about 1.5m high. Depending on how many volunteers there are, one wall should be completed during build week.
You will learn how to create foundations for a wall, how to make cement, how to choose the right stones for the job and how to make sure the wall is stable and strong. By the end of the week, you will have a good knowledge of building the walls.
Volunteers help out in all areas and need to be of good physical fitness. This work can be quite tough for the first few days, especially if you are not normally very active in your day to day life. You will always have a siesta after lunch to sleep through the hottest part of the day and get some rest. You must remain well hydrated-  at least 3 litres of water during the day.
Volunteers wake with the sun, so this time varies with the seasons.
2 volunteers per day are designated food prep duty, and so they will wake slightly earlier to make tea/ coffee and breakfast for the other members of the team.
Build work usually starts within 60 – 90 minutes of having been awoken.
Break time happens at about 10am (food, drink and relax) and lunch is eaten at about midday.
After lunch volunteers will take a siesta during the hottest part of the day, before starting work again at 2.30 / 3pm. Timings can vary due to seasons and temperatures. Work then finishes at around 4.30/ 5pm.
Those who are on food duty finish slightly earlier and start making dinner.
Base Camp is a comfortable purpose-built camp about an hour from the nearest town. It is nestled amongst towering rocks next to the river bed. It is a permanent camp with composting toilets, showers, lighting, kitchens and other such amenities. It is very comfortable and volunteers love coming back here at the end of a building or tracking week.
The Base Camp is stunningly beautiful, with very clear stars and great sunrises and sunsets. Often volunteers head up the hill next to camp to watch the sun go down with a cold beer. There are walks in and around the area, but generally the volunteers just enjoy chilling out, exploring, reading and relaxing.
During the second week you will be working hard to track and monitor the wild elephants. This is extremely exciting as it could be your first sighting of the wild elephants! Your group will follow the tracks of the elephants and you will learn how to do this yourselves. Once you find the elephants data and research is collected, which contributes to their overall conservation effort in the country.
The tracking is so important so that more can be understood about the elephants. Each time they sight the elephants they note down which one (s), where and at what time. This data is recorded so that they can understand the movements of the elephants and identify the areas where the farmers might be most at risk. They can then focus their attention on building walls on the farms in these areas.
Whilst many animals have been hunted to within extinction in this area, there are many efforts of repopulation being made- and nature is lending a helping hand in this too. Aside from the ellies, you can also see ostrich, zebra, giraffes, springbok- and if you are very lucky, black rhino.
On Thursday afternoon of tracking week, you will head back to Base Camp after 4 days and 3 nights out in the desert. The shower and sit down toilets are a welcome sight, although often volunteers find it odd to adapt to a more "populated" lifestyle after a few days of barely brushing with civilisation. You spend the night at Base Camp before returning to Swakopmund on the Friday (if it is the end of your trip) or enjoy the weekend at the camp. If you are staying longer than 2 weeks, you can choose to remain at Base Camp for the weekend or return to Swakopmund for the weekend.
Many volunteers do choose to go back to Swakopmund to enjoy the beach, the sand and sea sports, going out for dinner and drinks, and just generally relaxing. It is often useful to touch base with family and friends online too. Friday nights are generally good fun as volunteers go out for dinner to say goodbye to those leaving the project that weekend.
During the building week you will find that you are doing basic lifting and carrying.
You will be helping to make cement, push wheelbarrows, collect rocks and generally be on your feet for the day.
Each volunteer does only what he or she is capable of doing and you work as a team to complete the project.
It is important that you are happy to be doing basic lifting and carrying and are comfortable in the heat.
If you have any concerns, feel free to ask. We love to have people of all backgrounds, shapes and sizes on the project!
On this project you will be working close to wild elephants. As such you must not interact with the animals.
Oyster assesses projects carefully to ensure that they offer high standards of animal welfare and environmental practice. We also check that volunteers understand key points of good practice before working with animals. To find out more, see our animal welfare policy.
Whilst elephants have lived in this desert area of Namibia for many hundreds of years, they became all but extinct during the years following WWII. Thanks to the World War and in-fighting between neighbouring countries, the elephants were displaced from the region for over 30 years. During this period, which was a generation in human population terms, people forgot how to live with elephants. Whilst in the past they lived alongside each other, this process was unlearned over their 30 years of absence. When the elephants returned to the area, many of the locals did not want them back.Subsistence farmers fear the elephants for the damage that they can wreak on their water supplies. Whilst this has always been a problem, previously it was handled differently.
Farmers would be happy for the elephants to share their water supplies and would even leave a trough next to their water system for the elephants to drink from. Now though, farmers have not needed to do this, and so do not leave troughs of water. The elephants can smell the water sources and will try to access these, not knowing it is impossible as the underwater rivers are many hundreds of metres below ground. If the troughs are left out, the elephants drink and move on. When they become frustrated because they can smell water but not access it, they destroy the pipes in their efforts to get to the water.
The protective walls are built to make the farmers feel more protected, but also to encourage them to leave out a water source for the elephants in this way. If the farmers no longer feel threatened by the roaming desert elephants, they will no longer call upon the government to allow them to be hunted. As these elephants are such a rare species, it is essential that locals can live alongside them.
The water sources are man-made sources, created by the farmers to be able to access enough water to maintain their families and their livestock. The source of the water is usually about 300 metres below the surface, and water is pumped up either by motor or wind power. The elephants have never been able to access this water naturally; as such nothing is being taken away from them. The walls are to protect the farmers' property, and then with further education about living with elephants, this should reduce antagonistic feeling directed towards these gentle giants. In search for water, elephants can cause extensive damage to valuable water sources, often rendering communities in Namibia without water for what can be years.
We are an approved activity provider for the Duke of Edinburgh's Award. You are able to put the time that you spend volunteering abroad on this project towards achieving your Gold Duke of Edinburgh's Award. We are happy to sign off your completion of this programme to show that you have achieved the Residential section of the Gold Award.
On a 2 week stay we suggest:
£20 – £35 transfer from the airport (depending on which airport you use)
£35- £30 for accommodation and breakfast for the first night
£50 general spending money (for eating out on your middle weekend, last night meal and accommodation at the end of your trip, souvenirs)
£20 – £35 return transfer to the airport
Total: at least £150 to be on the safe side.
For each extra 2 week stay:
£60 extra accommodation if you choose to stay in Swakopmund at the weekend
£80 meals, drinks etc if you choose to stay in Swakopmund at the weekend
Total: at least £150 to be on the safe side
There are ATMs in the town of Swakopmund so you should take enough money to last you for 2 weeks at a time.
If you are going for over 4 weeks, you might like to consider getting a cash card. Cash cards are a safe and convenient way to take your money travelling with you – they act just like debit cards but do not have the same fees as you might have to pay on your bank cards from home. Check out our blog for details on how the card works here.
No visa is necessary for under 90 days from UK and most western European countries. You will receive a tourist stamp upon arrival allowing you stay in the country for free for up to 90 days.
You need to make sure your passport is valid for a minimum of 6 months from when you arrive in Namibia.
Most of our volunteers are independent travellers and you will become part of a group of people from around the world here. It is fine to travel with friends or as part of a small group too however- more the merrier!
The simple answer to this question is, yes absolutely!
It is important to bear in mind however that this may not be like other holidays that you have taken. Remember that you are volunteering, and this means that you will be put to work! This sort of holiday is a world away from sun loungers and cocktails, with our volunteers often heading home tired but immensely satisfied. If you think that you will need a bit of relaxing time on your trip too, do make sure to factor this in when your time on the project is complete.
You should visit your doctor or travel nurse to find out what vaccinations you will need. Your routine vaccinations will need to be up to date, it is likely that you will need Hepatitis A and B, Typhoid and Yellow Fever. The project is not located in a malarial area, however some parts of the country are. If you are travelling either before or after the project, you may require anti- malarial protection. You should follow your doctor's advice.
For any more information, including entry requirements related to Covid-19, please see the Fit for Travel website or the UK government's travel advice page for Namibia.
There are medical facilities within one hour's drive of the project site.
Namibia is a very friendly country and one which is very open to tourists, as they rely quite significantly on tourism in their economy. The town of Swakopmund – where your journey begins – feels like Bavaria on Sea, as it was formerly a German colonised area. The streets are wide and well lit and there is a lively restaurant scene here. If you are going out after dark, do make sure to take a taxi home.
Your main project will be based out in the desert. You will receive full health and safety briefings to cover all that you do, especially where elephants are concerned. Follow guidelines carefully as you may encounter these gentle giants out and about. You will always be with a member of staff on this project and will be staying either in a treehouse or a protected area, so an elephant can't come wandering through!
The main base camp for the project is located about 5 hours from Swakopmund, and an hour from the town of Uis.
There are internet cafes in Swakopmund, so you should expect to be able to get online once every 2 weeks. At the end of build week there is the opportunity to go into the local town where there is wifi and an internet cafe.
You should not expect to have any signal on build week, at Base Camp or whilst tracking. There is no phone signal at Base Camp. Please make sure to inform parents/ loved ones/ concerned friends of this before departure.
Namibia is one hour ahead of GMT (GMT +1)
In Namibia, a mixture of European plugs and South African plugs are used.
Whilst you are on the project, most people enjoy going to a hotel in Uis on their free day to swim in the pool, eat a burger and access the WiFi
Swakopmund, where you start your trip, is the capital of adventure sports in Namibia
Options include skydiving, kayaking, dolphin watching, sand boarding and much more.
If adrenaline isn't quite your cup of tea, there are lots of cafes, shops, restaurants, and even a cinema!
Generally you will have your evenings free at camp, and one or two days free at the weekend.
Supervision will be fairly intensive during the first few days, when you will receive a thorough induction and work-related training. Once you are comfortable with things, you might not always have a supervisor working alongside you, but there will always be staff and other volunteers around to help, and you will always be accompanied for any high risk activities.
Staff at Oyster's head office and in-country will be responsible for your safety and welfare while you are at the project. This will start from the moment you are picked up from the airport until the time you are dropped back into Swakopmund at the end of the project. Before and after these times, you will be outside Oyster's responsibility and should make sure that you act safely and avoid risk. This is also true if you choose to leave the project during your time off. We will give you plenty of guidance and advice about this.
Oyster has personally hand-picked some of the best volunteering projects out there. With so much amazing choice, it can be hard to make a decision. Our Animal Welfare Destination Manager, Anne, has written a guide to help you to choose the best animal volunteering project for you.
Other adventures like this