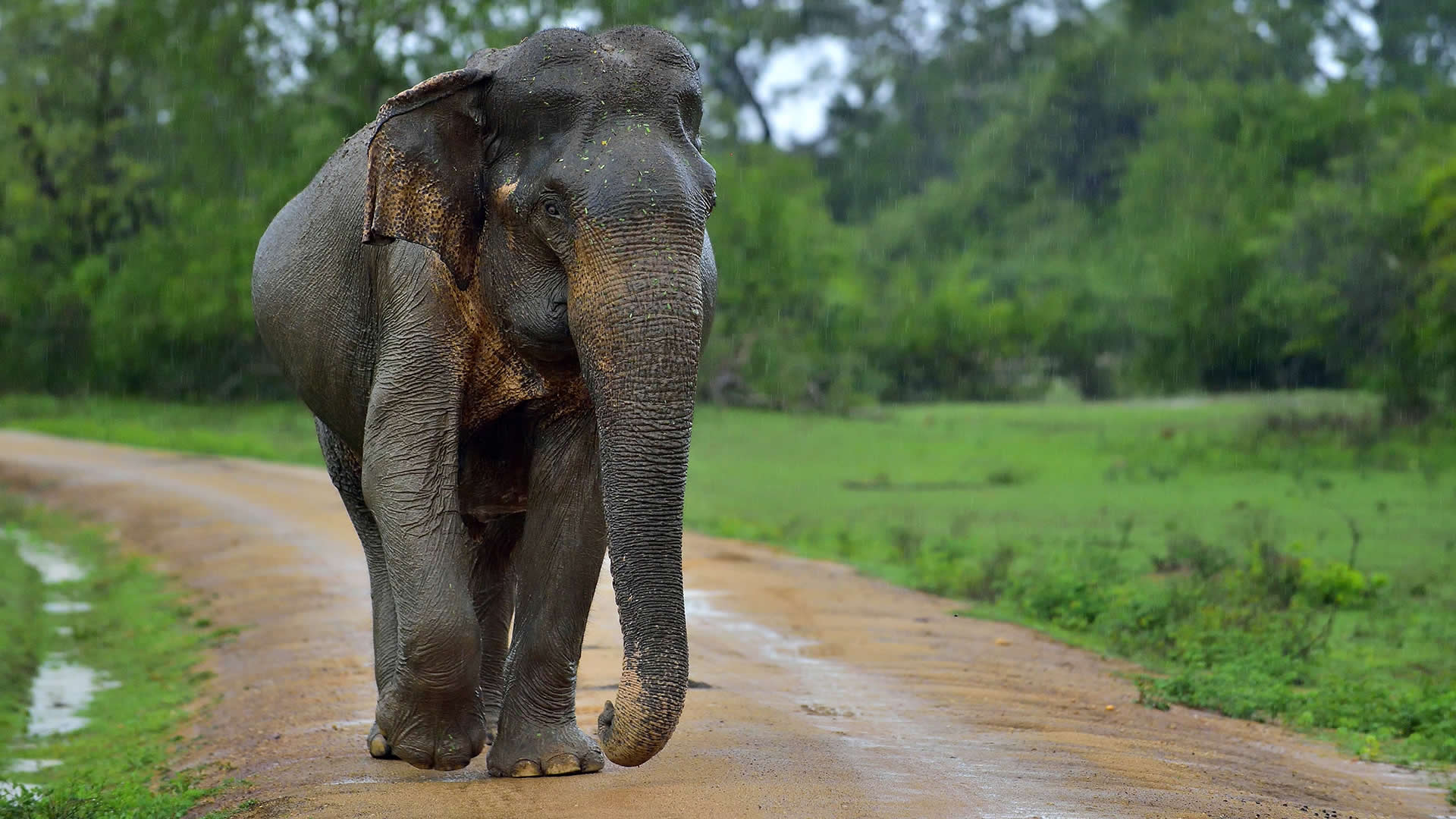 Make your dream of working with elephants into a reality in one of the most beautiful countries in the world. Become part of an essential initiative to help elephants and communities live alongside each other, preserving the endangered Asian elephant for generations to come.
Duration: 1 – 12 weeks
Dates: Arrivals throughout the year
Arrival day: Sunday
Return day: Sunday
Eligibility: General level of fitness required. You will walk some steep inclines
Age: 18+
The dramatic skies as the sun rises and sets over the reservoir and mountains
Travelling by train and bus to the project site, passing through some of Sri Lanka's most beautiful scenery
Climbing up to the tree house viewing station to watch the elephants grazing peacefully
Riding the elephant-friendly school bus, safely transporting children through the elephant grazing areas
Involving yourself in local life, supporting the human and elephant communities
Wasgamuwa National Park, Sri Lanka
100 years ago, upwards of 20,000 elephants roamed the forests and grasslands of the beautiful island of Sri Lanka. Today, thanks to increased farming and habitat destruction, just 5,000 of these gentle giants live outside of captivity. The elephant, the symbol of Sri Lanka, is considered sacred – and this makes their decline all the more devastating.
You will be joining a multiple award-winning charity in their quest to encourage the survival of elephants living in the wild in Sri Lanka. You will be working with local scientists and conservationists to conduct research on a variety of elephant conservation projects. Alongside this conservation work you will have the privilege of witnessing elephants in the wild.
You will be getting very hands on with elephant research, observation and preservation in an effort to protect these majestic creatures for future generations. Sri Lanka is one of the top 25 most bio diverse countries and this project strives to maintain this delicate balance.
Your days will be varied and exciting, touching upon a variety of tasks:
Monitoring the elephants and other wildlife in the area (keep an eye out for the elusive leopard!)
Trekking through the jungle to follow the elephants' grazing trail
Identifying and photographing the elephants in the area
Conducting research from a tree house overlooking the elephants' traditional grazing ground
Teaching environmental awareness to school children
Working with locals to help improve their lives living alongside these elephants
Carrying out mammal and bird surveys
The area in which you will be working is absolutely stunning. You will be trekking through mountains, jungles and wetlands to get to know intimately the lives of the elephants and what they are up to. On this journey you will come into contact with the friendly locals, swim in beautiful lakes and encounter some lush terrain. This is all part of what makes this project magical.
Shared volunteer house with stunning views over Sri Lanka's central forests and mountains
Located just outside a small village and within close proximity of the beautiful Wasgamuwa National Park
The house is has basic yet comfortable facilities
You will share a single sex bedroom with other volunteers
Shared bathrooms with western toilets
Shower water is heated by the sun, so is refreshingly cool after a hot day of elephant conservation projects
No Wi-Fi at the volunteer house – we suggest taking an unlocked phone and buying a local SIM
Fans, mosquito nets and bed linen provided
Meals are provided and are an excellent introduction to Sri Lankan food
Breakfast can generally include toast, fresh fruits and the local staples of dhal, rice and curry
Lunch and dinner include rice, dhal, curry and vegetables
Most meals will be vegetarian with egg, fish and soy for protein
Vegetarians and vegans can be catered for
Safe drinking water provided
Airport: Colombo (CMB)
Arrival day: Sunday
Departure day: Sunday
Access to your own personal 'My Oyster' account – our online portal where you can find out much more about the program and manage your booking
Dedicated contact time with an experienced destination manager to discuss the project, answer any of your questions and for us to find out more about you
Help and advice from our UK office before arrival and whilst you are away
In-country support
Pre-departure information covering medical, safety and project advice
Gold level, 24/7 Pharos crisis management and incident support cover
Financial protection: ATOL (if we book your flights); IPP (if we don't book your flights)
Thorough orientation on arrival
Accommodation (see the 'accommodation' section above for details)
Advice on visa requirements
Oyster plants a tree in Africa with TreeAid to help reduce the impact of global carbon emissions
Airport transfers to the project (6 hours)
First night in a hotel (meals not included)
Airport transfer from project on return (6 hours)
Meals and soft drinks at the project site
On your return:
Welcome home pack
Certificate of Recognition (on request)
References (on request)
Flights – as an ATOL bonded company, Oyster can book flights for you
You need a valid passport that meets the requirements of the country you will be travelling to
Insurance (covering your time with Oyster and any planned independent travel)
Any costs associated with changing your return flight date if you need to
Independent travel costs
Home country travel costs
Spending money for additional trips, food and entertainment
Food costs when not at the project site
If working with elephants has always appealed to you, helping them to remain in the wild is an inspiring opportunity. This elephant project is conservation at its most poignant. Not only will you be doing something tangible and worthwhile, but you will be contributing to the long-term protection of endangered elephants.
Witnessing elephants almost every day quietly grazing, or splashing around in the waterholes, is something so special. This could be one of the last places in the world where you can see elephants living in the wild- and what a stunning wilderness it is too!
This project is a fantastic way to get conservation experience, all whilst playing the important role of helping with saving elephants!
Follow the link to learn why returned volunteer Natasha had a trip of lifetime.
With the rise of agriculture to support a growing population in this part of the world, the land in which the elephants can live freely has been dramatically reduced. Increasingly these elephants will venture into farmer's land where they will wreak devastation by feeding on the crops. The work of 3 months can be undone by just one elephant in one night.
This volunteer project works hard to protect boundaries between humans and elephants to create a sustainable future for both species. In addition to this, huge importance is placed upon integrating humans and elephants, so that local communities will feel empowered and able to embrace their country's icon once more. Without this volunteer project, the future of wild Asian elephants in Sri Lanka is not encouraging.
Whilst late-availability is possible, we would advise booking as soon as you can to guarantee your ideal dates. Our projects are very popular and spaces can fill up several months in advance, especially for the months of June to September.
Our Sri Lanka elephant volunteers come from a variety of different countries and backgrounds. Elephant conservation in Sri Lanka is possible for everyone, including but not limited to those doing:
a gap year
a career break
family volunteering abroad
a holiday with a difference
conservation work experience
a group trip
a trip of a lifetime!
You can read Anne's impressions from her first few days of volunteering here. It is important to know that you will not be an elephant sanctuary volunteer here – these elephants are wild, and we want them to stay that way!
You will be based in the central forests of Sri Lanka, where temperatures can range from a low of 14 degrees celsius in the wet season to highs of 34 degrees celsius in the dry season. On average, you should expect it to be about 25 – 32 degrees celsius with unexpected rain showers throughout the year.
As a general rule, you can expect the following:
Rainy season: generally from October to January
Summer season: generally from February to May
Dry season: generally from June to September
No specific skills or experience are required to volunteer in Sri Lanka.
You do need to be prepared for the heat and high humidity of tropical jungles and be willing and able to walk up to 7km per day.
All of these tasks are completed in the backdrop of forests, wetlands, woodlands, jungles and grasslands. Terrain will be varied and sometimes the days can be challenging physically.
We simply ask that you are motivated, enthusiastic and adaptable.
Please be aware that whilst Sri Lanka is one of the most westernised countries in South Asia, there are many cultural etiquettes that you need to adhere to. To volunteer with elephants in Sri Lanka you should wear the following:
MALE: Knee-length shorts and trousers requested. T-shirts with high necks and short sleeves acceptable (no vests).
FEMALE: knee-length shorts, skirts and trousers requested. T-shirts must have high necks and short sleeves (no vests or spaghetti strap tops).
Please do not pack any clothes which do not fit in with these guidelines. Please do not bring clothes or kit in camouflage colours.
These are wild elephants and as such no interaction is allowed on this Sri Lanka elephant conservation programme. Oyster assesses projects carefully to ensure that they offer high standards of animal welfare and environmental practice. We also check that volunteers understand key points of good practice before working with animals. To find out more, see our animal welfare policy.
Volunteers should expect to spend around £30- 50 per week to include snacks, drinks and any trips.
You should make sure to take all of the money that you need with you, as there are no ATMs near the project site. There are not many opportunities to do any shopping whilst on the project site, so you should make sure that you have all that you need with you.
You will need to apply for a visa prior to departure. This is an easy process online and we will advise you on how to do this.
You need to make sure that your passport is valid for at least 6 months from when you arrive in Sri Lanka.
Most of our volunteers are independent travellers and you will become part of a group of people from around the world here. It is fine to travel with friends or as part of a small group too however- more the merrier!
The simple answer to this question is, yes absolutely!
It is important to bear in mind however that this may not be like other holidays that you have taken. Remember that you are volunteering, and this means that you will be put to work! This sort of holiday is a world away from sun loungers and cocktails, with our volunteers often heading home tired but immensely satisfied. If you think that you will need a bit of relaxing time on your trip too, do make sure to factor this in when your time on the project is complete.
The project is located in an area considered to be a malarial risk zone. You should consult your doctor or travel nurse on advice on what precautions to take. Your routine vaccinations will need to be up to date, it is likely you will need Hepatitis A and Typhoid, and possibly Hepatitis B and rabies. Please follow your doctor's advice.
Check below for where the closest hospital to the project is – your doctor may ask to know this so that they can provide information on rabies.
For any more information, including entry requirements related to Covid-19, please see the Fit for Travel website or the UK government's travel advice page for Sri Lanka.
The closest medical facilities are 20 minutes drive from the project site. There is also a local doctor living in the neighbouring village who can offer initial medical support and treatment for minor illnesses and injuries.
Sri Lanka is a small island, roughly the same size as the Republic of Ireland. Its people are known for their friendliness and delight at having visitors to their country. Don't be surprised to receive lots of smiles and welcomes in the streets.
Colombo, the capital city of Sri Lanka, is a sprawling city that stretches along the coast. You will be based 2km from the coast in a small hotel with helpful and friendly staff. If your flight arrives early enough you might well have time to explore the city and if you do, you will be amazed by how friendly everyone is. Do watch out when you cross the road however, there seem to be cars coming from many angles!
The following day you will be collected from the hotel and taken to the train station. You will take the train along the beautiful journey to Kandy. Upon arrival in Kandy, you will be met and taken by bus up to the project.
The project house is in a beautiful valley close to the local village. Volunteer coordinators live on site and also will always be out in the field with you. Bearing in mind that you will be working around elephants during the day time, it is important that you listen to briefings on health and safety and follow these to the letter.
The project house is located in a small village about 4 hours from the city of Kandy. There are smaller villages closeby with limited shops for snacks and drinks.
There is access to wifi at a nominal fee at the project house, but it can be intermittent.
There is good phone reception here.
Sri Lanka time is 5 and a half hours ahead of GMT (GMT +5:30)
In Sri Lanka, a mixture of British plugs and Sri Lankan plugs are used.
There are several day trips that you can do in the vicinity, but most people simply like to explore the beautiful area around and relax in the jungle.
You should expect to have one day off per week.
Supervision will be fairly intensive during the first few days, when you will receive a thorough induction and work-related training. Once you are comfortable with things, you might not always have a supervisor working alongside you, but there will always be staff and other volunteers around to help, and you will always be accompanied for any high risk activities.
Staff at Oyster's head office and in-country will be responsible for your safety and welfare while you are at the project. This will start from the moment you are picked up from the airport until the day that you leave the project at the end of your stay. Before and after these times, you will be outside Oyster's responsibility and should make sure that you act safely and avoid risk. This is also true if you choose to leave the project during your time off. We will give you plenty of guidance and advice about this.
Please note, in contrast to your time on the project, whilst you are in Colombo you will not be under direct supervision. We expect you to make sensible choices and follow our advice on staying safe.
Oyster has personally hand-picked some of the best volunteering projects out there. With so much amazing choice, it can be hard to make a decision. Our Animal Welfare Destination Manager, Anne, has written a guide to help you to choose the best animal volunteering project for you.
If you would like to be a Sri Lanka elephant orphanage volunteer, this project is not the best one for you. We do have fantastic elephant sanctuaries in Thailand and Laos however, which are both quite hands-on with the elephants:
Other elephant conservation projects that you can consider are:
Other adventures like this