Read elephant volunteering reviews from Oyster participants from the fantastic Sri Lanka project: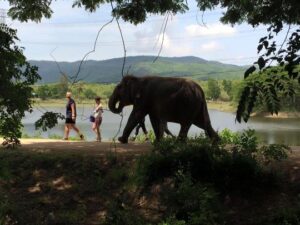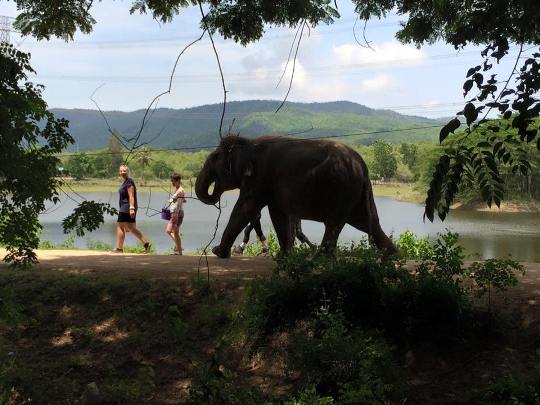 "Life here is lovely. Sri Lanka is so beautiful. Everyone here are so friendly. My stay so far has been with 3 other volunteers from different companies. We saw 25 elephants last Thursday at the national park, it was truly incredible. 😍😍 Our time is well balanced between conservation surveys, elephant observations and downtime to relax and read a book. I am feeling very peaceful and content here. All is great."
Shelby, 2 weeks, November 2023
---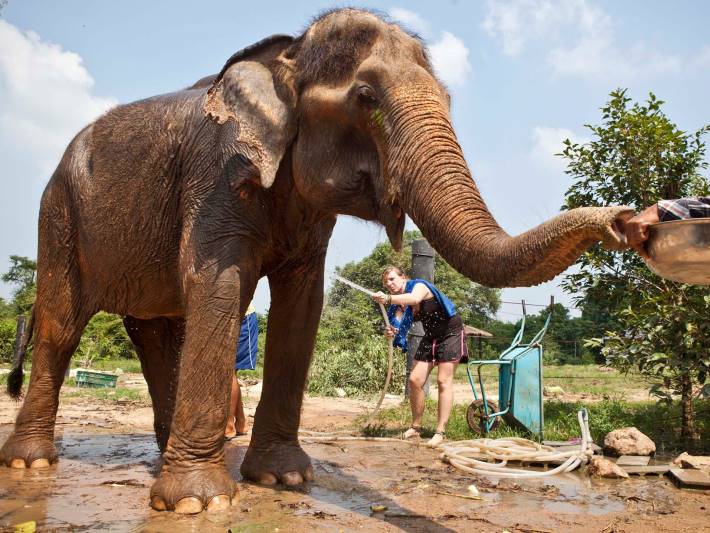 "My week here was both good fun and a great learning experience. I really enjoyed seeing the elephants at a national park and the butterflies on the butterfly survey walk. I learnt a lot about a way of life that I had never seen before and how Sri Lankan farmers are affected by the elephants. As a solo traveller to the project I was made to feel at home by all the friendly staff and volunteers. I also really enjoyed playing cricket with the locals."
Ed, 1 week, August 2023
---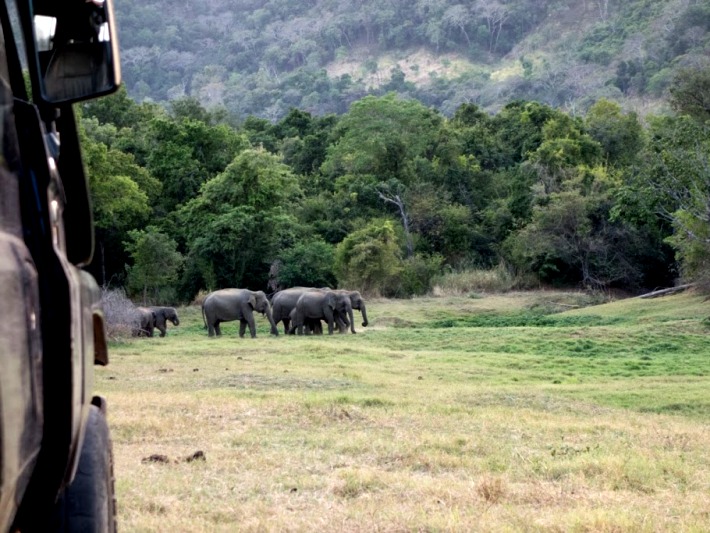 " A fantastic experience working with the team and obtaining a greater understanding of the issues at the heart of the human – elephant conflict and the way this project works with the local people to try and resolve them. It's great to work with like-minded volunteers and the amazing staff members who are so knowledgeable and informative. This is a project that offers diverse activities all of which are extremely valuable to protect Sri Lanka's wildlife. You also get to see how the locals live and understand their culture. It was very rewarding visiting a local farmer and clearing the weeds from her orange plantation, a task that must be repeated every few weeks as the tough grass grows so quickly. She showed her gratitude by offering all of us a cup of very sweet tea. The trips into the national park were very memorable as there were so many elephants close to our vehicle and it's amazing just watching them in their natural habitat.  A big thank you to the Oyster team for all their support both prior and during the trip"
Jacky, 2 weeks, Feb 2022
---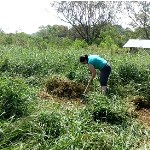 "I've felt very much part of the project here and the plight to improve human-elephant conflict through various activities. I think my favourite was working at the farm following a crop raid. There you can see a direct link and benefit to the farmer, with us clearing around the orange trees to allow them to grow and flourish."
Kim, 2 weeks, April 2019
---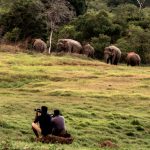 "We attended many activities that would help the people in the surrounding villages to avoid conflicts with elephants. We especially liked to join the surveys where we could ask the people directly how they live with elephants that still may come every night to their houses. It is interesting that they all still love elephants, despite all the destruction.
We also enjoyed all the friendly people of the project team who made us feel like in a big family!"
Anja, 2 weeks, February 2019
---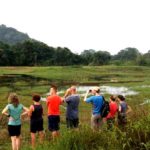 "Thank you so much for an incredible experience. We have learnt lots about your projects and all the good work you are doing here. Also will come away with much knowledge of wildlife and of course the elephants. Its has been the best magical experience to see them in their natural habitat…loved the tree house time. The staff and volunteers are all lovely…we will miss everyone!"
Belinda and Joshua, 2 weeks, February 2019
---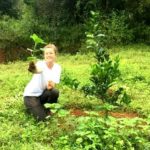 "This was our first experience in volunteer mission and we really enjoyed it! We learnt many things about the Sri Lankan culture, elephants and others animals. We met beautiful people and amazing staff. We really loved discovering the life of the people here and when we saw the elephants for the first time, it was a moment that we never forget! Thanks to everyone who make this experience beautiful!"
Emanuelle and Lucile, 2 weeks, February 2019
---
"Great adventure – so glad I did it! Obviously, observing the elephants in the wild was the biggest highlight, but it was also so interesting to learn about the results of their research and how they are putting strategies in place to help resolve the human elephant conflict."
Lauren, 2 weeks, September 2018
---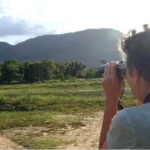 "What a wonderful adventure. Digging holes for orange trees, rebuilding homes, setting cameras, teaching English at the school and walking through streams looking for pug marks, waiting for the elephants in the tree hut and down by the water tank… Each staff member is kind, helpful, and willing to answer any and all questions.. I am grateful for my time spent here, the experience of sharing this time with others from around the world, and the challenges I faced and overcame"
Shai, 2 weeks, June 2018
---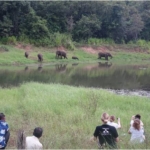 "The two weeks that I have had here have been hands down two of the best I've had. From inspecting dung all the way up to some truly magical experiences observing the elephants in the wild, I could not have asked for more from my time here. As a lifelong elephant-lover, to observe them in their natural environment was incredible. But I also feel I have learnt a lot about human elephant conflict and appreciate how vital resolving this is to the conservation of the creatures I hold so dear."
Sophie, 2 weeks, May 2018
---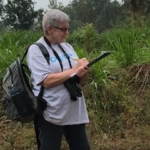 "I've enjoyed all the activities and learnt a lot both about elephants and Sri Lankan birds. The highlight of my stay was seeing 60 – 70 elephants including baby elephants and a fully grown splendid male. It's a memory that will stay with me for a long long time. I've enjoyed meeting so many people from round the world and have been heartened by the passion for conservation of both volunteers and staff. It's been a splendid trip!"
Barbara, 4 weeks, February 2018
---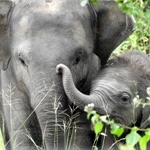 "The staff were amazing and tireless in providing information to assist with the work we were required to do. It was a dream trip: fence monitoring to tank monitoring, setting camera and sand traps, elephant dung transects ( which sadly we found on one occasion to contain 6 pieces of plastic carrier bags and an open safety pin), elephant observation and data collection and wading through rivers collating data for paw prints for jungle and river cats. The highlight was observing 22 elephants for 2 hours, one evening."
Julie, 2 weeks, January 2018
---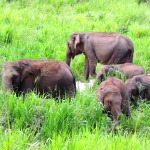 "I am very happy about this trip, it was really enlightening and I met lots of amazing people there. I loved getting to know the elephants and their habits, I also found it really interesting to know the villagers' point of views on the elephants. We were very well surrounded, the locals who accompanied us were experienced and very nice.
Laure-Hélène, 4 weeks, July 2017
---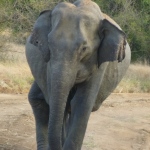 "There are no words for what I have experienced. Everything over there was much simpler and discovering the culture and the wildlife was something that I will treasure for the rest of my life!
Everything was very well organised. Arriving in a new country is always stressful but I felt like I knew that everything would work out and I knew what I was doing."
Ruth, 4 weeks, July 2017
---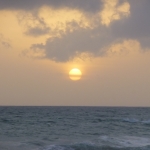 "It was really great to meet like-minded people who care about animals and enjoy integrating themselves within new cultures. I loved seeing the elephants in the wild and talking to the local people about their experiences. I would really recommend it to people who are looking to travel alone for the first time as you meet people on the programme and can then organise trips with them at the weekend."
Rebecca, 2 weeks, August 2016
---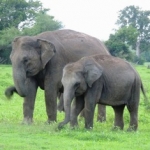 "It is very enlightening – you get to hear the community views about conflict with wildlife, and you get to collect data for scientific research."
Alexandra, 2 weeks, July 2016
---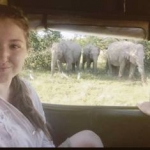 "My time in Sri Lanka was one of the most incredible experiences of my life! The people who work for the conservation project are absolutely wonderful, and I really enjoyed interacting with the other volunteers. Thanks for everything. I felt incredibly prepared and safe during my trip thanks to you guys! I would recommend you to anyone who is looking to volunteer."
Adria, 4 weeks, March 2016
---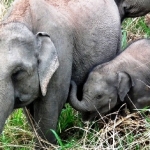 "This trip has been amazing and everything I hoped it would be. The organisation of transfers has been amazing. We have enjoyed the field work which is structured to the interests of the volunteers. The people here are lovely too! We have seen elephants on several occasions, and the magic of seeing them in their natural environment is an amazing unique experience!  We have both praised Oyster's efficiency and support in making this trip possible, and will definitely be booking further adventures in the future."
Rachel and Eve, 2 weeks, March 2016
---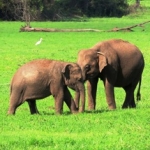 "I had an amazing time in Sri Lanka and I think the programme is great. All the people who work there are so friendly and there was a really laid-back atmosphere. I also met some really friendly volunteers. I'm so glad I found your website!"
Phoebe, 4 weeks, February 2016
---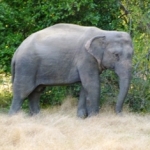 "I had a great time. Getting to see so many elephants up close and in the wild was amazing. Thanks for everything, you've been very helpful."
Paul, 3 weeks, January 2016
---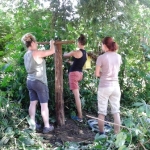 "Yesterday, I could see the nice lake with the sun rising – beautiful. Morning work was to build a beehive fence around a farmhouse and by midday we were ready with it. Just the bees are missing! In the afternoon, we were watching elephants at the dump, and we were lucky to see at last three different bulls. So you see, I'm having a great time here! Thank you for the good organisation and preparation for this project!"
Gerlinde, 2 weeks, November 2015
---