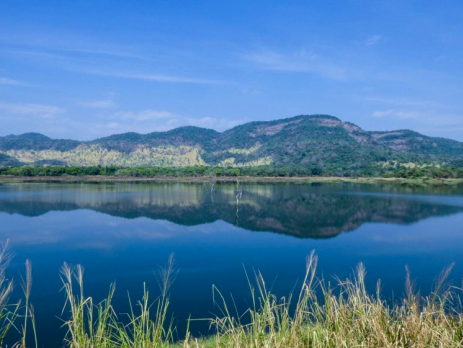 We at Oyster are very proud and excited to have received a blog post written by one of our volunteers who volunteered with elephants in Sri Lanka this summer for 2 weeks. Thank you very much Tasha!
This July I spent two surreal weeks volunteering with elephants with an organisation in Sri Lanka. I can't praise the project enough, I loved every minute. One thing to say about this project is that there is no interaction with the elephants, which is the main reason why I chose it. Here are 10 reasons why I had the experience of a lifetime.
The Project's Credibility
Some volunteer projects are put on for tourists which people do know about and it can be hard to find a genuine project without actually going there yourself. This project however is as authentic as they get. The work that the organisation does to help with the conflict between humans and elephants is inspiring. They've transformed the conservation area since the organisations inception and have hugely reduced the conflict. Electric fences have been set up around farms, a bus route created to take children to school and they are currently working on a bee project to mitigate elephants going near farms.
So Much to Learn
Each day we helped to gather data surrounding the elephants. Sometimes we would analyse their feces (it's only grass mainly!). We'd see if they'd been near the farms by what they'd eaten. Some mornings we would monitor the electric fences. My favourite activity was visiting the local farmers and interviewing them about the human-elephant conflict. I learned a vast amount about elephant conservation on this trip and got to see for my own eyes scientists and conservationists in action.
The Enthusiasm of the Staff
The staff were so inviting and welcoming which really made a lasting impression. They weren't just put there for the volunteers, they were regularly out collecting scientific research and monitoring the elephants. One researcher named Chandima, was extremely knowledgeable and passionate about conservation. I would ask him numerous questions about his life and the elephants and he would happily tell me all about it. It's definitely the people that can make an experience even more memorable.
Spotting Elephants Everyday
My favourite thing we did whilst i was in Sri Lanka was this. Each afternoon we would go to the "tank" (a lake) and sit quietly waiting for elephants to appear. We would fill out data collection sheets identifying each elephant and monitoring their behaviour. Sometimes we would see a solitary bull and occasionally a large family would appear from the jungle. Once, we saw around 23 elephants all at once! There were no tourists around, just the locals. This was a massive contrast to visiting national parks where there would be a mass of jeeps crowding the elephants.
Jungle Accommodation
The ahouse I lived in was in the middle of the jungle. All that was to be seen for miles were trees and forest. I had no idea how rural it would be, the bedroom didn't have any walls! It was a bit of a shock at first but I grew to love the rustic nature of the place and being able to look at the stars at night. The shower was unbelievable too. It overlooked the jungle and wildlife. I've never experienced a wilderness like this before, I was covered in dust from the roads. Insects and geckos would fall on our heads but I'd probably choose living in this wilderness over a 5 star hotel anyday.
Incredible Local Farmers
One day in the first week we collected data about damaged crops before interviewing local farmers about the human-elephant conflict. Despite less returns from their crops (up to 30,000LKR a year), the farmers showed no aggression towards the elephants. Rather, each farmer we spoke to was very fond of the gentle giants. This care and compassion they showed towards an animal who destroyed up to a third of their produce, their livelihood, was inspiring and something we should all learn from.
The Best Moment
Everyday was amazing on the programme but a day in my second week really stood out for me. In the morning we monitored the perimeters visiting the local farmers along the way. They welcomed us with plenty of fresh, delicious fruit. Later on at the lake we observed 21 elephants huddled together whilst watching the sunset behind them. This included a family of 17 who moved close together when dogs or men on motorbikes came near. Various bull elephants arrived to drink from the water and chased after the dogs, trumpeting away. We stayed later than usual and after sunset we used night vision goggles to view the elephants whilst listening to them moving about in the jungle.
Down-time with the Volunteers
This is a photo of all the fantastic volunteers I met from around the world who were out in Sri Lanka with me. When we weren't out collecting data or observing elephants we were found playing card games like UNO around the table. We had free time at the weekends and spent them either at the beach or at the volunteer house.
Going to Wasgomuwa National Park
Included with the programme, we got one free trip to the nearby Wasgomuwa National Park, home to elephants, leopards and sloth bears. We were unfortunate enough to not see either of the latter but we did see monkeys and elephants. Near the end of our visit we saw a group of male elephants playing in the water including one with big tusks! (only around 5% of males in Sri Lanka have these tusks).
Sri Lankan Cuisine
One thing I couldn't not mention was the food! Home cooked traditional Sri Lankan food for all three meals everyday. More rice and curry than I've ever eaten in my life and it was so tasty. I particularly enjoyed the Dhal and other various curries; made even better when accompanied with poppadoms.
We are so glad you had such an amazing trip Tasha. Thank you for sharing your experiences with us. If you want to know more about our elephant volunteering project in Sri Lanka please look at our project page or fill out a booking form to enquire further!