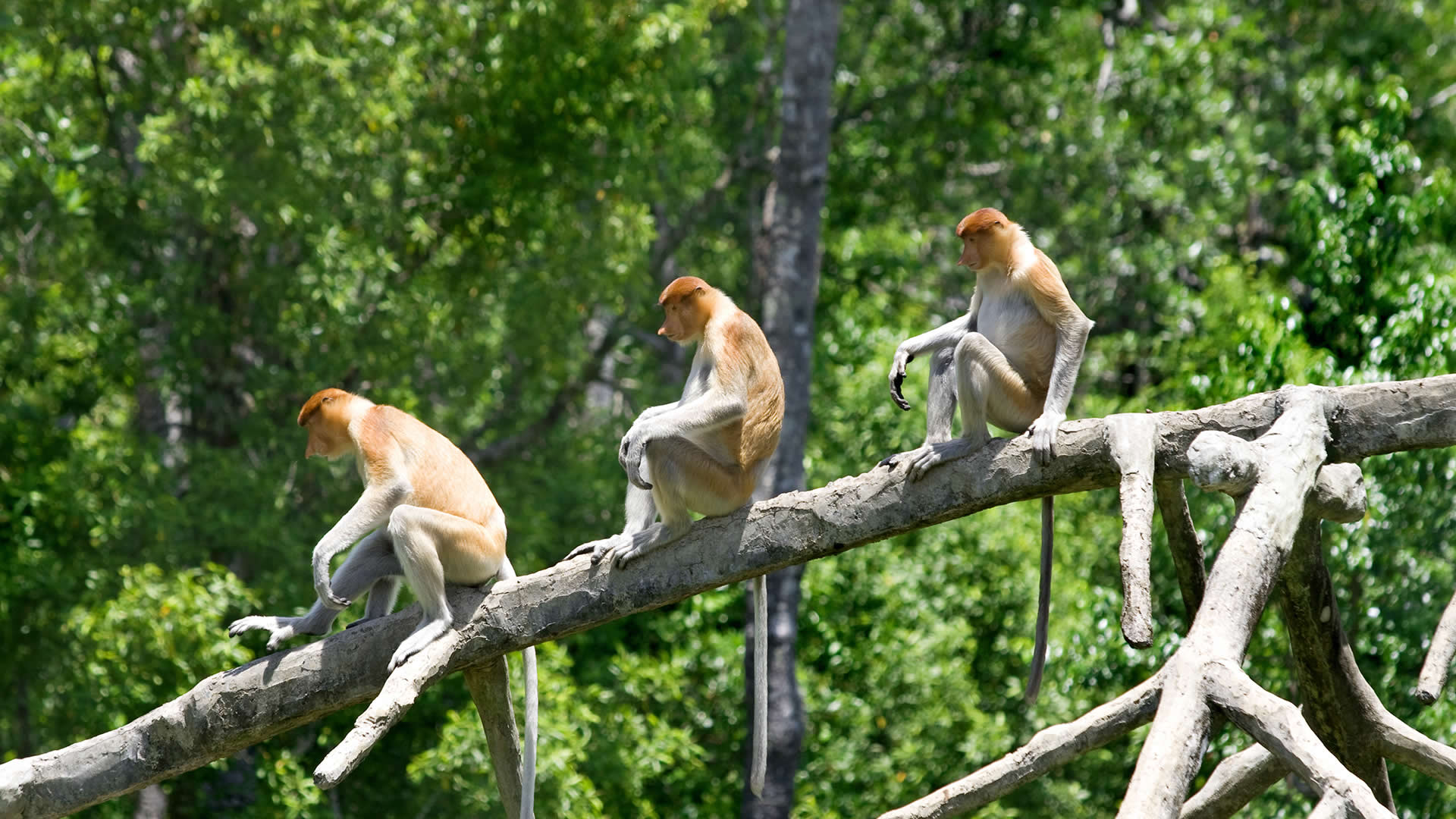 Live in a small remnant of paradise, helping to protect and regenerate Borneo's rainforest and its inhabitants. Spot orangutans in the trees as you monitor the area's wildlife from a boat, and hear the pygmy elephants calling from the jungle at night. Plant and nourish saplings to replenish the rainforest where it has been destroyed for palm oil or logging. Each day, you will be helping to preserve one of the most wonderful habitats in the world.
Duration: 7 or 12 days
Dates: See project dates
Eligibility: General level of fitness required. The work can be physical and the humidity is high
Age: 18+
Drifting down the river and seeing amazing animals at every turn
The moment when you see your first orangutan in the wild – a moment you will never forget
Being welcomed into people's homes and sharing amazing meals with local families
Living the simple life, away from wifi and other modern distractions
Visit a world-renowned orangutan rehabilitation centre to see these rare primates up close
Unnamed Road, Bukit Garam, 90000 Kinabatangan, Sabah, Malaysia
Travel to one of the most beautiful and undiscovered pockets of paradise in Borneo, where you will help to preserve this amazing habitat and the wildlife within it. You will be living on the riverbank of the Kinabatangan River, in a protected rainforest area called the Corridor of Life. Home to a proliferation of wildlife including orangutans, pygmy elephants, proboscis monkeys, macaques, singing gibbons and sun bears – not to mention the birds – this is quite possibly heaven on earth for nature lovers and adventurers.
Borneo is one of the most bio-diverse countries on this planet, yet industry and logging are severely threatening its beauty and wildlife. Once an island covered by extensive rainforests, special measures are now being taken in Borneo to protect the dwindling natural habitats.
This conservation project is located in an area which has recently been protected by the government. It approaches conservation measures with a two-pronged approach:
1) Reforestation work:
One of the most rewarding aspects of this project is helping to regenerate the jungle. This involves planting trees and maintaining plots of land that have been planted by previous volunteers. Increased jungle coverage means that more creatures can live and survive in the wild. Even after an hour or two you will see the rewards of your efforts- and even more so by the end of the project! The work can be tiring, but you will come away with a real sense of achievement.
2) Wildlife monitoring:
A less physical part of the project involves spending time out on the boat monitoring the wildlife that you see in the area. Observations and sightings are noted down, and the information shared with the local wildlife authorities. This is crucial work so that it is understood how many species are in the area, and in what sort of quantities. This helps to maintain the area's importance as a conservation area. Additionally, if species numbers are down, the causes of this can be analysed and hopefully resolved.
In addition to these principal daily activities, other tasks and activities can include:
Community development: work with the local community on sustainable projects. Learn from the locals about their way of life and help them to promote positive environmental work. Examples of this include growing tree saplings.
Local education programme: the local children are the future guardians of the rainforest and an important part of this project is to ensure that they understand their environment and how important it is to protect it. The children are aged 6 – 12 and love working with the volunteers. Sessions will be all about conservation to motivate these children to protect their homeland well into the future. Please note, this relies heavily on the school calendar and might be replaced with another activity if necessary.

Jungle exploration: head into the jungle to learn about the fauna and flora which make up this unique ecosystem. This is a fantastic way to really contextualise the work that you have been doing here.
If you're short on time, condense your trip into our 7 day project (not available in peak summer). See BOOK NOW calendar to start your application.
*** 7 day project excludes full number of days at the habitat restoration sites (maintenance and tree planting), some meals and time spent with local villagers, and the education session with local children. 
Exploring some of Borneo's highlights
It's not all about volunteering in Borneo – we also include a day of responsible tourism to appreciate the Borneo wildlife fully. On your last day you will enjoy:
Sepilok Orangutan Rehabilitation Centre: Visit the world-renowned Sepilok orangutan rehabilitation centre to understand more about the rehabilitation process. See orangutans up close and living in their natural habitat
Bornean Sun Bear Conservation Centre: learn more about the world's smallest bear, the threats it faces and the amazing work that is being done to conserve the species
Rainforest Discovery Centre: Explore the rainforest from up high on a treetop walkway. A great opportunity to stretch the legs and take some amazing pictures
Fancy adding a tour to your trip?
We highly recommend our friends at Borneo Sandakan Tours
They can organise a tailor made trip for you however, here are a couple of taster options !
Please get in contact with our partners directly for bookings – mention Oyster Worldwide and they will be able to fit options around your volunteering dates and project!
Borneo Sandakan Tours
Block 4, Lot C2, 1st Floor, Old Slipway, Jalan Pryer, 90000, Sandakan, Sabah, Malaysia.
T  : +6089 465 754
M : +6013 881 7623
W : www.borneosandakan.com
FB: BorneoSandakanTours
IG : borneosandakan
First night in a lovely rainforest guest house on the outskirts of Sandakan
Main project accommodation is in the village of the Orang Sungai people on the Kinabatangan river
Stay in a riverside guesthouse, sharing a basic yet comfortable room with at least one other volunteer
Linen, mosquito nets and fans provided
En-suite bathroom is shared between you and your room mate(s)
Western toilet and hot-cold shower
Last night in a cosy guest house in Sandakan
Three meals per day provided at the project site
Breakfast generally consists of eggs, rice, toast, spreads, teas and coffees
Lunch and dinners are mainly provided by the local community
A real highlight of this project is to eat in the homes of the local villagers – the food is delicious!
Differing dietary requirements can be catered for, but do be aware that village life is very simple and so "picky" eaters are harder to cater for!
Your final night is spent in Sandakan, where dinner is at your own expense so that you can choose your favoured type of cuisine
Access to your own personal 'My Oyster' account – our online portal where you can find out much more about the program and manage your booking
Dedicated contact time with an experienced destination manager to discuss the project, answer any of your questions and for us to find out more about you
Help and advice from our UK office before arrival and whilst you are away
In-country support
Pre-departure information covering medical, safety and project advice
Gold level, 24/7 Pharos crisis management and incident support cover
Financial protection: ATOL (if we book your flights); IPP (if we don't book your flights)
Thorough orientation on arrival
Accommodation (see the 'accommodation' section above for details)
Advice on visa requirements
Oyster plants a tree in Africa with TreeAid to help reduce the impact of global carbon emissions
All meals except last night dinner in Sandakan
Project and airport transfers
Entrance fees to Sepilok Orangutan Rehabilitation Center, Borneo Sun Bear Conservation Center and Rainforest Discovery Centre
On your return:
Welcome home pack
Certificate of Recognition (on request)
References (on request)
Flights – as an ATOL bonded company, Oyster can book flights for you
You need a valid passport that meets the requirements of the country you will be travelling to
Insurance (covering your time with Oyster and any planned independent travel)
Any costs associated with changing your return flight date if you need to
Independent travel costs
Home country travel costs
Spending money for additional trips, food and entertainment
Camera fees
Drinks
Last night meal
For people who care about animals and nature, this project is perfect. Far too many animals are living in captivity around the world, and helping them to remain living in the wild is essential. Regenerating their habitats to protect future generations of species is a worthwhile and exciting opportunity. Seeing all of these animals living in the wild is a magical experience too.
Living in the same village as the Orang Sungai- "people of the river" and trekking through the mysterious rainforests of Sabah are some of the other highlights of this superb project. You can really experience a local lifestyle here and the villagers love having volunteers – and sharing their amazing cooking!
Whether you are taking a career break, holiday with a difference, summer trip or gap year, Borneo is a great place to visit.
Morning:
Typically you will start the day early to cheat the heat! The day starts at about 6am with a hearty breakfast before hopping on the boat to head to the tree planting site. The journey can take anywhere between 20 minutes and an hour. You would usually be planting from 7.30am – 10.30am before heading back for some lunch.
Afternoon:
You have some downtime in the peak heat of the day, and then at around 15.00 would be ready to get back out on the river for wildlife monitoring. This usually finishes at about 18.00.
These hours are flexible. On one day you will head into the school for half a day to help out with the education programme, whilst on another day you may head into the jungle for a trek.
Read this fantastic blog from a returned volunteer to find out about her thoughts on this amazing volunteer project.
Whilst late-availability is possible, we would advise booking as soon as you can to guarantee your ideal dates. Our projects are very popular and spaces can fill up several months in advance, especially for the months of June to September.
The Corridor of life is a high priority conservation area. The Kinabatangan River is the longest river in Sabah, Malaysia. This river runs through the centre of Borneo and merges with the Sulu-Salawesi Sea. It has amazing biodiversity, spanning 26,000 hectares. The ecosystem is under threat from logging and is desperately in need of restoration so that the wildlife and plant species that rely on the habitat can continue to thrive.
Oyster recommend Borneo Sandakan Tours as a lovely add on to complete your trip of a life time!
They can office anything from 3-11 day tours with transfers to and from the project. If you would like more information please ask!
Minimum two adults but often others will be joining the tour you select.
Prepare for rain in Borneo. With an annual rainfall in excess of 2500mm in many areas, getting wet is inevitable. The humidity levels are 90%.
Malaysia has a wet and a dry season however, rain can occur at anytime.The seasons are:
Wet season: November – March.
Drier season: April – September / October
We would recommend up to £20 per week. Once you are in the village there is very little to spend your money on other than snacks and drinks.
The closest ATMs are in Sandakan Town. You will need to make sure you have sufficient cash with you whilst in the village on the project site, as there is no access to ATMs here. We recommend you withdraw any cash you need at the airport for convenience and time saving on trips to town.
No visa is necessary for trips under 90 days from UK and most western European and western countries.
You need to make sure your passport is valid for a minimum of 6 months from your date of entry into Borneo/Malaysia.
Most of our volunteers are independent travellers and you will become part of a group of people from around the world here. It is fine to travel with friends or as part of a small group too however- more the merrier!
The simple answer to this question is, yes absolutely!
It is important to bear in mind however that this may not be like other holidays that you have taken. Remember that you are volunteering, and this means that you will be put to work! This sort of holiday is a world away from sun loungers and cocktails, with our volunteers often heading home tired but immensely satisfied. If you think that you will need a bit of relaxing time on your trip too, do make sure to factor this in when your time on the project is complete.
You should visit your doctor or travel nurse to find out what vaccinations you will need. Your routine vaccinations will need to be up to date, it is likely you will need Hepatitis A and Typhoid, and possibly Hepatitis B, Malaria and Rabies. Please follow your doctor's advice.
Please check below for where the closest hospital to the project is – your doctor may ask to know this so that they can provide information on rabies.
Specifically for this project : proof of vaccination  + booster against Covid-19
For any more information, including entry requirements related to Covid-19, please see the Fit for Travel website or the UK government's travel advice page for Malaysia.
Medical facilties are closeby, just 20 minutes from the project and accommodation. There is a larger hospital 3 hours drive away.
Malaysia is a very forward-thinking country and has become very popular with travellers from around the world. Malaysian Borneo is a very accessible part of the island too and welcomes many visitors each year.
You will be collected from the airport and dropped off back again at the end of your stay. All transport to the project is included. Your accommodation on the first night is located on the site of a leafy guest house on the outskirts of town and is very safe and very beautiful.  Whilst working on the project you will be under the guidance of the volunteer coordinator and you will receive full health and safety briefings on all that you do. Your accommodation is in a small and friendly village – all of the locals know and support the project.
Sandakan Town is a beautiful tourist town however you should keep an eye on your possessions when out and about.
The village where the project is based is 3 hours from the town of Sandakan.
Internet access is limited during your time on the project, apart from your first and last night.
Please bear in mind that you are in Asia, and signal and speed are unlikely to be as reliable as you might be used to back at home.
There is good phone reception in the village and in the guest houses where you spend your first and last night on the project.
Malaysia Standard Time is 8 hours ahead of Greenwich Mean Time (GMT+8).
In Malaysia, the British 3 pin plug is used.
There are some lovely walks to enjoy in your free time along the river's edge and into the village. Generally speaking you will have a pretty packed itinerary with time for community engagement, trekking and the actual project- so you won't have too much extra free time to go exploring! Volunteers tend to play cards, read, chat, play music and relax together in the evenings.
Your final day is spent as a tourist. You will get to visit the Borneo Sun Bear Conservation Centre, the Rainforest Discovery Centre and Sepilok Orangutan Rehabilitation Centre – volunteers love this day and it is a great way to round off your time as a Borneo volunteer.
You will be volunteering from around 6am-10:30am and 3pm-6pm with a nice break in the middle during the hottest part of the day. These hours are flexible and will vary depending on the days tasks.
Supervision will be fairly intensive during the first few days, when you will receive a thorough induction and work-related training. Once you are comfortable with things, you might not always have a supervisor working alongside you, but there will always be staff and other volunteers around to help, and you will always be accompanied for any high risk activities.
Staff at Oyster's head office and in-country will be responsible for your safety and welfare while you are at the project. This will start from the moment you are picked up from the airport until the time you are dropped back there. Before and after these times, you will be outside Oyster's responsibility and should make sure that you act safely and avoid risk. This is also true if you choose to leave the project during your time off. We will give you plenty of guidance and advice about this. 
Oyster assesses projects carefully to ensure that they offer high standards of animal welfare and environmental practice. We also check that volunteers understand key points of good practice before working with animals. To find out more, see our animal welfare policy.
Oyster has personally hand-picked some of the best volunteering projects out there. With so much amazing choice, it can be hard to make a decision. Our Animal Welfare Destination Manager, Anne, has written a guide to help you to choose the best animal volunteering project for you.