Find out what Oyster volunteers have said about their experiences volunteering with sharks in South Africa: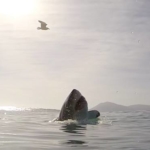 " I'm great although also rather sad. My time at the project has honestly been the best time of my life! I wish I could have stayed for longer and am already planning my return. Everyone was so lovely and I already really miss all the other vols, and staff. Even yesterday, while it was great to see my family again, I missed going out on the boats and the whole feeling of the lodge. It's going to be a challenge keeping myself from getting bored at home as I've got so used to having friends around all the time and constantly doing something. Personally if I could have afforded it it would have stayed for months!"
Emma Butterworth, 6 weeks January 2018
---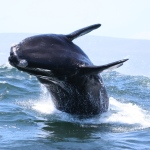 "Go for as long as possible. This trip far exceeded my expectations. All the new people I met and the friends I made were real highlights."
Duncan Tolometti, 2 weeks August 2017
---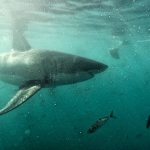 "I honestly had the time of my life and met so many amazing people I never expected this experience to impact me the way it did and as promised to all the marine dynamics crew I will be back next year!"
Martha Grilli, 2 weeks June 2017
---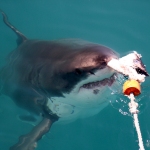 "A really well run project with some great, knowledgeable, passionate and friendly people running it."
Tessa Williamson, 2 weeks January 2017
---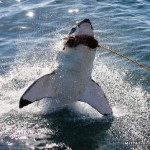 "I didn't really know what to expect of this trip, but once I got there it was so much better than I could ever have imagined. It was a highlight meeting new awesome people, seeing the sharks up so close and realising how misunderstood they are, and getting to see whales!!"
Ella Roberts, 2 weeks October 2016
---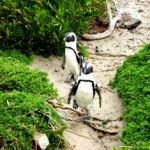 "The experiences with the animals and the information they gave us through presentations were highlights for me! Also the team was great – it was lovely to work with them!"
Bettina Jud, 3 weeks August 2016
---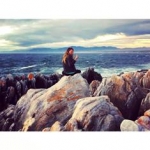 "I did get to see a couple of sharks! I think 5 in total over 3 days, and got to jump on the cage as well! With and without the sharks it was a really amazing experience. The staff were professional and all incredibly friendly and welcoming, and made an effort to get to know all the volunteers even though most of us were there for such a short time. I would definitely recommend this project to anyone with or without a marine biology background, as being out on the boats and getting to know the crew was really fun as well."
Kirsty Elliott, 2 weeks January 2016
---
"I learnt a lot of different things whilst I was on the project. I met a lot of amazing people and just had one of the best times whilst being away."
Emma Allen, 3 weeks November 2015
---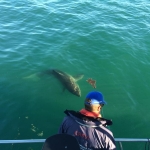 "Things are great here. Lots of fun! I'm learning how things work on the boat and I've got to dive with the sharks 5 times already. I'm meeting a lot of interesting people as well. I'm looking forward to another 3 good weeks on the project!"
Forrest Picher, 4 weeks October 2015
---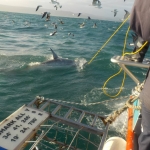 "The trip was fantastic. I really enjoyed all of the programme. Thank you very much!"
Miguel Gonzalez, 2 weeks September 2015
---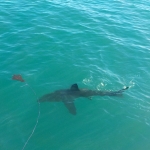 "The trip was incredible! I was so lucky to have such a good group of volunteers there at the same time as me – we all clicked straight away and have been in constant contact since we left. All of the staff were amazing, it really was the trip of a lifetime and we all cried like babies when we had to leave. It was not a nice feeling landing at Heathrow, and I've been in mourning ever since, I'm already thinking about going back!"
Emily Shotton, 2 weeks July 2015
---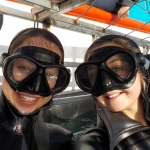 "I had the best, most amazing two weeks in South Africa. It's the most beautiful place I have ever seen. I met some amazing people from all over the world that have become close friends, spent my time in a beautiful place, experienced new things, swam and worked with the Great White Sharks, worked with the endangered African penguins at the rescue sanctuary, got to feed, clean and handle them, and they even asked me to name one of the newly rescued oiled penguins. I called him Rex – I've truly fallen in love with the penguins!!! I saw huge whales, lots of cape fur seals and visited a big cat sanctuary which was really nice. The crew were awesome, and I'll never forget all the amazing memories I've made with the people and the marine life. It was a truly amazing time and I've got so many stories to tell."
Laura Thorpe, 2 weeks July 2015
---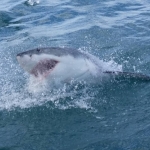 "I'm loving life in South Africa! The project is brilliant. All the coordinators are great and so helpful! I don't want to leave! All I can say is, if you are considering it, just go, don't even think twice! Everything has been awesome; I have been very well looked after throughout my stay, the sharks were incredible and I've seen lots of other projects during my stay. I can't speak highly enough of the people on this project and the work they're doing!"
Leanne Clarkson, 2 weeks July 2015
---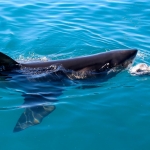 "I honestly miss South Africa so much. The people there (both with the programme and outside of it) were such incredible and kind people! Thank you so so much for helping me plan and organize this trip, as it has been such a life changing experience."
Rachael Rosenberg, 2 weeks December 2014
---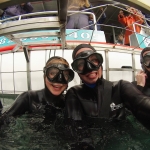 "I had the most fantastic time in South Africa!! I met some fabulous people and had great experience with the sharks! I'm definitely missing it – back to earth with a bump! It was a great experience to improve people skills, observe Great Whites daily and see a beautiful area of South Africa"
Felicity Johnson, 2 weeks September 2014
---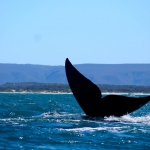 "Currently in Dubai airport heading home! Can't thank you enough for planning everything out! It's been one hell of a trip! Simply amazing! Will definitely be back for more! Thanks again so much!"
Amy Farrugia Vella, 2 weeks September 2014
---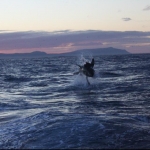 "I had a very memorable time in South Africa. I must say, I do miss being there!"
Richard Lacey, 2 weeks June 2014
---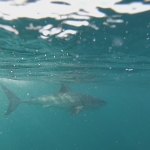 "It was the best experience of my life. I met so many amazing people, learnt so much, helped the community, built homes for the African penguins, and even got to name 3 of the sharks.
I'll definitely be returning next year – 2 weeks just wasn't enough. I really miss the sharks. They were so beautiful and graceful. Thanks so much for everything."
Sarah Munro Kennedy, 2 weeks June 2014
---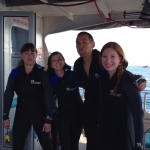 "Overall, the project was fantastic and I wish I could have stayed there forever. Thank you for being so pro-active, positive, enthusiastic and helpful. It was a big leap for me to go all the way to South Africa on my own, but you helped to give me the confidence to do it. I planned to stay for 4 weeks, extended to 6 weeks and still didn't want to come home. Need I say more?"
Annabel Marriott, 6 weeks May 2014
---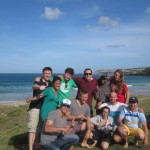 "Cage diving with the sharks was amazing. Be prepared to meet new people and to do a lot of hard work, but don't let that discourage you, it is more than worth it. However I would recommend staying for longer than I did!"
Alex Hutchings, 2 weeks November 2013
---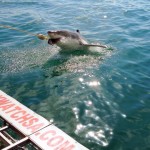 "Just wanted to let you know that I had the BEST time in South Africa… it was a great experience! I met so many cool people and already miss being out on the water every day 🙁 It's hard being back in the office again! We were able to jump in the cage 4 times so I'm definitely happy with that! Thanks again for organizing this! It was so great that I'm thinking about going down there again next year :)"
Shirley Michael, 2 weeks October 2013
---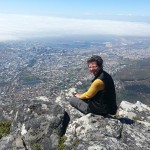 "This was really a great experience. Seeing the sharks, seals and whales was amazing. Thank you for your excellent help and support."
Cristina Michael, 2 weeks October 2013
---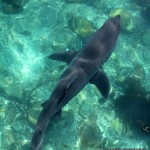 "I really loved the placement. Highlights included seeing the sharks, getting to know people in the research area and meeting new friends from around the world. It is a great way to teach others, see these fantastic animals and learn about other places around the world."
Rebecca Owers, 2 weeks February 2013
---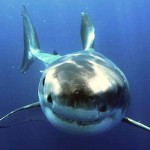 "The highlights were the lectures and taking the shark data with the researchers. The sharks you see are spectacular and there is nothing like being so close to them. Their breaching is incredible and they will surely give you lifetime memories. The researchers that you can talk to are also interesting, and they are happy to tell you anything you want to know."
Jessie Panazzolo, 2 weeks February 2013
---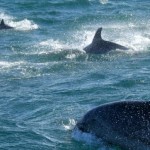 "I loved the shark boat and people that I met out there. What a great experience!"
Sabrina Ahmed, 2 weeks October 2012
---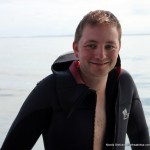 "I really enjoyed my time going out on the boat, seeing so many sharks, and meeting so many good people. I loved going out on the boat every day, and the more I learnt about how things work on the boat, the more I enjoyed it as I felt increasingly useful. The same is true as I learnt more about the sharks. It was satisfying to witness the range of emotions that people go through during the trip."
Nick Shorey, 2 weeks April 2012
---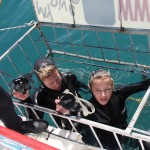 "Thank you for an awesome time, it was amazing! I loved going out on the boats, diving with the sharks was amazing and the people were great! Thanks for everything!"
Serena Clay, 4 weeks March 2012
---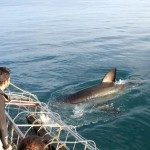 "It was all extremely well explained in the documentation, I felt very prepared. I loved seeing the sharks out at sea, and also seeing the penguins!"
Sarah Beatty, 4 weeks February 2012
---
For more information about volunteering with sharks in South Africa, see our shark conservation webpage.