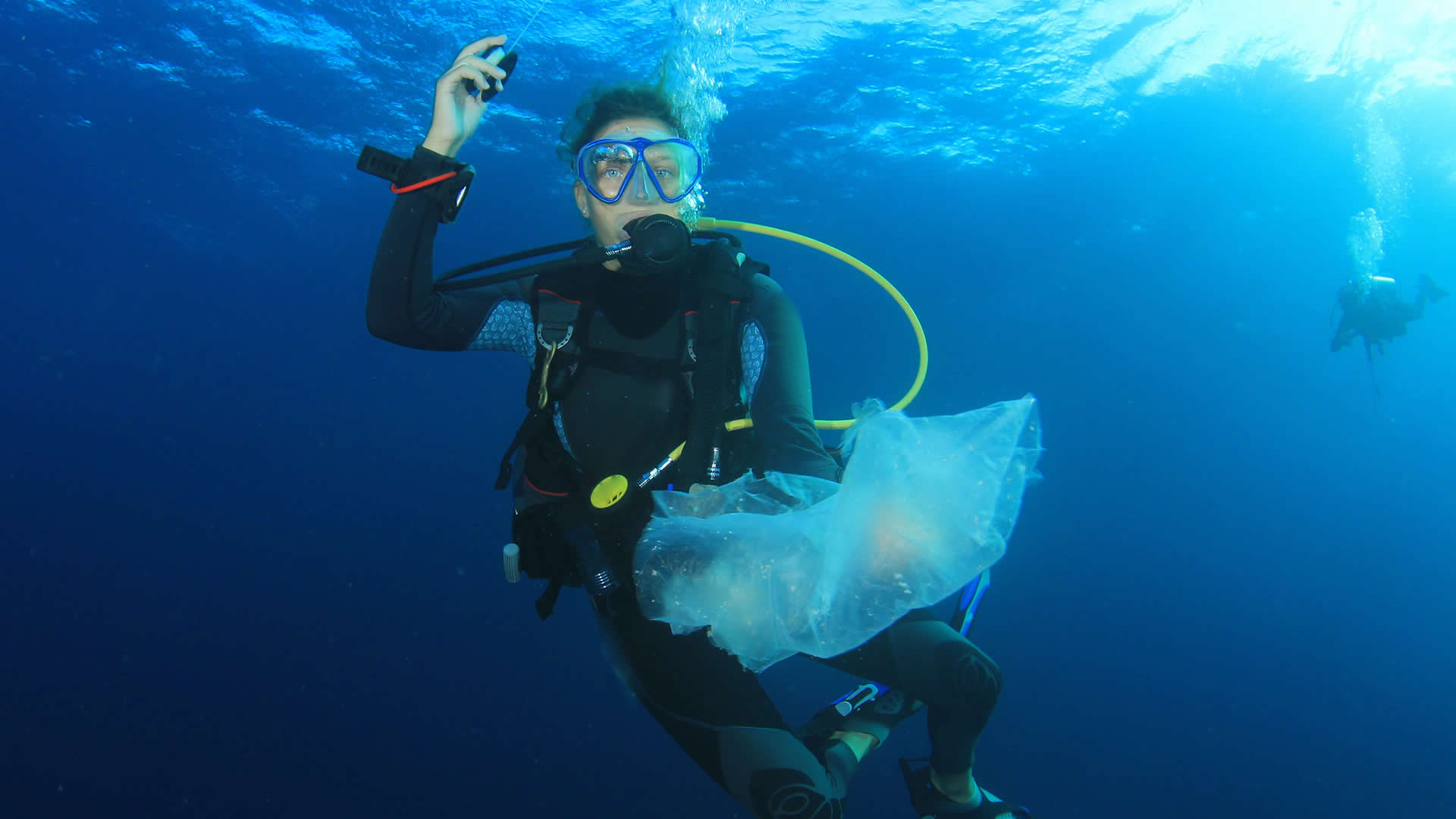 Join an eco-dive school in their mission to clean up the ocean around Lisbon. Enjoy daily dives to clear the reefs of fishing gear, debris and plastics in an effort to help the marine ecosystem to flourish. Not only will you be making a great contribution to improving our environment, you will also be able to dive in an area of the world that is still relatively undiscovered.
Duration: 1 – 8 weeks
Dates: See dates and availability
Arrival day: Sunday
Return day: Saturday
Eligibility: No previous diving experience required. Must be fit to dive.
Age: 18+
The satisfaction of a job well done, seeing how much debris you remove from the ocean each day
Improving your diving and gaining further diving qualifications
Contributing towards solving a very real problem, all whilst becoming a better diver
Deepen your awareness of the problems caused by trash in the oceans, and be part of the solution
Stunning beaches, amazing food, ancient monasteries and towns – need we say more?
Every year, marine debris kills more than 130,000 seals, whales and dolphins – and mutilates thousands of other animals. The main culprit is known as ghost gear – in other words, fishing gear that has been lost over the sides of fishing vessels. Globally, 640,000 tonnes of ghost gear is left in our oceans each year – and since most of this fishing gear is made of plastic, it can take up to 600 years to degrade.
You'll join an eco-dive school, located about 30 minutes outside of Lisbon, to complete daily ocean clean ups. Divers help to remove fishing gear, plastics, tyres and even mobile phones or mini fridges from the sea. This is a fascinating way to learn about humanity's impact on the planet, and do something to reverse it.
To date, almost 3000kg of rubbish has been removed by volunteers in Portugal. As a result of these efforts, there has been a noticeable improvement in marine life in areas that have been cleared so far.
Each day you will visit different dive sites, a lot of dives are conducted from the shore where a lot of rubbish and fishing waste collects. Dives can last anywhere from 20 – 50 minutes depending on the depth and the complexity of the mission. You may dive up to 20 metres, although most dives are about 12 – 15 metres in depth.
Tasks on this marine conservation project may include, but are not limited to:
Experiencing the Portuguese diving opportunities and the amazing underwater world
Collecting debris and making a huge difference to the ocean conservation effort
Learning about the marine environment and how you can protect it
Recycling any debris that has been collected – and returning any usable fishing gear to fishermen
Working with the local community to educate them on environmental issues, conservation and the importance of taking care of our oceans
Collaborating with local fishermen to reduce the amount of ghost gear in the ocean
Weighing the collected rubbish and documenting what has been retrieved
Improving your diving skills with further training and certification
Please note, the weather impacts this project quite considerably, so plans might change at the last minute.
What diving experience do I need?
Divers of all abilities are welcomed – whether you need to learn to dive or whether you have done some diving before. Relevant tuition and guidance will be offered to all abilities and all diving equipment is provided.
Please note that to join for just a week, you will need to have a PADI qualification already. For trips of two weeks and up, you will not need a PADI qualification as this training will be included.
Depending on the amount of time that you spend on the project, you may be able to gain extra diving qualifications whilst participating in the project. Follow the link to find out more about the extra diving certifications you could receive.
All diving qualifications and training are included in the cost of the project.
Shared volunteer house Lisbon, 20 – 30 minutes from the city centre and the beach hostel in the summer near the beach
Share a room and bathroom with 1 – 7 other volunteers
The eco-house prides itself on being one of the most environmentally friendly buildings in Lisbon
Single use plastics are kept to a minimum, food waste is composted or shared with those in need, furniture is built from recycled goods
Large garden with swimming pool
Large communal areas
WiFi available throughout the house
Extra nights:
Dormitory:
£40 – full board
£25 – breakfast only
Private room: £75(with meals)
Upgrade:
Private room: £200 / week / room
You will receive three meals per day
Breakfast consists of fruit, breads and spreads, cereals, toast, tea and coffee
Lunch and dinner often include meat, fish, pasta, rice, vegetables, salad, stir fry
Typical Portuguese food is served
There is 24/7 access to tea, coffee, fruit and biscuits
Provision can be made for vegetarians, vegans, gluten-free diets and lactose-free diets
Airport: Lisbon (LIS)
Arrival day: Sunday. You will be collected from the airport and transferred to the accommodation
Departure day: Saturday
Access to your own personal 'My Oyster' account – our online portal where you can find out much more about the program and manage your booking
Dedicated contact time with an experienced destination manager to discuss the project, answer any of your questions and for us to find out more about you
Help and advice from our UK office before arrival and whilst you are away
In-country support
Pre-departure information covering medical, safety and project advice
Gold level, 24/7 Pharos crisis management and incident support cover
Financial protection: ATOL (if we book your flights); IPP (if we don't book your flights)
Thorough orientation on arrival
Accommodation (see the 'accommodation' section above for details)
Advice on visa requirements
Oyster plants a tree in Africa with TreeAid to help reduce the impact of global carbon emissions
Airport collection and transfer to your accommodation
Three meals per day
2 hour guided tour of Lisbon
Diving equipment, training/certification and instruction
Linen and towels
On your return:
Welcome home pack
Certificate of Recognition (on request)
References (on request)
Flights – as an ATOL bonded company, Oyster can book flights for you
You need a valid passport that meets the requirements of the country you will be travelling to
Insurance (covering your time with Oyster and any planned independent travel)
Any costs associated with changing your return flight date if you need to
Independent travel costs
Home country travel costs
Spending money for additional trips, food and entertainment
Transport to your project (budget 5 euros per day)
Return costs to the airport
The project runs Monday – Friday. Your first day is spent on an induction in Lisbon, and you will join the project on the Tuesday to meet the staff and receive your project orientation.
Days can vary depending on the weather, your diving ability and the demands of the project. An example itinerary is:
08:00: Breakfast
08:30: Leave the volunteer house to travel to the project
09:00 – 12:30: Diving project / diving qualification depending on ability
13:30: Return to Lisbon
14:00: Lunch
14:30 – 19:30: Relaxing and travel time. Usually your afternoons will be free to relax, take some trips, do some exploring or take some Portuguese lessons. There may also be the opportunity to dive during the afternoons.
19:30 – 21:00: Dinner time
Enthusiastic about the marine world
Willing to work hard
Positive attitude
Fit to dive. We recommend that every volunteer goes to a doctor to ask for medical clearance for diving prior to departure
Proactive, motivated and flexible – tasks are not necessarily allocated to you, you have to ask and offer
For one-week trips, a PADI qualification is required
For two-week trips and upwards, no previous diving experience is required as you can be trained on-site
No previous marine conservation experience required
Ability to speak and understand English
This project runs from February – November. The arrival dates are:
2020:
1st March
15th March
5th April
19th April
3rd May
17th May
31st May
14th June
5th July
19th July
2nd August
16th August
6th September
20th September
4th October
18th October
The longer that you participate, the more of a contribution that you will make.
We would recommend staying for at least 2 weeks.
For novice divers, we would suggest staying for at least 2 weeks, and preferably 3 or 4.
The longer that you stay, the more experienced you will become with diving and the more qualified you will become.
The dive school is very keen for volunteers to finish their project with a passion for diving and a good level of marine conservation volunteering experience. For that reason, everyone will leave the project with a further level of diving certification.
Beginners (no certification) – recommended to stay for at least 2 weeks
Week 1: do your SSI Open Water Diver certification (pool dives + 4 dives + theory)
Week 2: do your SSI Marine Ecology Speciality certification (4 dives + 1 exploration dive)
Week 3: do your SSI Advanced Open Water certification
Week 4: 4 exploration dives
Open water certified – you can stay for 1 – 4 weeks
Week 1: do your SSI Marine Ecology Speciality certification (4 dives + 1 exploration dive)
Week 2: do your SSI Advanced Open Water certification
Week 3: do your SSI Fish ID speciality certification (4 dives + 1 exploration dive)
Week 4: 4 exploration dives
Advance Open Water certified – you can stay for 1 – 4 weeks
Week 1: do your SSI Marine Ecology Speciality certification (4 dives + 1 exploration dive)
Week 2: do your SSI Fish ID speciality certification (4 dives + 1 exploration dive)
Week 3: do your SSI DEEP Speciality certification (5 dives)
Week 4: 4 exploration dives
Did you know that it is forecasted that by 2050, there will be more plastic in the ocean than fish? On this project you will help to clear ghost gear and other man-made rubbish from the sea, helping to reduce the amount of waste found in our oceans. This will help the sea life to flourish, and this has already been experienced on this project.
This project is a must for anyone wanting to gain marine conservation experience or to do something different with their holidays. Whether you are taking a gap year, enjoying a holiday with a difference or taking some time out of your studies, this is a great project for people who are passionate about our world.
Not only is this project making a valuable contribution, it is training divers to a very high standard. You will leave Portugal having received expert diving tuition, having done something important and having met some amazing people.
Oyster assesses projects carefully to ensure that they offer high standards of animal welfare and environmental practice. We also check that volunteers understand key points of good practice before working with animals. To find out more, see our animal welfare policy.
Whilst late-availability is possible, we would advise booking as soon as you can to guarantee your ideal dates. Our projects are very popular and spaces can fill up several months in advance, especially for the months of June to September.
Lisbon enjoys on average 300 days of sunshine per year
The wettest months are October – February
Temperatures from November – February are about 9 – 15 degrees celsius
Temperatures from March – October are about 15 – 30 degrees celsius
The sea maintains a relatively constant temperature of 15 – 20 degrees celsius
We would recommend budgeting approximately £50 a week for free time activities.
There are cash machines located all over Lisbon, and there is one just a few minutes walk from the volunteer house. You should take at least two cards with you, and let your bank know that you will be going away.
Typically you won't need a visa for stays up to 3 months. You should make sure your passport is valid for the duration of your stay.
Most of our volunteers are independent travellers and you will become part of a group of people from around the world here. It is fine to travel with friends or as part of a small group too however- more the merrier!
The simple answer to this question is, yes absolutely!
It is important to bear in mind however that this may not be like other holidays that you have taken. Remember that you are volunteering, and this means that you will be put to work! This sort of holiday is a world away from sun loungers and cocktails, with our volunteers often heading home tired but immensely satisfied. If you think that you will need a bit of relaxing time on your trip too, do make sure to factor this in when your time on the project is complete.
You should visit your doctor or travel nurse to find out what vaccinations you will need. Your routine vaccinations will need to be up to date. You should follow your doctor's advice.
For any information related to Covid-19, please see the Fit for Travel website or the UK government's travel advice page for Portugal.
Doctors, pharmacies and hospitals are located within 5 – 20 minutes of the accommodation.
Portugal has been listed as the third safest country in the world. You will be living in the thriving city of Lisbon, in a leafy residential neighbourhood. There are similar crime levels in Lisbon to any city in the world, and you should keep an eye on your belongings when you are out and about.
The dive centre takes safety incredibly seriously, and will issue briefings before each dive and before each new undertaking. The boats and dive equipment are checked regularly and meet all required standards.
There is free wifi provided at the volunteer house. You will receive a free local SIM card on arrival if you would like to use 3G. Make sure that your phone is unlocked before arrival so that you can use the local SIM card.
We would suggest that you download the App Whatsapp prior to arrival so that you can be added into the volunteer group once you are in Lisbon.
There is good phone reception in Lisbon.
Portugal is on the same time zone as the UK and Ireland – GMT and BST.
You will need a European plug.
Generally, you will be free in the afternoons from 14:30 onwards. You will also have weekends free.
Enjoy the sights of Lisbon
Explore the amazing town and castle of Sintra
Go surfing
Go diving
Learn Portuguese
Take a day trip to do wine tasting, caving, city tours and more!
Supervision will be fairly intensive during the first few days, when you will receive a thorough induction and work-related training. Once you are comfortable with things, you might not always have a supervisor working alongside you, but there will always be staff and other volunteers around to help, and you will always be accompanied for any high risk activities.
Staff at Oyster's head office and in-country will be responsible for your safety and welfare while you are at the project. This will start from the moment you are picked up from the airport until the end of your project. Before and after these times, you will be outside Oyster's responsibility and should make sure that you act safely and avoid risk. This is also true if you choose to leave the project during your time off. We will give you plenty of guidance and advice about this.
Other adventures like this