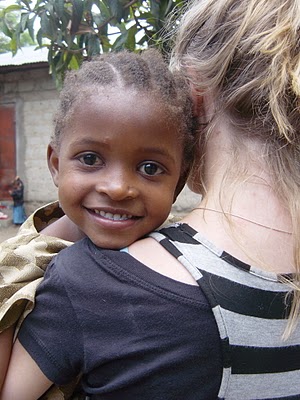 Ellen Fitton tells us more about her time in Tanzania. Thanks Ellen!
We have started working at the orphanage. Most of the kids don't actually live there, instead they return to host families in the village and just spend the day at the orphanage. There are about 40 kids and only 12 of them actually live there. It is great fun as the kids are all under 5 so we spend most of the time playing with them outside. They seem to love playing with our hair, jumping on us and they make us give them piggy back rides! I have fallen in love with two of the little kids (Dennis and a little girl) and, if I could, I would adopt them! We go to the orphanage 2 or 3 times a week because it takes us about 45 minutes to get there, but it is probably the thing I most enjoy doing. Unfortunately this week the orphanage hasn't been able to afford any food so the kids who don't live there are sent home early (at 2ish).
We have also started working at a little nursery. There are only about 15 children there but we are going to read with them and do art lessons with them (I know I am not artistic but one of my housemates is so she will run that lesson!) It is really useful as it is about 2 minutes away from our house so we can just pop in when we have free time.
We spent the weekend trekking to a waterfall ….. it took us 2 hours to get there and then an 1 1/2 back. It was so nice to go for a swim once we had finally arrived. It was a really nice way to spend our weekend and our guide made us amazing packed lunches with chicken in (I am missing meat like mad …. we have no fridge so we can only eat it when we go out for a meal which is very rare!).
My lessons this week are going very well. The kids are picking up english very quickly and they seem to be enjoying my lessons! The teacher told me yesterday that the kids loved me and she wants me to stay in Tanzania and be a teacher at the school forever which was very flattering and made me very happy! The kids really enjoy having interactive lessons as their teachers tend to write on the boards and just get them to copy it all out which they don't find very exciting so I think my lessons are a nice change.
We also went to the orphanage this afternoon which was really nice and the kids are so sweet (as you can see from all the photos!). The orphanage has limited funds so at the moment it closes at 1 as they can't afford to feed the kids. If anyone would like to sponsor the orphanage or make a donation then they would be forever grateful and I am sure I could set it all up so that the kids could get a daily meal! (just email me if you want more details!)
Tomorrow we are going to the Masai Market in town which is basically a place where you can buy the local jewellery, clothes, bags and shoes …. I am very excited to get some typical African clothes made. We have also been invited to a teacher's house for dinner which will be nice and hopefully we can try some more local food (although I hope I don't have to eat any strange meat!). On thursday we are hoping to visit the Plaster House – a place where children go before and after operations – which I am really looking forward to and I will let you know how it all goes!