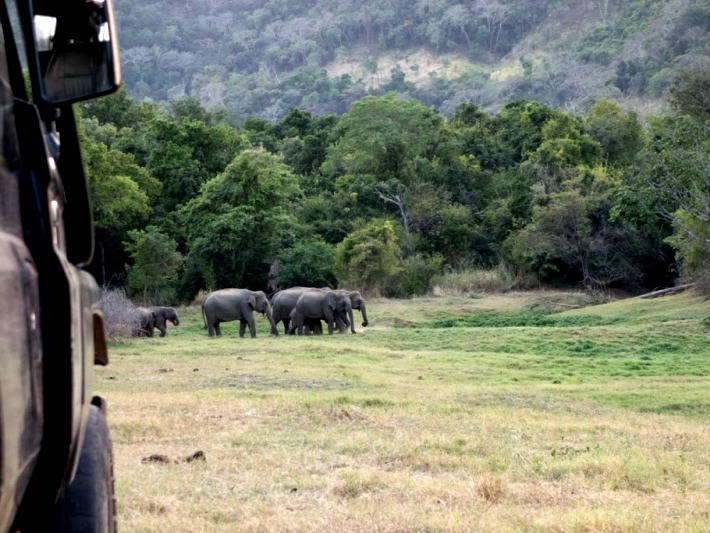 Barbara Boylan is spending 4 weeks in Sri Lanka helping on a community and elephant conservation project. She is is sending us delightful updates from her volunteering diary, showing the challenges and the highlights that she is facing. This is a fabulous and amusing read, and her installments are making our day every morning.
Tuesday 6th February 2018
Returned to the project on Sunday evening to find it very quiet; people left on Saturday to head south to join the turtle project and others to continue their travels round Sri Lanka or go home. Taking advantage of being the only person left in my 'dorm' I decided to a) pinch a mattress so that my hip bone no longer made contact with the wooden slats and b) move to the end of the dorm next to the wall to create a little privacy and c) get away from the mysterious small brown balls that appear every morning in my bed. This needs further explanation and, dear readers, the mystery remains unsolved.
Each evening, I remake my bed before getting in to it, and once in, carefully tuck the mosquito net under the mattress. I am, apart from any minute holes, hermetically sealed in to my space. Each morning, on returning to my bed from the wash room, I've found 10-15 small brown spheres that closely resemble rabbit ? poo. But smaller. I've mentioned it in passing but no one has taken much notice so I mentioned it again but louder. I've inspected the empty beds – nothing. And the bed I moved had nothing either – just my bed wherever I placed it. Mystifying! The gifts were too big to get through the mosquito net; whatever was leaving them got in without untucking the mosquito net; no one else was receiving them – JUST ME! And I sensed a slight ripple of disbelief aka hysteria on my part, clouding the mystery still further.
So, last night I made double sure there was nothing in my bed before I got in it. I triple tucked in the mosquito net. I lay awake for several hours – nay, all night- waiting to spot the beast. No sign. But when I got up, through bleary eyes I spotted four unmistakable brown balls. I collected them up to present to the unbelievers. When I got back from the loo – THERE WERE 10 MORE!!!
Bravely, I collected them and presented them at the breakfast table where the scientists, mid breakfast curry, glanced at them and pronounced them to be, not poo, but……..
Seeds! Seeds??
The latest theory is that they are sprouting from my mattress or even my pillow. Sort of throwing them selves to the surface when I leave my bed.
However, , there remains the question- why only my bed?
Answers on a postcard please!
Thursday 8th March 2018
Me again! Hope all not too cold back home – very hot and humid here!
So, the mystery deepens! After finding suspicious deposits ( suspected to be papaya seeds) in my bed every morning since being here (9 nights) and revealing this to my fellow volunteers ( who think I am a secret midnight papaya eater and want to set camera traps on my bed) the deposits have now ceased! The culprit knows and having been outed has obviously retired for the moment until either their desire to cause perplexing 'whodunnits' overwhelms them or a new unsuspecting, naive and innocent volunteer arrives!
This week sees the return of elephant poo collection and analysis with some refinements to methodology in analysing the poo. It needs sifting through graded sieves but should this be done wet or dry? The wet method, currently the favoured method, involves soaking the poo to soften it up, and then crumbling it using the short crumb pastry technique of rubbing it through your finger tips, to break it up. Once sufficiently light and bitty, it's poured through the top sieve where it sits looking like – well , a very steamy chocolate brownie/ your worst ever mud pie – and trickled through the other two sieves.
The good news is that the elephants round and about here, seem to be eating a very healthy diet – mana grass, teak bark, seeds. We've seen elephants every time we've been out and about – lone bull elephants and several small herds but so far, not close enough to get a decent photograph.
Have also done another bird spot survey in a papaya plantation on the edge of the forest. Our early morning start – there at 6.45 -meant we avoided the heat of a very hot day. In the distance we could hear what I initially thought was a call to prayer but which turned out to be a Buddhist 'wake'; a celebration for a life now over. The music was a monk singing a set piece – but a recording rather than a live performance.
We split in to two groups – one going on a transect through the middle of the papaya farm and the other heading along the edge where the forest encroaches. It was immediately obvious that many more birds landed and stayed in the forest area than in the papayas! So we provided irrefutable evidence that cutting down the forest to farm affects the bird habitat negatively. No surprises there!
Friday 9th February 2018
Lots of comings and goings at the Field House this weekend- 6 leavers including a few who have completed a month's internship identifying leopards from camera traps (did you know Sri Lanka is also home to sloth bears and the smallest wild cat in the world?). Arriving are a couple of Aussies and a Kiwi making the total number of nations represented thus far at the field house 9. A great spring board for international relationships and the forging of lifelong friendships – it's fantastic to meet so many people from all over the world with a shared interest and passion for conserving our beautiful world.
So today's task which will go toward proving that deforestation is not a good thing, was to collect evidence of the impact elephant herds have on forests.  The team had previously marked out 6 plots in the forest each 4mx4m. These were marked at the corners of the square and within that perimeter we looked for recent elephant damage – bark scraping ( the elephant is digging in to the tree for the nutrients within) broken branches or half eaten foliage. Once found, we measured all sorts of stuff – height of the damage, impact on the plant etc. Then one of our local team painted the affected tree with red paint to ensure evidence was not collected from that source again.
The evidence suggests that elephants damage about 10% of the forest either by eating it or by crushing it as they take a nap, crashing out on their sides (not wiggling their legs in the air as I imagined). We did stumble across a sleeping elephant on one of our poo hunts but made a hasty retreat.
Elephants have a number of well known pathways but do not keep returning to the same trees to eat. This gives the forest time to regrow and regenerate. It also means that elephants need a huge area in which to live and feed.
One of the project leaders told me how one African country decided to protect the elephants by building a huge enclosing wall around them. Not a success. Within 2 years the forest was stripped bare and the impact on other creatures was equally disastrous. Seems obvious doesn't it? Elephants need space; they are great regenerators spreading seeds through the forest ( poo analysis proof). Bird life is adversely impacted by deforestation as is the habitat of all animals.
Man must find other ways to feed his growing numbers before we destroy out intricately balanced planet.
If Barbara's volunteering diary has inspired you to do something like this, do make sure to visit our animal welfare webpage.