Oyster Sydney-goer Jenny tells us about her life in Sydney- and what she plans to do with her hard earned cash. Thanks Jenny!

I have been living in Sydney for two months now and everything is – as you can imagine living in this fantastic city –  great! Living here is expensive but it is a fabulous place to be! I forget sometimes that I actually live here…when I am work and it might be a slow day I just look up and remember that I am amongst the skyscrapers of the Central Business District and that the Harbour is only a 10 minute walk away…and I admire it everytime.  I have really settled into a routine and work is steady, I get enough hours (45 on average) to pay for my rent, general living costs and I am managing to save up the dollars to explore some of this vast country, which is what I came out here to achieve and I am over the moon that I am managing it! Not much partying is going on…I am saving that for my trip up the East Coast!
I am starting here in Sydney where I will pick up my campervan, I then head up the coast first stop being Byron Bay where I will take in the hippy atmosphere on the beach and the nearby markets. I will continue up stopping in Noosa  and heading to Australia Zoo, made famous by Steve Urwin. Then to Brisbane and the Gold Coast (Surfers Paradise) and after a few days there I will be going on camping trip on Fraser Island for 3 days where I will be driving around and exploring the Island in a 4×4, camping out under the stars with a few beers no doubt! After Fraser I will continue driving northwards and will be stopping off in 1770 where I will spend the day having a surf lesson and chilling on the beach. The next big stop is Airlie Beach where I will board 'The Clipper', a yacht that sails (and parties) around the Whitsunday Islands, this tour lasts 3 days. The next tour in this trip is boarding another boat and sailing on the Barrier Reef where I will get the chance to do some snorkling. I arrive in Cairns soon after where I will drop off my van and get taken to Cape Tribulation for a couple of days.
After this drive I have 3 weeks until I fly home so I am currently deciding on what to do…and I am finding it tricky to decide! This country offers so much and I have so many things I would like to do…just need to whittle it down and make a decision (all depending on how much money I have left!) I would love to get into the Outback so my current plan is to possibly head to Darwin from Cairns and then head down to Alice Springs…visiting Uluru (Ayers Rock) and everything else that the journey offers in between!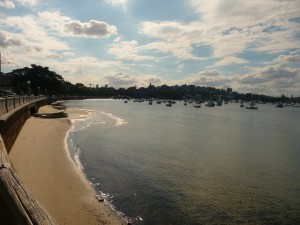 There are so many opportunities in this country and I feel very lucky to be out here. One big piece of advice that I would give anybody considering their Gap Year in Australia…DO IT. Do not hesitate…you will find yourself having so much freedom to explore and work anywhere you want. You do not have to stay in Sydney to work like I have, with a year-long job finding service with you, you could pick up your belongings and head anywhere you like, any other city or a farm in the outback somewhere…the choice is yours!