Jungle volunteering: working with monkeys in the Amazonian rain forest
Diana has recently returned from Ecuador where she immersed herself in caring for rescued monkeys at a primate sanctuary. Here she tells us of her experiences whilst helping monkeys in the jungle!
I arrived on a bright, sunny day to a very warm welcome by Yvan the owner. He was wearing a canvas bag with a baby coati peering out the top! The coati had been found wandering on the road and brought to the centre where he joined the family. Yvan show me around the sanctuary and introduced me to all his charges by name. Many of the monkeys had been confiscated from traffickers or from people who have kept them illegally as pets, some have been found injured or orphaned. Yvan is a remarkable man who has a deep connection with his monkeys. He has lived with them for 16 years. Many will never be able to be to be released into the wild as they have either been too traumatised or they have become too dependent on human company.
Staying at this project is rather like joining a family. Yvan's wife Lizeth is delightful and works incredibly hard to make the place feel like home. My second day I was on the rota for helping her in the kitchen. I was ill prepared with my Spanish and she only had a few words of English. Our cooking was punctuated by writing vocabulary in a notebook and a great deal of giggling. We all ate together round the table with lively conversation, often accompanied by the odd creature who lived in the house.
I was invited to go market shopping in the nearby town of Puyo with Lizeth and Yvan. Lizeth and I spent the evening in town getting to know each other, which included visiting her beauty salon in a tiny room and calling in on some indigenous friends. They were greatly amused that I had come all the way from London to look after monkeys.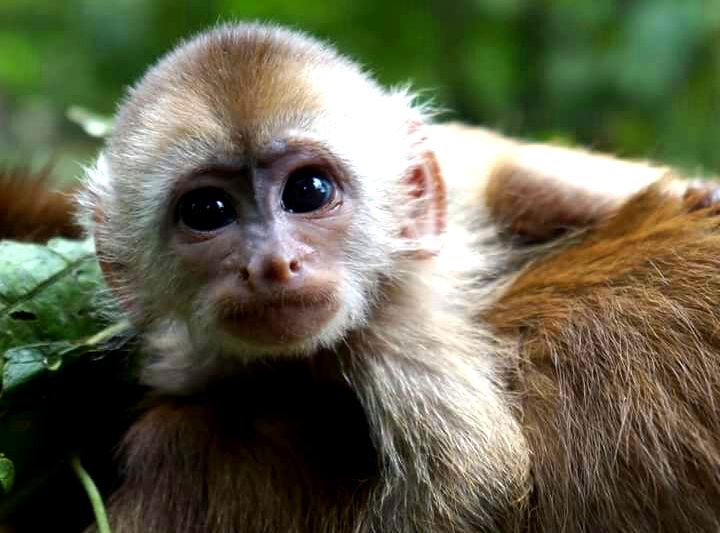 Day to day we all rather mucked into whatever task needed doing, every day working our way around the flowering paths to the enclosures with a wheelbarrow full of bananas followed by a trail of interested monkeys who run free. The rain came and went, in between there were idyllic moments to remember, swimming in the river, playing with the baby monkeys and dancing with Marcel the monkey, the two year-old who just craved human company.
It was really special to put Bella the monkey to bed every night with her blanket to which she was very attached. She had been found orphaned beside the road and taken in. She is now an important member of the family.
This is a remarkable place. Some of these monkeys will never be able to go back to the wild but will be cared for here until the end of their days. It was so refreshing to know by volunteering, this place is able to keep up with its work.
I shared a room in the house with 2 of the volunteers. We had a European style bathroom, a comfortable sitting room and a pool table and music. I always slept so well and woke up to sounds of the jungle. My two roommates became good friends we would even attempt to beautify ourselves with mud face pack from the river and take a taxi into town to visit a bar and drink cocktails.
On my day off, I went on a trip with a local guide. I was accompanied by a large Ecuadorian family. We set of in an open truck and visited a local village to learn about traditional customs, took a canoe down the river and walk in the jungle to a waterfall for a swim, sat in hammocks looking across a stunning view of the foothills while some of my companions (definite 'no thank-you' from me) swung out over the ravine on a rope, shrieking with laughter.
A magical time. I felt it was a privilege to be so close to these creatures who allowed me into their lives for my short stay.
To find out more about jungle volunteering with monkeys, check out our monkey sanctuary webpage.