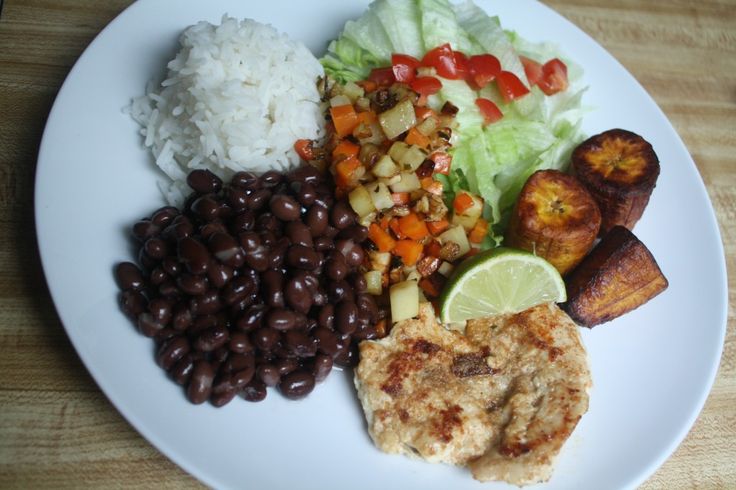 Photo of Casado, courtesy of Latin American Food on Pinterest
The second instalment of our taste-bud tantalising food tour is Costa Rica.
Costa Rica is a beautiful country in Central America which has some delicious and surprisingly healthy local cuisine.
National dish – Gallo Pinto
This translates as "spotted chicken". It is a mixture of rice and beans cooked together to create a speckled appearance (no chicken involved), served for breakfast with egg and bread. It is so popular that even McDonalds sell their own McPinto!
"The staple was rice and beans, like all the time, normally with coleslaw or salad" Aimee, Costa Rica volunteer 2014
Other popular Costa Rican food includes:
Casado – "married man" – rice and beans cooked side by side served with meat, salad and fried plantain
Ceviche – raw fish marinated in lemon
Chicharron – served at festivals, fried crispy pork with rice, tortilla chips and salsa
Tamales – boiled plantain leaves stuffed with corn, rice, pork, beans and vegetable. These are so tasty they are only made for special occasions such as weddings and birthdays
To make your very own Gallo Pinto check out this recipe: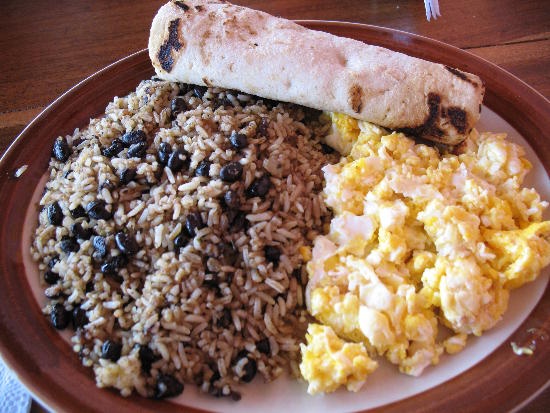 Photo of Gallo Pinto, courtesy of For the Foodies: Recipes on Pinterest
Ingredients:
450g black beans
Coriander
1 onion
½ small sweet pepper
700ml chicken broth/water
350ml white rice
½ tsp salt
1 tbsp vegetable oil
Oil to fry in
Method:
1. Boil the beans in water, cover the pan and simmer until soft
2. Sauté the rice in oil then add half the chopped onion, pepper and coriander.
3. Add the water/broth, bring to the boil then simmer until the rice is tender (20-35 minutes)
4. Sauté the rice mixture with the beans and remaining vegetables, keeping most of the "black water" from the beans to give it a nice colour
5. Serve with scrambled egg and bread/tortillas for a hearty breakfast
You can try all of this mouth watering Costa Rican food on our turtle conservation programme in Costa Rica!