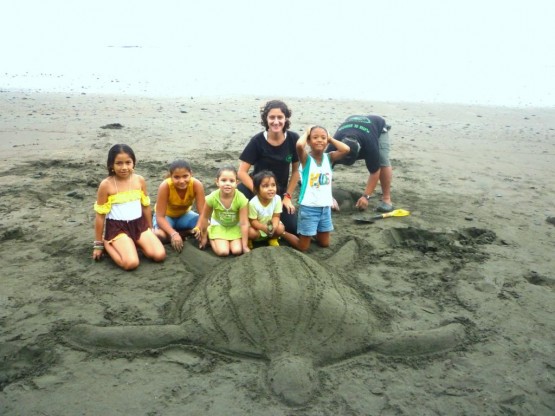 Kids sculpting a sand-turtle in beautiful Costa Rica
After a week of being on the road at fairs and talks, we have spoken to many young people faced with the choice of what to do post A-levels. Many of them were keen to do a gap year, yet concerned by time constraints, wanting to get to university as soon as possible, yet also keen to get in a gap year experience.
I shall tell you now what we have been telling them all week- you can still do a mini gap! Mini gaps are massively on the rise at the moment, due to young people's desires to get out and see the world before university, gaining valuable experience, making new friends and learning about different cultures- all of which looks fab on a CV and can be completed on a restricted time scale.
By productively using your summer between the completion of A-Levels and the start of a career or university, you can immediately boost your CV. You will stand out in today's highly competitive job market and have a fun, with a once in a lifetime experience in the process, and without chipping away at the time you want to use for your studies, or for getting into that graduate programme you're keen on.

Oyster Worldwide offers some fantastic and flexible opportunities to try your hand at, ranging from animal welfare to childcare placements, where your commitment to volunteering can be anything from 2 weeks to three months.
Ever dreamed of improving the lives of monkeys, lions, elephants, turtles or even sharks? Quit dreaming and do it. Oyster can help you make this a reality, offering the chance to work in South Africa or Costa Rica.
If working with children is more for you, then why not try out our childcare placement in Romania- you could even combine it with some time up in the bear sanctuary…
Prices for these projects start from £645 for 2 weeks.
Think you're too late for this year?? Not at all! We can arrange placements quickly and seamlessly, with free spaces from August!
Get in touch for your chance to have the summer of your life! Check out our website for more information!