Find out what Oyster volunteers have said in these reviews of our project volunteering with elephants at the elephant sanctuary in Thailand: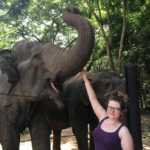 "It's been really good here. I wrote my second year dissertation on elephant riding and the impact of the education on people's perceptions, so I have been able to share some of the things I've learnt with other volunteers and the staff. The coordinators have been really encouraging. I've been made team leader for a group of 5 volunteers- I'm loving the responsibility!"
Cicely Rotchell, 4 weeks July 2018
---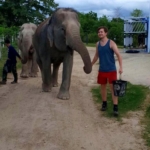 "It was really helpful to have Oyster help me find such a brilliant ethical way to travel and I feel richer as a person for the experience. Anne was very helpful, checking in by email, helping arrange transport to the sanctuary, and offering
enthusiastic support! Thank you!"
Joe Mckenzie, 1 week May 2018
---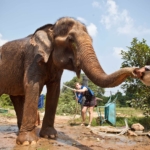 "Two weeks just was not enough for me. It was such an incredible experience that I'll look back on in years to come with so many memories from my time there. I felt very safe there, and I think a lot of that was from booking it through you, and knowing you were only an email away. Everything was smooth sailing from the minute we left our homes and we are so grateful for your team for making this work so well. It was a bit daunting travelling so far on our own at first but we really didn't need to worry. I am sure I will be in contact again soon about booking another trip.. its definitely on the cards!"
Eva Boyd, 2 weeks April 2018
---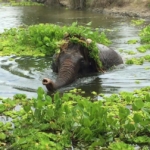 "Authentic contact with the elephants and wildlife – we felt like we were making a genuine contribution. It was great to travel ethically, work together, make memories, learn and meet new people. Anne has been fantastic in her support, organisation and personal encouragement. Thank you so much"
Diane and James Maybey, 1 week December 2017
---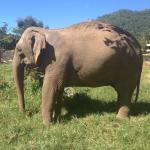 "I really enjoyed my time in Thailand, not only because of the elephants and the sanctuary which was amazing but also because I had a chance to see some other places too. I expected the sanctuary to be hard work, which it definitely was, but the hospitality and helpfulness of the staff and Thai people was great. The contact from Oyster was also good as they kept me updated :)"
Charlotte Mynard, 2 weeks September 2017
---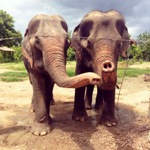 "Thailand was absolutely amazing – had so much fun learning new things and meeting all sorts of different people! It's definitely motivated me to do more voluntary work in the future. Thanks so much for all your help and the organising that came with it you were so helpful and gave me reassurance on my travels!"
Ella Boakes, 3 weeks July 2017
---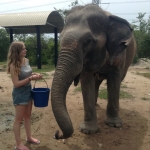 "I arrived home yesterday and had an amazing time in Thailand. Enjoyed every bit of the project and it's definitely something I'd like to do again! All the staff were great there and I had a really great experience and didn't want to come home. Thanks for all your help!"
Hannah Burt, 2 weeks June 2017
---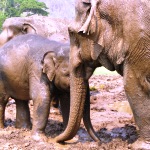 "Excellent, it far exceeded my expectations. Highlights included interacting with the elephants by washing and walking them, interacting with the volunteers and exploring the culture on days off"
Hannah Whitehead, 3 weeks May 2017
---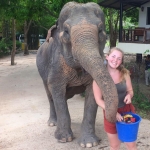 "My favourite experience was was taking the elephant Pai Lin for a walk; she decided to go for a swim in the lake – I have never seen such a happy elephant! Despite travelling by myself, I made so many friends there especially in the evenings which were so sociable, for example doing house duty and doggy duty which helped you get to know so many more people. It was an amazing experience, one which I will never forget!"
Katrina Woodhead, 3 weeks April 2017
---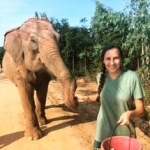 "Getting to work closely with all the animals and look after them daily, giving them a better life, was amazing. The people at the Sanctuary were great too!"
Tia Knutsen, 7 weeks January 2017
---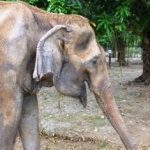 "The highlights: Being with like minded people in a beautiful setting; having hands-on experience of caring for elephants; meeting people from all over the world. I felt supported and safe throughout, with knowledge of who to contact should anything have gone wrong – which it didn't!"
Sandra Mellor, 1 week January 2017
---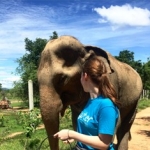 "It was extremely rewarding and I didn't think I would enjoy the social side as much as I did. I really felt like I was making a difference, and the sanctuary was run really well. Walking the elephants, making loads of new friends from all around the world, exploring the local towns/cities and generally knowing that I was helping animals who had been through really hard times. The days in Hua Hin (especially the night market) and Cha Am were really fun as well, and a nice little break from working. It's such a different experience to a holiday or a volunteer programme in your home country – the sanctuary was quite big and it felt like a little community which was really lovely. You're thrown together in a really unique environment where hardly anyone's met before, and so it really made me more confident as I talked to so many new people from many different countries in such a short amount of time. The sense of reward is incredible, and I feel so proud that I spent some of my summer helping animals in need. I genuinely feel that it's made me grow as a person."
Katharine Smith, 2 weeks July 2016
---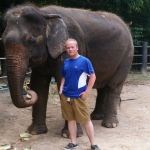 "I had a great time in Thailand with the elephants, and I am really going to miss them, along with the people I've met whilst out there. Life back home is calm for now. I'm still a little jet lagged, but at least the weather's cooler! Thank you and Oyster Worldwide for helping me to accomplish this ambition."
Calum Ward, 3 weeks August 2015
---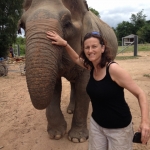 "The highlights were so many! The main one has to be feeding an elephant and getting so close to them, but other highlights include the camaraderie of all the volunteers, of all nationalities, and some of the side splitting laughs we all had there. And jumping in the river fully clothed after a morning carrying banana trees was a highlight. There is so much to do and see in the world, it opens you up to so many new and exciting opportunities. It is a brilliant place, and has a caring ethos towards the animals that have been abused. You will come away changed after a placement here."
Pippa Millar, 1 week July 2015
---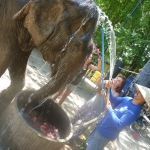 "Thank you so much for making this a possibility. Thailand was amazing – it was such a great experience! I miss the elephants already! They were so amazing to work with – I still can't believe that I got to feed, wash and walk with elephants! Thanks so much for everything that you did to help make this trip possible! It wouldn't have happened without you, so a huge thank you!"
Emma Thomson, 2 weeks June 2015
---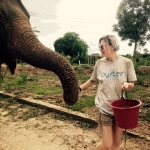 "I'm missing Thailand so much! I loved every second of it and will definitely be going back for a longer period of time. I wouldn't change the experience one bit – I learnt so much about myself, however cliché it may sound! It was so beautiful :)Thank you for helping me out, without you it wouldn't have been possible and I'm so very grateful."
Charlie Mclean-Ash 2 weeks May 2015
---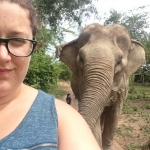 "I had the most amazing time volunteering in Thailand. I made so many new friends and, knowing that my help there during my short stay made such a big difference, made me feel great inside. I would like to say a great big thank you for giving me the experience of a lifetime."
Ruth Boddington, 2 weeks September 2014
---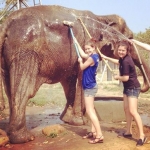 "We just wanted to let you know we are having the most amazing time out here and I wanted to say a massive thank you for helping us to organise everything! I can't even begin to describe how much I'm loving it out here – which I'm sure you hear all the time!"
Rosie Balko and Georgie Moult, 8 weeks February 2014
---
For more information about volunteering with elephants in Thailand, have a look at our volunteering in Thailand web page.