Are you looking to earn money and have an awesome season living and skiing in one of the worlds' best skiing areas? If so, we might just have the answer! We have been sending people to work for a ski season in the Canadian Rockies since 2006 and have links with a number of hotels in and around the town of Banff that are looking for seasonal staff for the coming winter.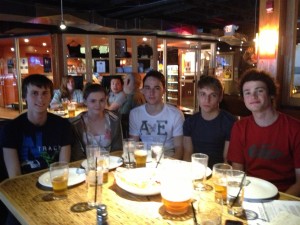 Our latest group in Canada have been settling into their jobs nicely since arriving two weeks ago and I am looking forward to sending the next group in November.
The group enjoyed their first meet-up yesterday and I am pleased to report they are all having a great time and working hard!
Thinking ahead to the winter, we have places remaining for our late Nov-late May 6 month program for anyone that is able to get an IEC Working Holiday permit and pass our interview. The IEC Permits are still available for passport holders from Australia and New Zealand so don't delay, secure yours today!
Expect to work in an entry level position in a hotel. This is normally Housekeeping but can be dishwashing or bussing in the food and beverage department. Depending on your experience, other positions may be open to you – be sure to give us lots of information about previous work experience!
To participate in our Rockies program there is a cost of £1495 (ex. flights). This gives you full support from Oyster in the UK through interview and briefings, airport pickup in Calgary, the support of Arjun throughout your stay and a guaranteed job and accommodation arranged before you arrive in Canada + much more!
For full details check out our ski season in The Rockies webpage or contact me – [email protected]. You can also Book Now and I will be in touch to arrange an informal interview with you.