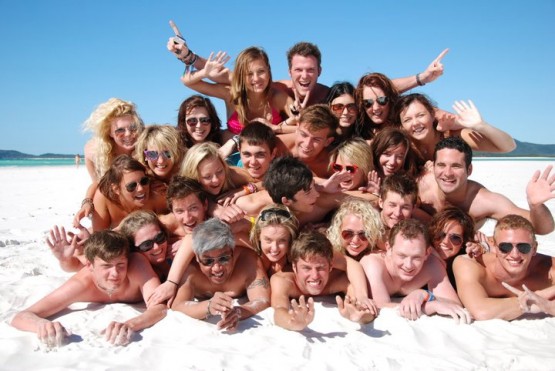 Oyster Worldwide have been recruiting young workers to travel and work in Australia since 2009. The paid work in Sydney programme has gone from strength to strength, with many participants extending their stays Down Under. The feedback over the past few years is that many participants would actually like more of a travel option built into their programme, so our partners are now offering a 4 week add-on to your paid work in Sydney induction.
The optional add-on is a great way to see more of Australia with a group of people, and is paid for before departure. This is a great trip which is a must for all backpackers, and is cheaper to be organised through our partners in the UK. It also helps with your budgeting to get it arranged early!
Many people who opt for the 4 week add-on will work in Sydney before deciding to get the travelling under their belts. Once you are ready to take your 4 week add-on, you would just need to let the ground staff in Australia know, and they will do the rest.
The add-on includes 2 weeks of travelling the East Coast, and then an extra week of either:
–          Outback farm work training and guaranteed job
–          Surf camp
–          Dive course
–          Outback exploration
The East Coast Adventure
Spend two weeks travelling the famous East Coast of Australia from Byron Bay to Cairns. Your itinerary, tickets and travel plans are all arranged for you by our partners, so your journey will be loads of fun and hassle-free.
2-nights in Byron Bay
Spend two days relaxing on the golden sands of Byron Bay – a surfer's and backpackers' paradise.
2-nights Brisbane
Explore the East Coast's most vibrant town and gateway to the East Coast.
2-nights Rainbow Beach
Rainbow Beach is the gateway to Fraser Island, the world's largest sand island. Take a few days of R and R before your 2 day Fraser Island safari.
2-night Fraser Island 4×4 safari
The island is known for its pure beauty and diversity; there are rain forests, mangrove forests, sand dunes and over 100 freshwater lakes where you can swim.
A professional local guide with an extensive knowledge of the island will be your host. Your base camp offers permanent tent sites with covered BBQ cooking facilities (all crockery, cutlery and utensils provided) and access to fresh water showers and toilets. This means no more hassle setting up your tent and more time to explore the island!
2-nights Whitsunday Sailing
Be prepared for one of the most beautiful places in the world. The Whitsundays boast coral reefs, tropical white sandy beaches, endless sunshine and crystal clear waters… the perfect conditions for an overnight sailing trip. You'll spend 2 days and 2 nights sailing amongst the Whitsunday Islands, visiting remote islands, snorkelling, swimming and bushwalking.
2-nights Airlie Beach
Airlie Beach is a social and lively place with a beautiful swimming lagoon set in the parkland overlooking the islands. The backpackers resort is located less than a minute from the lagoon. Enjoy tropical gardens, swimming pool, large air conditioned bar pool-side veranda and much more.
2-nights Cairns- snorkelling the Great Barrier Reef
Snorkelling is a fun and easy way to see the reef. At Michaelmas Cay, due to the protection afforded by the sandy beach, snorkelling is almost always in calm water no matter how hard the wind blows. At Paradise Reef, snorkelling is directly off the stern of the boat. Here you will find the myriads of fish that are a blaze of colour.
The optional add-on costs an extra £2100 for the 4 weeks.
For more information about paid work in Australia, have a look at our Sydney paid work programme website. You can also contact Anne on [email protected].