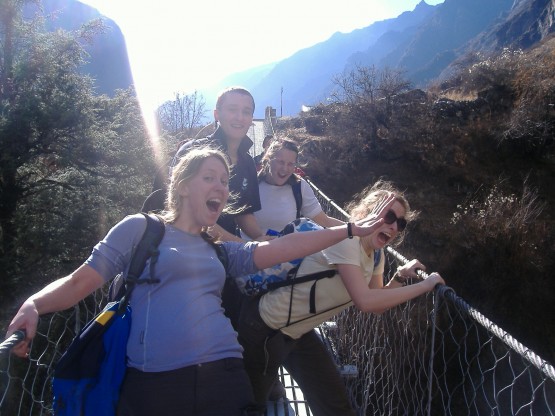 All Oyster volunteers on their gap year in Nepal have the option to take part on a 10 day trek to Annapurna Base Camp.
The trek is not designed to be too challenging and has been suitable for all of our volunteers over the years. You will trek to an altitude of over 4000m above sea level during the 10 days.
Here is a brief itinerary of what you will be getting up to during the trek on your gap year in Nepal:
Day 1: Drive to Pokhara (827m)
We drive the 7 hours to Pokhara, a popular lakeside town, with plenty to see and do. You will have the afternoon to explore. O/N Hotel
Day 2: Drive to Phedi then trek to Deorali: (2095m)  Lunch at Pothana
We start our trek at nearby Phedi.  The trek is short, but steep, so you will be encouraged to take it slowly and enjoy the scenery.   After an hour's ascent through beautiful forests we reach Dhampus, a lovely village with rich farmland and attractive houses.  The path gradually rises to Pothana (1970m), where we stop for lunch.  We then continue through oak and rhododendron forests into the Modi Khola valley, stopping for the night at Bhichok Deorali.  Here there are fantastic views, including the snowy peaks of Annapurna South and Hiunchuli marking the entrance to the Sanctuary.  O/N Lodge in Deorali
Day 3: Trek to Ghandruk: (1940m)  Lunch at Tolka
In the morning we descend again on forest trails to reach the pretty village of Landruk (1630m).  After lunch we continue our descent to cross the Modi Khola river, and then slowly climb the other side to the attractive village of Ghandruk.  Here you can relax or explore its maze of little streets. O/N Lodge in Ghandruk
Day 4: Trek to Chomrong (3210m) Lunch at Timrung Khola
A short trek day today before we start the climb into the Sanctuary. From Ghandruk we cross the Khyumnu Khola river and then follow the ridge above the Modi Khola.  We eventually reach the comfortable lodges of Chomrong, the last Gurung village on the route. It's a long morning, but worth getting there in time for lunch, giving us the afternoon to relax and take in the scenery. O/N Lodge in Chomrong
Day 5: Trek to Doban: (2510m); Lunch at Shinu Danda
We walk down through old Chomrong village before climbing gently through hamlets and some final stretches of farmland. Eventually we reach a high ridge with impressive views all the way back to Ghandruk.  We then enter the great oak and rhododendron forests beyond to start our route up to the Sanctuary itself. It's a beautiful route, with colourful rhododendrons, wild orchids and groups of chattering monkeys.  Eventually we arrive at our lodge in Doban, right alongside the dramatic peaks of the 'holy mountain' Machapuchare.  O/N Lodge in Doban
Day 6: Trek to Machapuchare Base Camp (3700m); Lunch at Deorali
We set off up the valley's narrowing gorge towards the entry to the Sanctuary.  The path winds its way up along the river, through a rocky landscape with fragrant shrubs and occasional caves.  We break for lunch at Deorali (3230m), with the beautiful peak of Gangapurna straight in front of us. As we round the ridge of Hiunchuli we suddenly enter the Sanctuary, which has been hidden up to this point.  Stunning peaks surround us. Above us on a ledge is Machapuchare Base Camp (3705m) where we will stop for the night. At this stage we have only reached one corner of the Sanctuary.  Tomorrow will reveal its full extent. O/N Lodge in MBC
Day 7: Trek to Annapurna Base Camp (4130m); Lunch there.
We climb for a few hours up gradual slopes to our lodge at Annapurna Base Camp. Though this trek stays relatively low, it can still take time to acclimatize and you will be encouraged to take it slowly.  The ridgeline of peaks is almost uninterrupted, including Hiunchuli, Annapurna South, Machapuchare and others.  After lunch you can choose to climb the gentle northern slopes of Hiunchuli to reach even better views. O/N Lodge at ABC
Day 8: Rest day at Annapurna Base Camp
You'll have another full day to take in the immense views at the Sanctuary. If you didn't go up to the Hiunchuli viewpoint the previous day, you can do it this morning. Afterwards you can explore right up the valley toward the magnificent south face of Annapurna. Or you can just relax and enjoy being here. O/N Lodge at ABC
Day 9: Trek to Bamboo (2340m); Lunch at Deorali
If you're feeling hardy, there will be a pre-dawn excursion up the hillside to catch the magical sunrise.  After breakfast we will begin our descent to Machapuchare Base Camp and continue down to Deorali for lunch.  We then carry on to Bamboo for the night. O/N Lodge in Bamboo
Day 10: Trek to Jhinu Danda (1780m); Lunch at Chomrong
We continue our descent, arriving back at Chomrong for lunch. We then take a different route from the one we climbed up on, arriving shortly at a Brahmin (high caste Hindu) village called Chinu. There is not far to go this afternoon so we could choose to visit a wonderful hot spring just north of the village for a relaxing soak. Back on the trail we continue down to Jhinu Danda for our night stop. This will be your last night with your trekking crew (except your Guide).  The crew join you for a farewell ceremony with Nepali song and dance. O/N Lodge in Jhinu Danda
Day 11: Trek to Birethanti then drive to Pokhara: (820m); Lunch at Syauli Bazaar
We follow the trail alongside the river to Birethanti, where we stop for lunch.  In the afternoon we cross the river to drive the short distance back to Pokhara for comfort, hot showers and cold drinks at your hotel. O/N Hotel in Pokhara
Day 12: Continue on to rafting or take the bus to Kathmandu
Depending on your plans, we will either take you straight to the rafting initiation point or return to Kathmandu. You will be back in Kathmandu by late afternoon, giving you time to return to the village and your family that day. There is an option to take a short internal flight from Pokhara to Kathmandu. This is a supplement of US$100 per person. O/N with family in the village.
We are taking applications now for our September, January and May groups so if you are interested in trekking in Nepal, living with a family for up to 16 weeks and teaching English to your own class, then get in touch with me by email – [email protected] or by phone +44 (0) 1892 771972.
For full details visit our gap year in Nepal website.