A great insight into life as a volunteer with bears in Romania from Ash, who spent three weeks at the sanctuary with Oyster last year. Thanks Ash!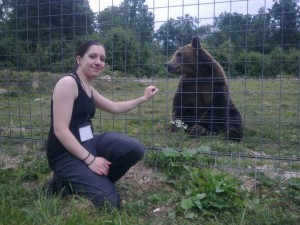 "Upon arrival in Romania I was met by Razvan, Oyster's fantastic Romanian rep, who immediately put me at ease and helped me to familiarise myself with Brasov, the city in which I would be living for three weeks. I was pleasantly surprised by how beautiful Brasov is, with mountains all around, lots of outdoor cafés and bars and lovely red roofed buildings. The (very inexpensive) fresh fruit and vegetable market just a few minutes walk from our comfortable little flat was an added bonus!
Each morning at the sanctuary began with the walk past one of the biggest bear enclosures up to the main building – in bad weather this was a 15 minute dash, but most mornings this walk turned into a much longer leisurely stroll, stopping to say hello to the quarantined bears and Max, a beautiful blind bear who would often wander up to his fence, seemingly smiling, to greet us.
Normally I'm not much of a morning person, but when arriving at the sanctuary entrance we were also frequently greeted by several of the friendly dogs who roam the sanctuary – I couldn't ask for a better way to ease into a day's work!
Each day at the sanct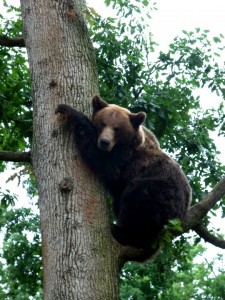 uary was a different adventure, with no set routine once we'd arrived at the main building. A lot of our time was spent on food preparation. Sometimes this included making bear "ice cream" (which they loved!) – emptying yoghurt and other dairy products combined with dog biscuits and occasionally some bread into crates which were then frozen. At other times we'd be removing the packaging from meat, fish, fruit and vegetables (donated from local supermarkets, having been damaged or slightly passed an expiry date) and placing them into crates ready to be fed to the bears. We also helped with grounds and enclosure maintenance by raking up leaves, repairing smaller fences, haymaking and pulling up lots of weeds – normally fairly boring work but made so much more fun by having up to a dozen curious bears watching us from the other side of the fences!
Even on most of our busier days, we managed to make time to roam around the sanctuary, taking lots of photos and just spending time watching the bears. The enclosures are so large that the bears are able to live almost as they would in the wild – climbing trees, play fighting, running around and splashing away in their pools. Being able to see them behaving so naturally and looking so happy despite some of the horrendous conditions they've been saved from is incredible.
One of the things I valued most about this trip was Oyster's rep, Razvan. Not only was he always just a text or call away to help us with any problems, answer any questions, assist with the language barrier or even just recommend somewhere to sample local food/drinks, but he also helped to ensure we made the most of our stay in Romania by organising activities for us. One weekend included a sightseeing day taking in some amazing ice caves, Rasnov fortress and Dracula's castle!
I would really recommend this trip to anyone who's interested in bears, beautiful scenery and good food. I often find myself daydreaming about the evenings I spent sitting outside, enjoying a good meal in Brasov's evening sunshine with a nice cold beer or cocktail after a bear-filled day. Looking back on my time in Romania never fails to make me smile, and I really hope to go back in the not too distant future!"
Thanks for such great feedback Ash! Delighted that you had such a great time.